Lady Spikers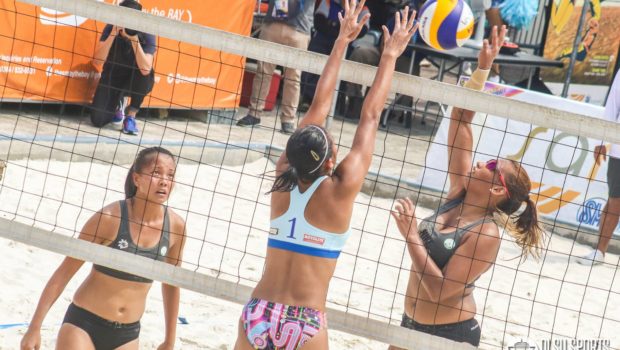 Published on September 28th, 2018 | by George Aladin
0
Lady Spikers trounce Lady Eagles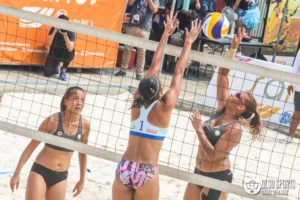 The De La Salle University Lady Spikers prevail in the continuation of the UAAP Beach Volleyball tournament after facing Ateneo, September 28 at the SM Sands by the Bay.
The Lady Spikers duo of Tin Tiamzon and Michelle Morente entered the match of the day hoping that the match will ignite the spark between the two spikers. They faced Ateneo Lady Eagles duo of Jules Samonte and Ponggay Gaston .
In the beginning of the first set, the Lady Spikers were off to a great start after a couple of errors in the Ateneo side together with Morente's ferocious attacks and aces helped catapult the team with the lead, 4-10.  Ateneo tried a run of their own after two clever plays by Samonte, but Tiamzon always answers with powerful attacks. From there on La Salle pulled away with the first set after Tiamzon took advantage of the bad set of Ateneo and scored, 21-14.
The second set proved to be more exciting as the two teams came neck-on-neck in the beginning of the set. La Salle's Morente and Ateneo's Gaston were the key players of the set as they put up attack after attack until two errors helped the Lady Spikers get the lead, 6-9. La Salle took advantage of the errors and made a run, however Ateneo came back and tied the game, 19-19. The two teams didn't gave way as score after score forced the game to extend until 25. Although the Blue and White team tried to even things up, Tiamzon and Morente denied them from doing so after a series of great offensive and defensive plays, DLSU finally got the win after an attack by Tiamzon ended the match, 23-25.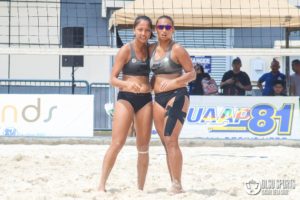 After the game team captain Tin Tiamzon gave the mindset of the team as they enter the match. "Our mindset was, hindi kami papayag. Meaning we won't let them get one set and we won't lose to them" said Tiamzon. Meanwhile her partner, Michelle Morente gave her insights about the second set "During the second set, Tin (Tiamzon) and I trusted each other that we can win the game. said Morente.
The captain also gave comments about her belief that the Lady Spikers can still make it to the top for of the tournament. "I still believe we have a strong chance of making into the top 4" said the optimist Tiamzon "and we will work hard every single game to be better until the very end" she ended. Meanwhile Morente was asked about her feelings on playing against her former team, but she focused on the situation of her current team instead "Well a win is a win so of course I'm happy" said Morente.
The Lady Spikers will face the NU Lady Bulldogs and the UE Lady Warriors this Tuesday, October 2 t the SM Sands by the Bay.