Lady Spikers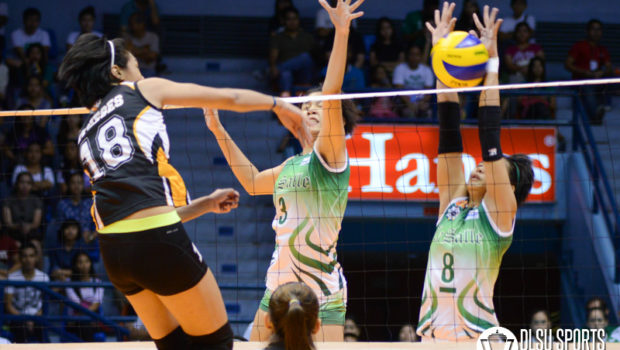 Published on November 30th, 2014 | by Camilla Saguin
0
Ara Galang leads DLSU to third straight win
The DLSU Lady Spikers cruised to their third win in as many games after defeating the UST Tigresses in three straight sets, 25-23, 27-25, 25-17.
Unlike their first two matches, DLSU had a quick start in the first set as they led UST by five points coming into the first technical timeout. UST however, quickly bounced back to keep the set close and even had the lead at 23-22. Despite having 10 errors, DLSU was still able to win the set thanks to the clutch points scored by Cyd Demecillo.
The second set was as tight as it could get, with both teams playing solid floor and net defense leading to long rallies. There was confusion with the score toward the end of the set after DLSU scored off a block from Eli Soyud and the point was not added to DLSU's score. Coach Ramil De Jesus contested but the game officials did not budge and the score remained the same. The Lady Spikers however, kept their cool and eventually took the set.
In the third set, DLSU pounced on UST's low morale and was able to pull away and win the set convincingly.
Captain Ara Galang led the way once again for the Lady Spikers, scoring 21 points coming from 16 attacks, two blocks, and three service aces while Cyd Demecillo showed composure in getting the clutch points for DLSU. Cienne Cruz, who came off the bench also helped DLSU a lot with her steady reception and excellent floor defense. On the downside, DLSU committed a whopping 28 errors which is already equivalent to more than one full set.
Rookie EJ Laure on the other hand, top scored for the UST Tigresses with 12 points while Pam Lastimosa added seven points.
The DLSU Lady Spikers will go for their fourth straight win on December 6, 2pm, at the San Juan Arena as they face a winless UP Lady Maroons squad.
The scores:
LA SALLE (3) – Galang 21, Demecillo 15, Reyes 6, Baron 5, Fajardo 3, Soyud 2, Cheng 1, Dy 0 Macandili (L) 0, Ci. Cruz (0).
UST (0) – Laure 12, Lastimosa 7, De Leon 6, Tunay 4, Meneses 4, Cabanos 2, Rondina 1, Pacres 1, Cortez 0, Verutiao 0, Alterado 0, Dusaran (L) 0.