Basketball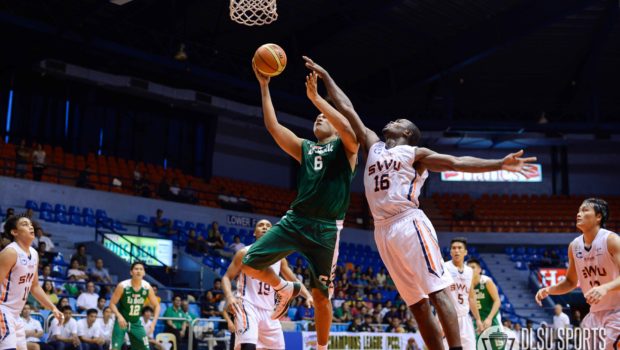 Published on December 19th, 2013 | by DLSU Sports
0
Archers cruise over Cobras in PCCL Finals Opener
Once they start hitting their groove, they're hard to stop.
Jeron Teng punched in 18 points, 6 rebounds and 5 assists as the Green Archers pummelled the Southwestern University Cobras in their 64-54 win to open the PCCL Championship Round last December 17 at the Filoil Flying V Arena.
"Compared to the first time we played them, now we are in better shape. We took advantage in running, trying to maximize transition and trying to take advantage of their turnovers by scoring right away," shared La Salle head coach Juno Sauler after the game.
On the other hand, Landry Sanjo led the Cobras with 16 points and 13 rebounds while Monbert Arong added 11 points and 5 assists.
With the Archers cruising for the most part of the game, the Cobras had one last hurrah that saw the La Salle lead to be trimmed down to single digits in the fourth quarter. Coach Sauler then placed his starters back in the court to seal the deal.
With this win, the Archers are now one win away from winning the PCCL crown with Game 2 set tomorrow at 4:00 pm.
Even though the Cobras have their backs against the wall, Sauler shares that, "They're going to come out tougher, harder and it is a do or die game for them. Knowing Coach Yayoy [Alcoseba], he'll pull some strings in a way to make his team play with lot more energy and intensity. They're going to be playing hard tomorrow."
DLSU (64) – Teng 18, T. Torres 15, N. Torres 10, Reyes 9, Bolick 5, Perkins 4, De la Paz 3, Vosotros 0, Montalbo 0, Salem 0, Van Opstal 0, Tampus 0.
SWU (54) – Sanjo 16, Arong 11, Goloran 7, Mohammed 6, Tallo 6, Bregondo 4, Siewe 2, Bautista 2, Holper 2.
Quarter scores: 21-8, 34-21, 54-32, 64-54.