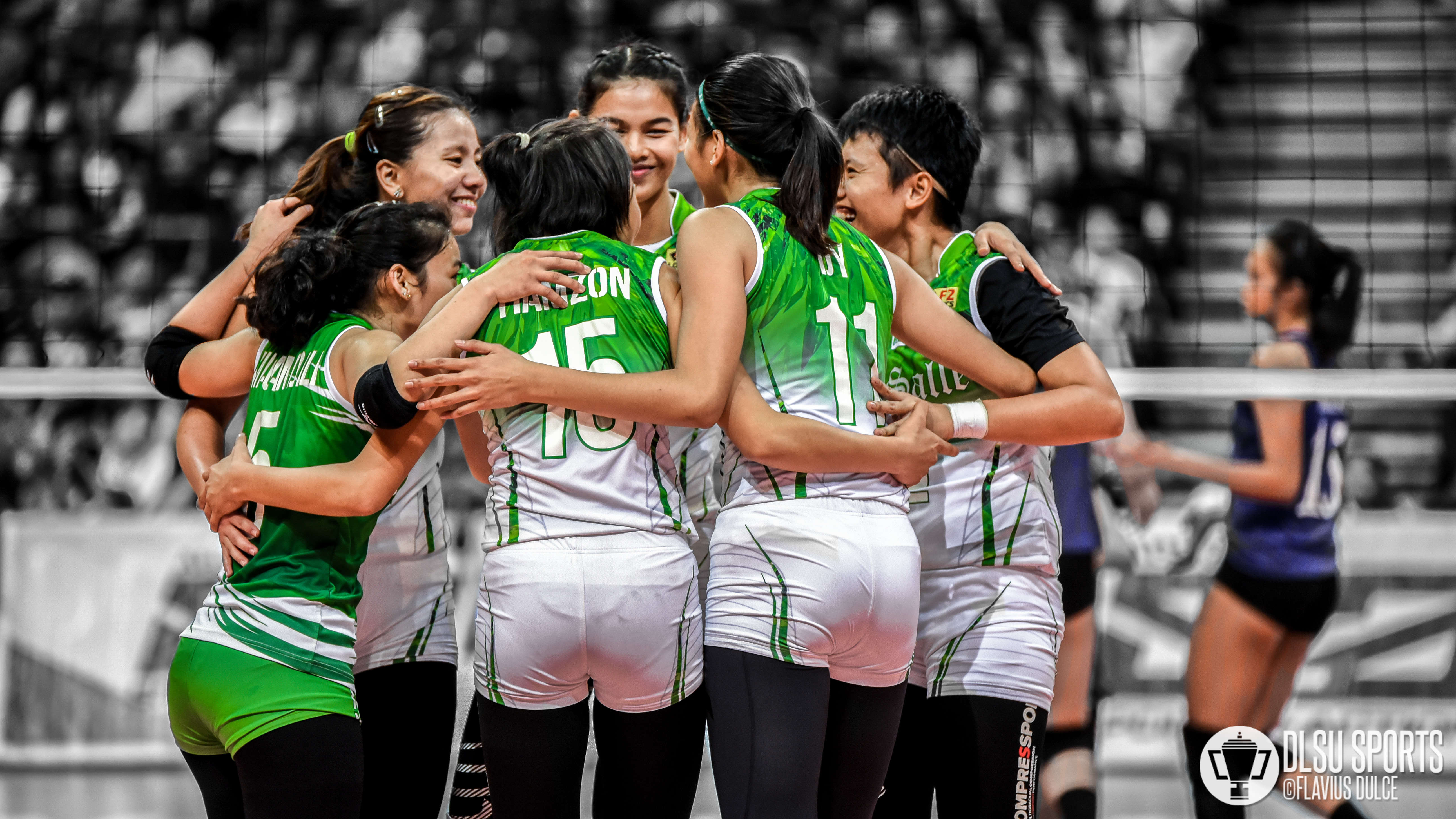 The De La Salle University Lady Spikers are back in the Finals and for the sixth straight time, they will once again face their archrivals – the Ateneo Lady Eagles. To no one's surprise, these two teams emerged as the top two squads after the elimination rounds and managed to take care of their respective opponents in the Final Four. Now at the biggest stage of the Season, the Lady Spikers will look to defend their crown against an Ateneo team they haven't beaten all season long.
Cream of the Crop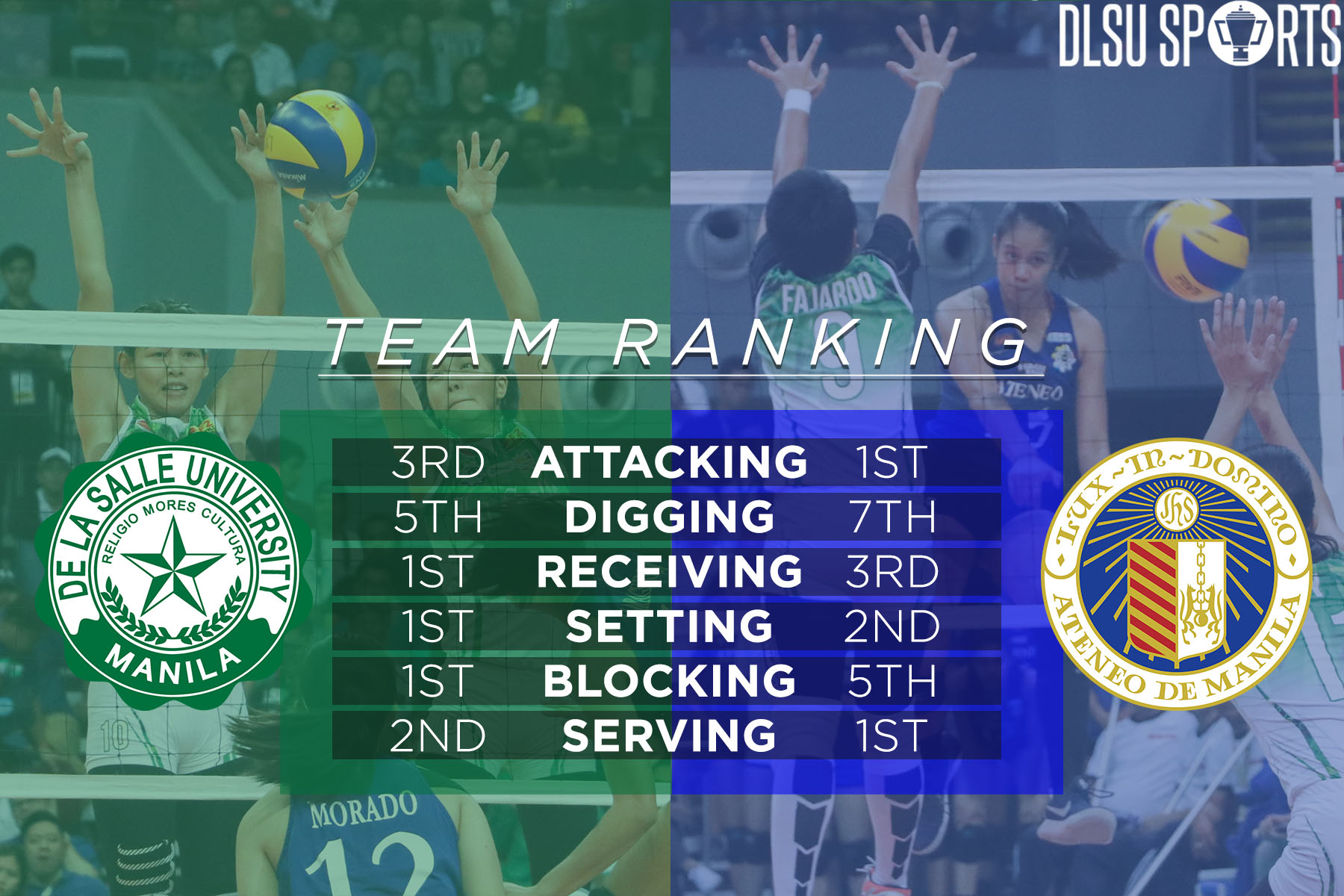 The road to the Finals was not as easy as both teams would have liked, with La Salle losing early in the first round of the season to the University of the Philippines in straight sets then losing to the Lady Eagles twice while Ateneo losing their two matches against the National University Lady Bulldogs.
DLSU dropped a total of 11 sets during the elimination rounds, six of which came at the hands of Ateneo. The Lady Eagles on the other hand, gave up 12 sets. The Lady Spikers had a relatively easier time against their opponents as they lost only one set in the second round prior to their loss against Ateneo while their rivals had set losses left and right. To say that DLSU finally got their groove in the second round would be an understatement. The Lady Spikers did not only beat their respective opponents but they dominated them. They even held a Final Four team in Far Eastern University to only five points in one set and also held NU, a team which beat Ateneo twice, to only 11 and 12 points in two sets of their second round meeting.
When it comes to skills, DLSU is commandingly leading the league in three: categories, receiving, setting, and of course blocking while Ateneo leads the league in two categories, which are attacking and serving. La Salle, though, only trails Ateneo by a small margin when it comes to serving and is also not far behind when it comes to attacking as they place second and third in those categories while Ateneo's defensive stats are not exactly close to La Salle's, especially in blocking where Ateneo is only fifth in the league.
Even with the lead when it comes to skills and sets lost, La Salle however, has yet to solve the Ateneo puzzle.
Captain Duel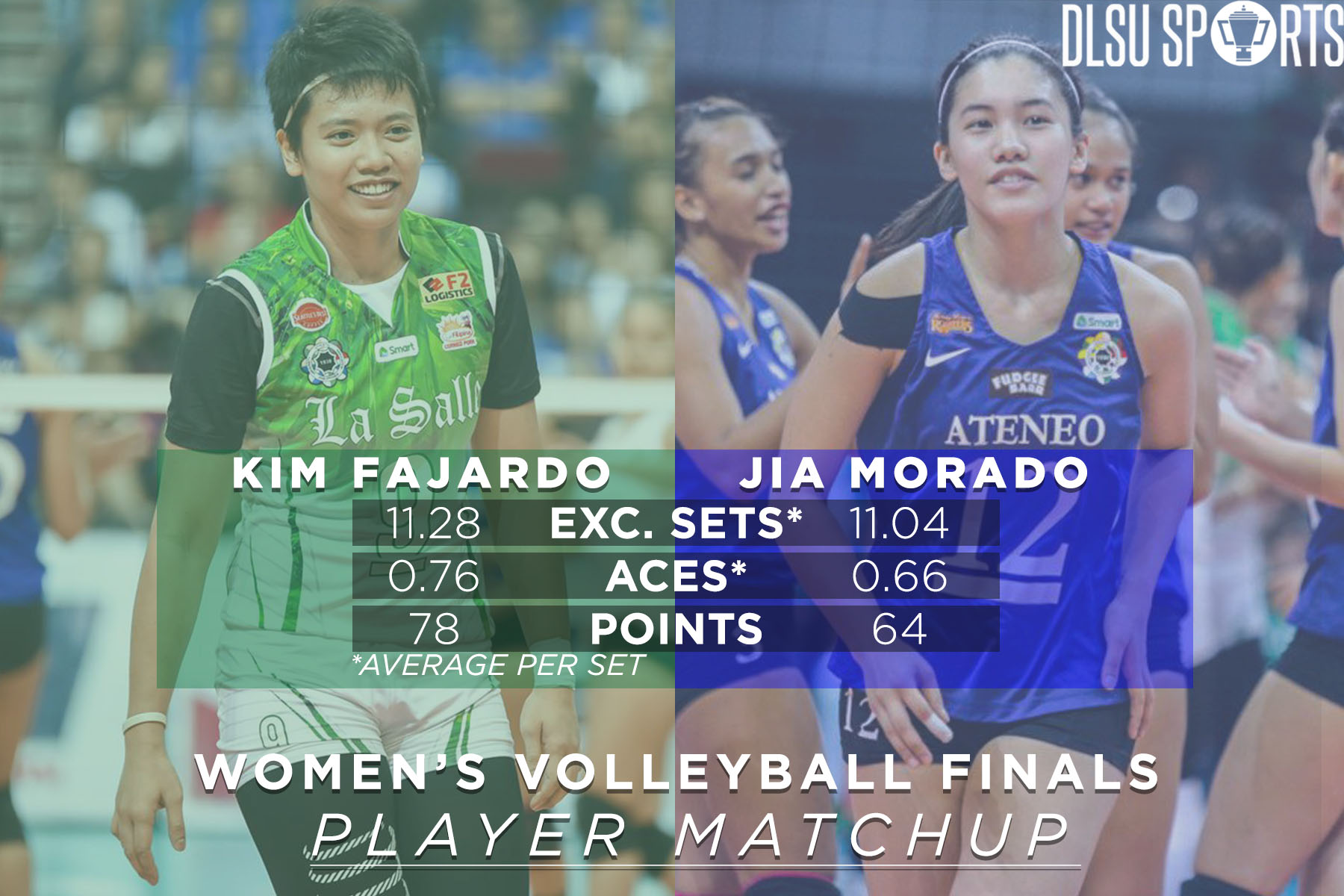 Undeniably the best setters in the league and arguably the two most talented players this season, the side battle of captains, Kim Fajardo and Jia Morado, will be as exhilarating as the game itself.
Setters are as valuable to a volleyball team as point guard to a basketball team; they are the playmakers that set the pace and control the flow of their respective teams. But more than just setting duties, Kim and Jia have proven time and again that there is more to them than just being setters. These two are also the captains of their teams and are not just the best setters in the league but also the best servers; with Kim leading Jia in both categories.
The question as to which the better player is will always be open-ended. As for Kim Fajardo, she does not dwell too much on their so-called rivalry as she feels that they have different styles, "Si Jia pareho kaming setter at alam namin kilos ng spikers namin, sa diskarte nalang kami magkakatalo" says Kim "Magkaiba kami ng spikers sa court kaya hindi magkapareho yung play namin at hindi same yung skills kaya diskartihan nalang kami". Kim also sees Jia as the player she needs to watch out for in the Finals for the simple reason that it is only Jia who will make plays for her spikers.
Depth
Unlike in other sports where bench players are used in every game, substitutions in volleyball are not as common. There are even times where a whole game is played without a single substitution made. However, when push comes to shove and a change is needed, these small moments could spell the difference between victory and defeat.
As for the depth of the benches of both teams, without a doubt they have highly reliable players that could deliver when called upon. The likes of May Luna, Michelle Cobb and Arriane Layug for La Salle and Kim Gequillana, Jules Samonte and Deanna Wong for Ateneo.
In the previous games this Season, coach Ramil has used a rotation wherein he brings in Michelle Cobb in exchange for Kim Dy when at the service line. This rotation can prove to be useful as it will give Kim Fajardo a chance to score points for DLSU as an extra attcker in front. May Luna on the other hand has proven that she can score a string of points in a hurry when more fire power is needed in the open position. Meanwhile, Arriane Layug is usually subbed in with Michelle Cobb to be an extra attacker as Kim Dy moves to the back. Another sub which coach Ramil can opt for.
On the flip side, Ateneo's Kim Gequillana is known to be their service specialist but in the previous Seasons she has shown that she can also be an effective attacker while rookie Jules Samonte, who came from De La Salle Zobel, was one of the catalysts in Ateneo's win over La Salle in the second round. Deanna Wong has also been a revelation as an alternate Libero for the Lady Eagles.
Indeed both teams have deep benches, and these bench players can prove to be game-changers for their respective teams.
Defense vs Offense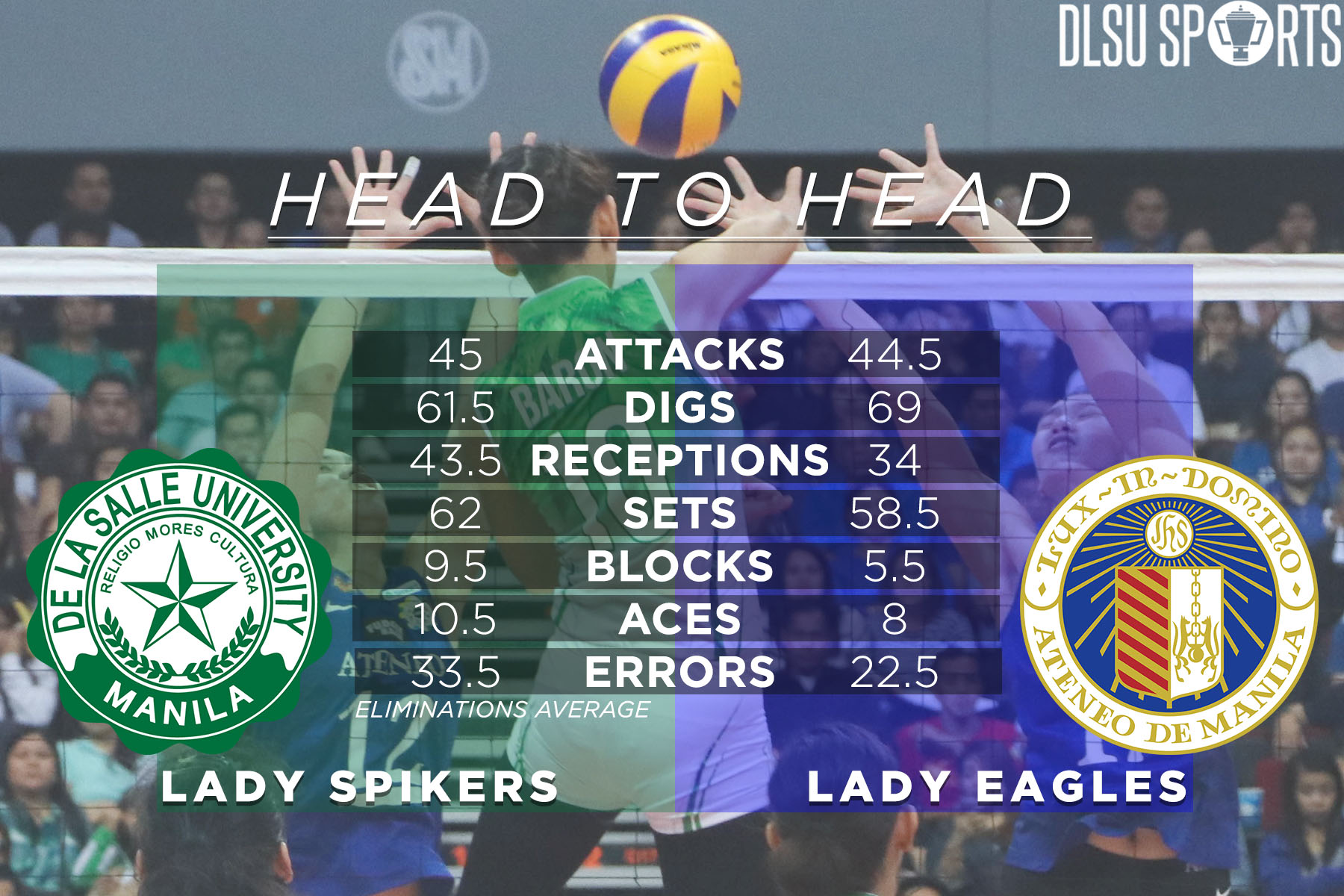 The number one defensive team versus the number one offensive team in the league is a matchup that could not get any better. Numbers indeed do not lie but in the two games where the Lady Spikers and the Lady Eagles clashed, the girls from Taft had the upper hand in every single skill and yet they fell against their Katipunan-based counterparts on both occasions.
Errors. As all the numbers tilt in favor of La Salle, unfortunately, so do their errors. In both meetings against Ateneo this season, the Lady Spikers committed a gleaming 22 more errors than their opponents. What makes the numbers even worse is that they made those errors in the latter stages of the sets they lost. "Sa errors lang talaga. Lalo na sa second game, unforced errors talaga madami. Kasi lamang naman kami sa blocking, sa attack, lamang kami sa lahat ng skills yung unforced errors lang talaga yung factor bakit kami natalo." Says last Season's best blocker, Majoy Baron.
DLSU lost both elimination games against ADMU but the second game can be considered to be more painful as it was tainted by some controversial calls that went against the Lady Spikers, and for libero Dawn Macandili, those calls were momentum-shifters, "Talagang nakakababa yun ng momentum pag alam mo na pinaghirapan mo yun tapos biglang irereverse call sa kabilang team. Nakaka down na morale". The bad calls however, taught the Lady Spikers to simply ignore what they cannot control and make sure that in the Finals, they would not give a chance for bad calls to occur again, "nagkakaroon lang naman ng bad calls kapag merong mga hindi sure. Yung magagawa lang namin dun is yung points namin gagawin namin clean talaga. As in pasok, para wala ng mga ganun." Says Kim Fajardo.
Last Season's Finals Most Valuable Player, Kim Dy sees both losses to the Ateneo Lady Eagles as an advantage, "we don't think of the losses we had cause coming into the championship, it's like a clean slate so pantay kaming dalawa back to zero" says Kim, "mas hungry kasi blessing yung daalwang talo at least it opened our eyes na may kulang pa sa team namin na may kailangan pa kami iadjust". She also sees the longer break after the schedule of the Finals was adjusted as another advantage for the Lady Spikers as it has given them more time to spend with their graduating captain, Kim Fajardo.
Defend the Crown
"Coming into the finals lahat talaga tinututukan namin. Binabalik balikan namin lahat ng kailangan namin i-adjust, lalo na yung mga nagawa naming mali in the previous rounds" says Dawn when asked about how DLSU is preparing for the Finals. As for Kim Dy, her team just needs to focus more on defense given that Ateneo is the number one attacking team. Captain Kim Fajardo's approach is quite different as she chooses to enjoy her last few games in the UAAP and simply play her game.
The Lady Spikers also do not feel that their losses will affect their performance in the Finals since for them, the Finals is way different from the elimination rounds. Their motivation and confidence are on a different level now that they are at the cusp of defending their Crown.
In their matchup in the Finals, Majoy Baron feels that defense is what is most important, "hindi mananalo ang isang team kung walang defense and for us, yun talaga yung pinanghahawakan namin. Kaya naman din namin umatake. Mas okay na meron ka defense kaysa puro atake ka lang".
Going up in the Finals against a team they have not beaten in the elimination rounds is unfamiliar territory for La Salle but with the challenges they have surpassed in the past, one can only hope that this obstacle is one which La Salle can also overcome. The Finals rematch that everyone had hoped for, a battle of the top offense and top defense of the League. One cannot quickly predict the outcome of this Championship but as the old saying goes, offense wins games but DEFENSE WINS CHAMPIONSHIPS.