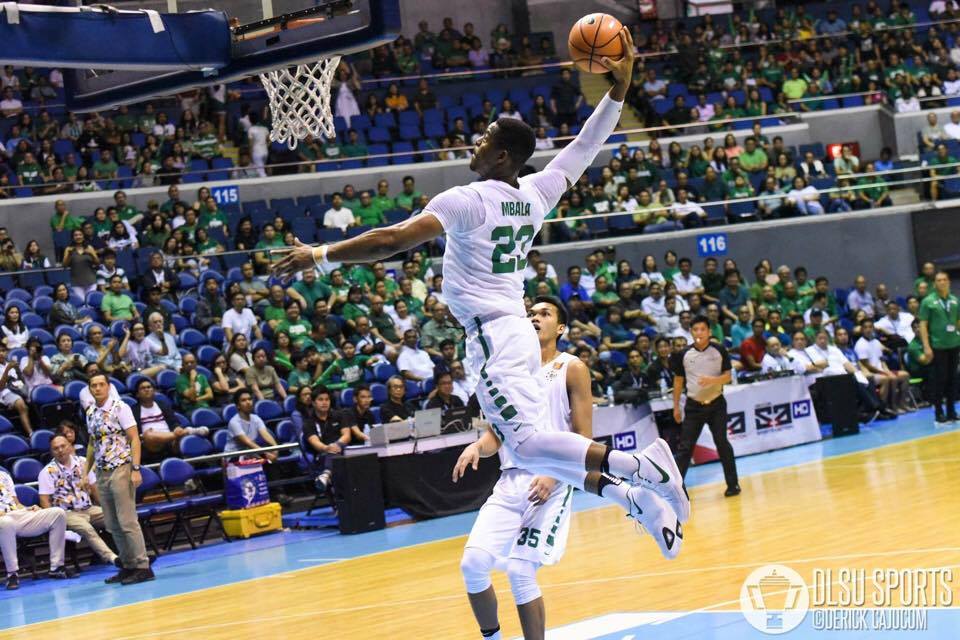 Following a surprising loss in their previous game, the DLSU Green Archers bounced back against the UST Growling Tigers, 115-86, Saturday at the Smart Araneta Coliseum.
Ben Mbala once again anchored the Green Archers, who played without sophomore guard Aljun Melecio due to illness. Mbala scattered 29 points on a 50% clip along with nine rebounds in less than 28 minutes. Andrei Caracut and Santi Santillan chipped in 14 and 13 respectively.
Wendell De Guzman and Steve Akomo led the Growling Tigers, who are still winless in six games. De Guzman collected 18 points while Akomo grabbed 13 rebounds in the loss.
Santillan knocked both of his triples in the first quarter as La Salle built a 17-7 lead over UST. A Gab Capacio triple and an Abu Tratter fast break gave them a 24-13 advantage midway through the opening period. At the tail of the first quarter, it was DLSU up by nine points against UST, 30-21.
Mbala opened the second frame with a pair of free throws as La Salle started to break the game wide open. Their lead ballooned to 21 points, 43-22, after unleashing a 13-1 run in the first four minutes of the second quarter. Caracut's two freebies extended their lead to 24, 50-26, their biggest of the first half.
Seventeen of Mbala's 29 points came in the first half as the Taft-based squad marched into the dugout with a 60-42 advantage over the Espana-based squad. La Salle's held UST to zero perimeter points after the two quarters. Their "Mayhem" defense also forced the Growling Tigers 16 turnovers, which were translated to 20 turnover points.
From down 24, the Growling Tigers trimmed their deficit to only 14 points, 52-66, to open the third canto. A triple by Prince Rivero brought them up by 17 points, 69-52, with six minutes to go. Capacio's triple and an in-bound steal by Jollo Go pushed their lead back to 20 points, 76-56. At the 3:11 mark of the third quarter, a turnover by the Growling Tigers resulted to a Tero-Mbala alley-oop for the highlight of the game. La Salle still dominated UST after three quarters, 85-63.
In the fourth and final quarter, Caracut's triple and a basket by Mbala pushed them to a 92-73 basket with 6:22 remaining. Santillan, who was silent in the second and third quarters, found himself alone for the breakaway slam. In the next play, he connected on a three-point play as the Green Archers enjoyed a huge 97-76 lead. The Growling Tigers never got back as the Green Archers cruised to their fourth win, 115-86.
The DLSU Green Archers will face the UE Red Warriors on Wednesday, 4PM at the Mall of Asia Arena.
Scores:
DLSU 115 – Mbala 29, Caracut 14, Santillan 13, P. Rivero 11, Montalbo 8, Tratter 8, Go 7, Capacio 7, R. Rivero 7, Tero 5, Baltazar 4, Paraiso 2, Gonzales 0.
UST 86 – De Guzman 18, Akomo 15, Sta. Ana 14, Macasaet 8, Lee 8, Faundo 8, Romero 4, Kwawukumey 4, Escalambre 2, Huang 2, Caunan 2, Arana 1, Garcia 0, Lorenzana 0, Soriano 0.