Football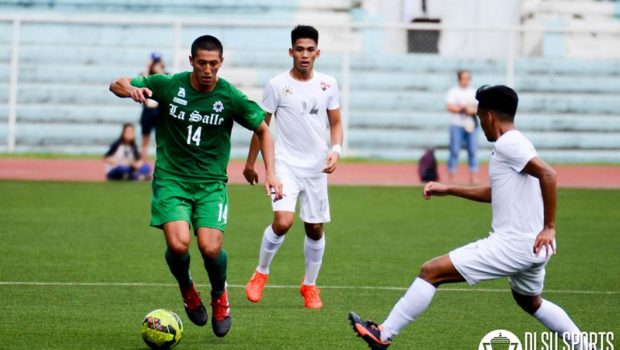 Published on February 13th, 2017 | by Justin Aliman
0
Back on track: Green Booters clinch first win against UE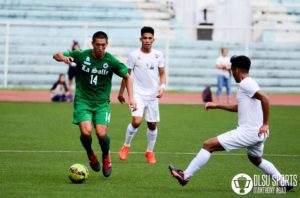 The DLSU Green Booters made a comeback after a stalemate against reigning champions UP in their last match. The Taft-based squad was able to notch their first win of the season after blanking the UE Red Warriors, 2-nil, in the UAAP Season 79 men's football tournament, February 12 at Rizal Memorial Stadium.
The Green Booters were able to put a cushion behind their backs in the first half as Yoshiharu Koizumi was able to score off a free kick in the 17-minute mark. La Salle maintained its composure and tight defense as it kept the Red Warriors scoreless at the end of the first half.
La Salle continued to attack heavily in attempt to score their second goal. UE tried locking in on their defense to prevent the Green Booters from getting near the perimeters of the goal but terribly suffered as their very own Rino Saldivar commits an own goal at 79', giving the Green Booters a 2-0 score advantage. After the mishap, the Recto-based squad tried to salvage the game with several goal attempts but the Green Booters' defense was hard-hitting for the Warriors to penetrate. The Red Warriors' self-inflicted bruise capped off the tight match giving the Green Booters their first taste of victory in the season.
Despite their first win of the season, Green Booters Head Coach Hans Smit still wanted to see more from his team after a subpar performance. He admitted that the team needed a lot of work following their lack of finishing. Smit also pointed out how the Taft Booters were only given the chance to score off of a freekick and an own goal. "I'm not discrediting my boys from scoring but the thing is we need more push from the frontline," expressed Smit.
On the other hand, Smit praised the Green and White squad's control of the wingfield claiming that this was their key in winning the match. He noticed how the Green Booters exhausted the Warrior's wingbacks with the former's upfront run which served as a huge factor in favor of La Salle.