Basketball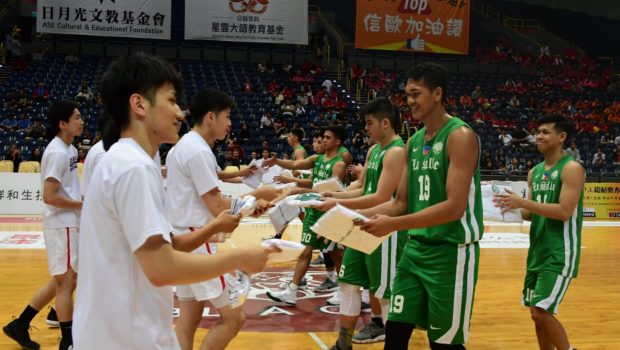 Published on July 4th, 2018 | by Gabriel Minamedez
0
Baltazar, Archers make easy work of Nagoya to go 2-0
KAOHSIUNG, TAIWAN – The De La Salle University Green Archers flexed their muscles and stretched their arms more than Nagoya Gakuin University could handle as the Green and White dominated the game, 95-68 on Wednesday in their second foray for the 2018 BLIA Cup.
Led by Justine Baltazar's 20 points, nobody from Nagoya could find any answers on how to defend the Archer big man.
The first quarter was a hot start for La Salle, as two straight triples from Jollo Go and a layup from Brandon Bates had the Archers jump to a quick 8-1 lead. Aljun Melecio also chipped in a cool 6 points, leading DLSU to a 25-18 lead after one.
Nagoya weathered La Salle's storm in the second quarter, as a flurry of threes from the Japanese squad had them leading by 34-30 at one point. Te Samuel and Justine Baltazar combined for 12 points in the final three minutes of the half to maintain a 49-44 lead heading into the break.
The third quarter saw La Salle beginning to crack the lead open. Joaqui Manuel and Brandon Bates paired up to give the Archers their first double-digit lead. It was also this time where Justine Baltazar went beast mode, recording two blocks and feasting inside the paint from then on.
The fourth quarter was simply a formality, as Nagoya ran out of bullets to combat La Salle's size and strength.
Adding to Baltazar's dominance were the bench sparkplugs Te Samuel and Mark Dyke, who scored 14 apiece. Aljun Melecio chipped in 13, while Bates and Go combined for 20 points.
With the win, DLSU graduates to 2-0 with two games left in the group phase.
La Salle next faces Chien Hsin University of Science and Technology tomorrow, June 5 at 2:00pm.
Featured image courtesy of 3 Good Sports Association (三好體協) via Facebook.