Basketball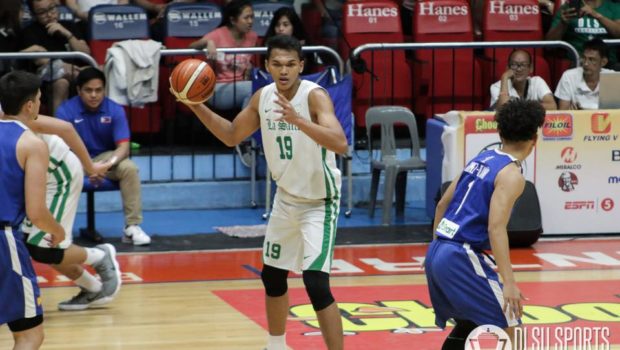 Published on August 6th, 2018 | by Gabriel Minamedez
0
Baltazar, Montalbo propel La Salle to win over Chinese Taipei in APUBC
SEOUL, SOUTH KOREA – The De La Salle University Green Archers brushed off a slow first half and willed their way to a win over Chinese Taipei, 94-88, in their second game of the 2018 Asia Pacific University-Basketball Challenge on Monday.
The Archers were down by as much as ten in the first half, as defensive miscues and missed free throws, coupled with the sweet shooting of Chinese Taipei shot the Taft-based squad in the foot. A 12-point second quarter explosion from Yu-Jui Chen was too much for La Salle as they found themselves trailing, 41-51, at the end of the half.
A visibly frustrated coach Louie Gonzales was able to make some adjustments prior to the start of the second half, inserting Joaqui Manuel in to the starting lineup.
The move proved to be of significant difference, as Manuel made key defensive plays and poured in4 quick points, including a big three-pointer to cut the lead to one, 52-53.
The third quarter was for Justine Baltazar's taking, as the big man chipped in a cool 13 points, including a lay-in to give La Salle its first lead since the first quarter, 59-57. From then on, it was a tug of war between the two teams, with Leonard Santillan finishing a putback to eventually hold the game into a deadlock heading into the final foray.
The fourth quarter began with six straight transition buckets for Chinese Taipei, only to be corked by a huge three pointer from Kib Montalbo. A barrage of threes from Montalbo, Go, and Manuel would keep La Salle within shouting distance.
It doesn't stop there for Kib, in fact, this was all the beginning of a huge 13-point quarter from the captain. Montalbo turned a defensive stop into a transition and-one to cut the lead back down to one, 85-86, with 3:08 left in the game.
The Man of Steal came up big in the clutch, taking the ball away late in the game to finish off another and-one, and eventually icing the win, 94-88.
Justine Baltazar was a man amongst boys, finishing with 28 points and 13 rebounds. Kib Montalbo partnered with  16 points, 8 rebounds, and 7 assists. Jollo Go and Te Samuel combined for 29 points off the bench.
The win kept La Salle's record in the 2018 Asia Pacific U-Basketball Challenge unblemished at 2-0. The Green Archers will next face USA's University of California-Irvine on Wednesday at 12pm (Philippine time).