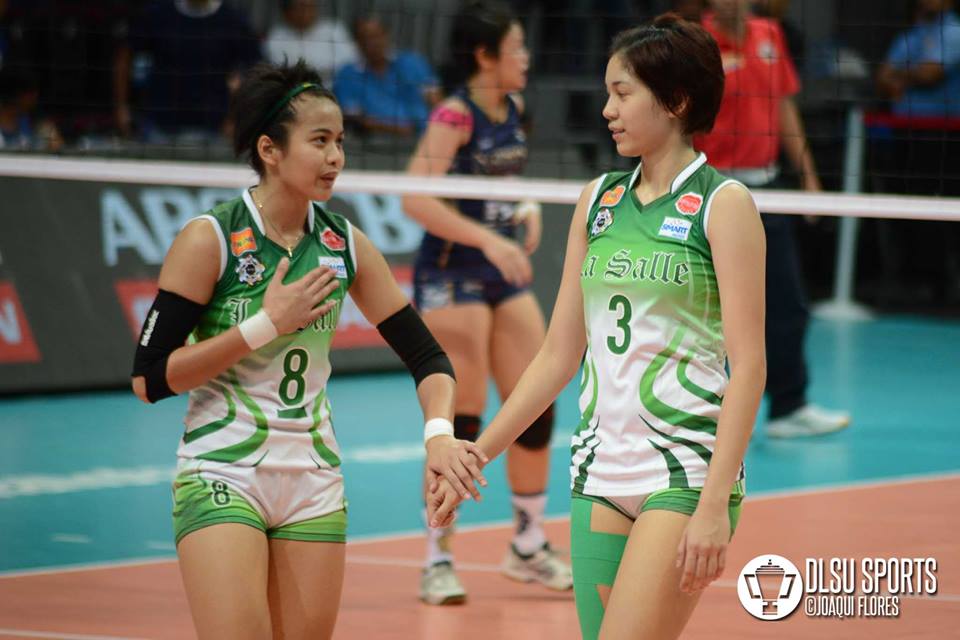 The DLSU Lady Spikers came out strong and overpowered the NU Lady Bulldogs in their do-or-die match as they claimed the final ticket to the championships via a four-set victory, 26-24, 21-25, 25-18, 25-21. This win however, was not easy to enjoy as team captain Ara Galang suffered a season-ending injury during the latter stages of the 4th set.
The Lady Spikers started the game with the kind of eagerness and confidence that everyone was looking for all season long. They played their kind of volleyball. Celebrated each point with huge smiles on their faces. But just as when it seemed like the Lady Spikers were already cruising to their 6th straight finals appearance, the most unfortunate thing has happened. Ara Galang, the team's leader and number one scorer, landed awkwardly on her left knee and fell to the floor after giving her team their 23rd point of the 4th set.
The whole arena fell silent as Ara clutched her left knee while grimacing in pain. As much as it was difficult for the players to see their captain go down, they still had a game to finish. Justine Tiu entered the game for Ara Galang while Desiree Cheng replaced Majoy Baron for serving duties. Cheng kept her composure and nailed an ace, which gave La Salle their match point. A few plays after that, Justine Tiu went for the kill and gave the Lady Spikers their ticket to the finals.
True to form, Ara Galang showcased her scoring prowess in this game as she top scored once again for DLSU with 25 big points, four of which came from solid offensive blocks while Cyd Demecillo, who also suffered an injury (ankle sprain) during the game, scored 15 points.
There was little celebration after the win however, as everyone's mind was on Ara Galang. Just a few hours after the game, it was confirmed that Ara suffered an ACL (anterior cruciate ligament) tear, MCL (medial collateral ligament) tear, medial meniscus tear and big bone bruise on her left knee. She was ruled out for the remainder of the season. It was every supporter's worst nightmare turned into reality.
DLSU Athletic Director Nongnong Calanog confirms that Ara Galang suffered an ACL tear, big bone bruise, MCL tear & medial miniscus tear.

When asked about how La Salle will handle the fact that Ara Galang won't be able to suit up in the finals, coach Ramil said, "sa isang team mahirap maglaro ng walang leader pero tuloy lang. Kasi hindi naman pwede na dun na matatapos. Kung may kulang dapat gawan ng paraan".

Ara Galang's season-ending injury is indeed a tough pill to swallow but it is something that has to be overcome. La Salle still has a finals matchup against rivals Ateneo to play. All out support for the green and white is a must. Game one of the finals will be played on Wednesday, 3:00pm, at the Araneta Coliseum.