Basketball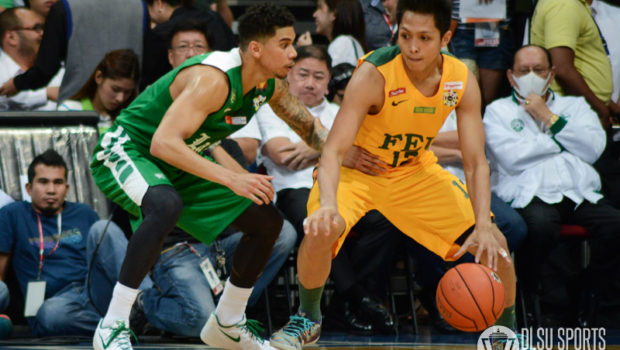 Published on August 27th, 2014 | by DLSU Sports
0
'Breaks of the Game': Archers' streak, joint leadership broken following FEU win
The seven-game winning run established by the Green Archers at the Mall of Asia Arena last month was wiped out at the same venue by the league-leading FEU Tamaraws, 70-74, Wednesday night on the back of crucial plays that fell the gold-and-green's way.
Jeron Teng's 28 points were all in vain as the Season MVP Candidate's teammates were limited to single-digit numbers save for Norbert Torres who notched 13 points. Together, they accounted for 41 points, 18 rebounds and six assists.
Meanwhile, FEU's dynamic duo Mike Tolomia and Mac Belo scored 26 of their combined 33 points in the second half, promptly stepping up to lead their team to its eighth win.
Each break in the game has a fascinating story that altogether compose a colorful back story to a potential playoff matchup .
First quarter, 6:10. Timeout FEU.  
DLSU 10-7 FEU
The game started with Carl Bryan Cruz and Teng exchanging buckets in the opening minute. FEU drifted away through quick shots drained by Belo and Alejandrino Iñigo. The champions, wary of the Tamaraws' offensive strength, chalked an 8-0 run capped by a lay-in from Jason Perkins. Nash Racela calls for a much-needed breather after seeing his players looked helpless at that moment.
First quarter, 2:54. Timeout DLSU.
DLSU 14-9 FEU
Inside the next four minutes, both teams settled for a quick yet unproductive pace that was sprinkled with turnovers, forced shots and good defense. High percentage shots from Raymar Jose, Perkins, and Teng were the only ones that counted. Juno Sauler, knowing his team could do more, called time.
End of first quarter.
DLSU 19-15 FEU
With less time on the clock than the past sequence, both teams gunned more to close out the quarter in entertaining fashion. Teng even scored a three to push the lead to eight but Russell Escoto, scoring all six of FEU's points in the last three minutes brought his team nearer than it would have been.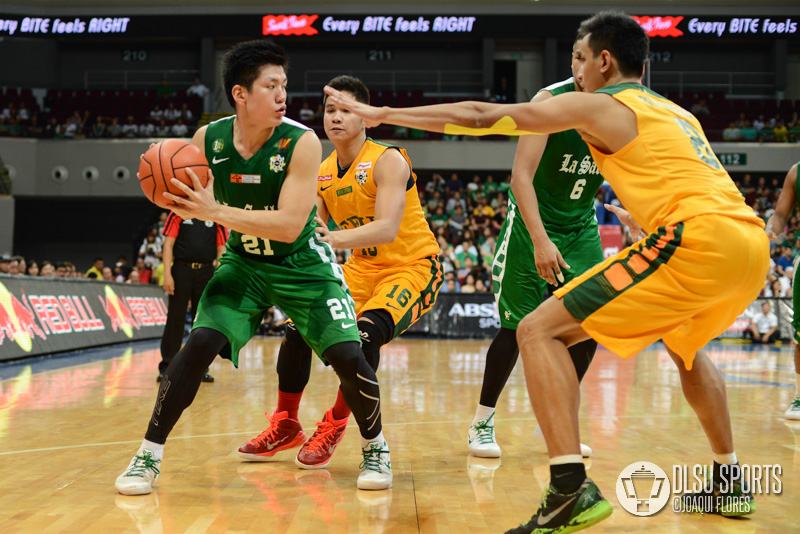 Second quarter, 5:30. Timeout DLSU.
DLSU 24-21 FEU
La Salle led by nine early in the second courtesy of Prince Rivero's uncontested long-range shot. However, FEU gained momentum through Roger Pogoy launching a 6-0 run that came to Sauler's attention.
Second quarter, 3:03. Timeout FEU.
DLSU 30-21 FEU
The Green Archers countered the Tamaraws' rally, cancelling it via Torres who sank four free throws after Perkins immediately converted on the play that succeeded DLSU's timeout. Racela was clearly not happy and used his last timeout of the half.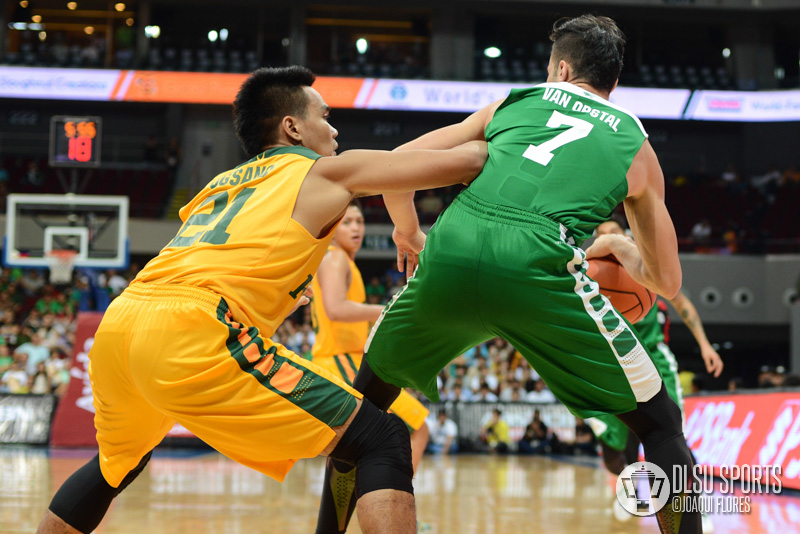 Halftime.
DLSU 35-26 FEU
Belo stopped the bleeding for FEU but the Archers maintained grip of the game. Almond Vosotros scored a signature triple, his lone made from downtown, to give DLSU a double-digit advantage. Torres even padded it to its largest at 12 with charity shots. FEU made three of four free throws of their own to cut the lead to nine at the i-interval.
Third quarter, 8:00. Timeout DLSU.
DLSU 37-33 FEU
Tolomia is slowly taking charge. His bucket together with their disciplined defense brings FEU closer. Jose and Pogoy did their part too. And with that, Sauler gathered his team.
Third quarter, 2:56. Timeout FEU.
DLSU 48-44 FEU
If there was one mistake the Lasallians would have avoided the most, it's letting Tolomia erupt offensively for the Tamaraws. His leadership on offense levelled the playing field before Teng lifted his team slightly ahead with four quick points. Racela does not want his team to lose focus, hence the timeout.
End of third quarter.
DLSU 51-52 FEU
The turnaround was completed in 10 minutes. Limited to 26 points in the first 20 minutes, FEU duplicated the feat in half the time. A strong 8-3 finish courtesy of FEU's aggressive backcourt had the Archers gasping for answers to yet another second half meltdown against the Tamaraws. La Salle earned trips to the stripe but fumbled all six of them.
Fourth quarter, 4:18. Timeout DLSU.
DLSU 59-67 FEU
Allowing 16 points in almost six minutes of play, the Archers were on the ropes with a first loss in a month and a week looming large. Belo, Iñigo and Jose dealt damage to La Salle's defense to record their largest lead of the game. Sauler and his troops prepare for their last stand.
Fourth quarter, 1:26. Timeout FEU.
DLSU 66-69
Racela acknowledged after the game that the champions will always make a comeback before the game ends. Once he sensed momentum was swinging La Salle's way with a 7-2 run, the FEU coach sued for time to send reminders to his team to stay focused. After all, they were still ahead.
Fourth quarter, 48.6.
DLSU 68-69 FEU
Norbert Torres scored an undergoal stab that further reduced the Tamaraws' lead. Racela grew wary. And so did his team. With possession and the lead, they ought to be careful or else…
Fourth quarter, 14.8. Timeout DLSU.
DLSU 68-71 FEU
It took a few precious seconds before Sargent fouled Tolomia, who stripped the ball off Vosotros following a defensive recovery by the Archers. The fourth year guard made both to restore their lead to three. Sauler draws an offensive play for his last timeout.
Fourth quarter, 8.3. Timeout FEU.
DLSU 70-71 FEU
With a better chance of converting inside than out despite an impressive 60% shooting from downtown, Teng opted for a basket off a drive. He drew contact from Anthony Hargrove but not enough for any of the three whistles to be blown. Racela utilizes last timeout to set a good inbounds play.
Fourth quarter, 7.3.
DLSU 70-74 FEU
Sargent exits the game after fouling Tolomia instantly. Sinking the first free throw, Tolomia rescued the Tamaraws with an alert rebound off his second missed free throw before laying it in whilst every other player was tangled as a result of boxing out each other.
A missed opportunity to corral the ball and make a game-tying three results in a disastrous finish. FEU sweeps DLSU, and more importantly, takes the throne at the summit of UAAP men's basketball.
Meanwhile, three teams are tied for second with La Salle joining NU and Ateneo, all having 7-3 records.
Next game is on Sunday, 2:00 PM at the Smart Araneta Coliseum against Adamson.
Game photos may be viewed by clicking the link below:
DLSU vs. FEU Round 2 [08.27.14]
The scores:
DLSU 70 – Teng 28, Torres 13, Perkins 8, Vosotros 7, van Opstal 5, Sargent 4, Montalbo 3, Rivero 2, Bolick 0, Andrada 0, Tratter 0, Salem 0.
FEU 74 – Tolomia 22, Belo 11, Iñigo 10, Pogoy 7, Escoto 7, Jose 5, Cruz 4, Hargrove 4, Tamsi 4, Dennison 0, Ugsang 0.
Quarter scores: 19-15, 35-26, 51-52, 70-74.