Lady Spikers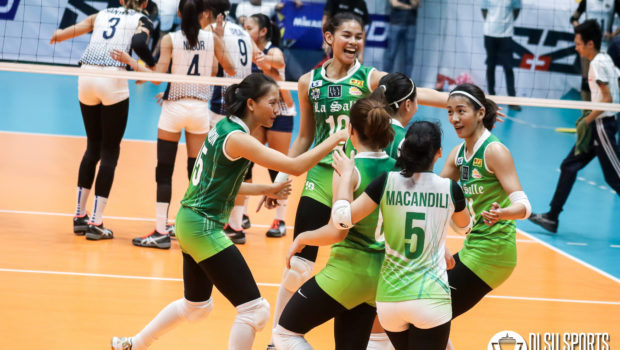 Published on March 10th, 2018 | by Genrev Villamin
0
BRING IT ON! DLSU Lady Spikers start Round 2 with sweep of NU Lady Bulldogs
The De La Salle University Lady Spikers opened the second round of the UAAP Season 80 Women's Volleyball Tournament with a resounding win over their first round tormentors, the National University Lady Bulldogs, 27-25, 27-25, 25-16, on Saturday at the Filoil Flying V Centre.
Over 3700 fans were treated with another thriller as the first two sets needed extensions to determine a winner. The Lady Spikers emerged victorious in both on come-from-behind fashions, before simply dominating the Lady Bulldogs in the third and final set.
National University jumped off to a quick 5-2 lead after a Lady Bulldog service ace. Tin Tiamzon hit a crosscourt attack to cut the deficit to two, 4-6. But, Kianna Dy committed an error as La Salle once again trailed by four, 4-8. After the first technical timeout, the Lady Spikers rallied three straight points to make it a 7-9 game. A crosscourt hit by Dy pulled themselves to within one, 10-11. However, Desiree Cheng could not tie it. The Lady Bulldogs pounded on the Lady Spikers' errors, scoring three unanswered points to make it another four-point game, 14-10. Tiamzon connected off the block after the timeout, but National University headed to the second break ahead, 16-11. The Lady Spikers' deficit ballooned to seven, 14-21, following consecutive errors by Cheng and Aduke Ogunsanya.
Michelle Cobb, though, scored on a fake to cut it to six, 15-21. Eventually, La Salle collected three more points, making it a 19-21 game. Cheng fired an ace to pull them even closer, 21-22, before Baron tied it at 23-all. A crucial net touch violation, however, was called on the Lady Spikers. Likewise though, the Lady Bulldogs committed an error, forcing the first extended set of the match. Aiko Urdas hit one from the right to pull her team to set point, 25-24. Nonetheless, Jaja Santiago's service was too long. Urdas and Santiago both sent the ball out in two consecutive plays that sealed Set 1 for La Salle, 27-25.
Just like the opening set, the Lady Spikers started slowly again. With his team scoreless early in Set 2,  coach Ramil de Jesus burned an early timeout. His wards lagged, 0-4, following an ace from Risa Sato. Coming off the timeout, Baron finally got her team to the scoreboard with a crosscourt hit. May Luna, who was subbed in for Cheng, followed with her own attack. A few moments later, Luna erred a service, sending Set 2 to first technical timeout with her team trailing, 5-8. National University capitalized on La Salle's service errors and ball-outs as the latter's deficit grew to six, 8-14. Cheng and Ogunsanya converted  back-to-back points to make it a 10-14 game. But, the Jhocson-based squad retaliated en route to the second technical timeout.
The Taft-based squad responded with six straight points to shrink a 10-17 deficit to only a one, 16-17. Dy returned the ball to sender to knot the second set, 18-all. La Salle took the lead, 20-19, for the first time after National University committed an error. But, Joy Doromal was quick to tie it again at 21-all. De Jesus called another timeout after Santiago's ace gave the lead back to the her team. Sato connected to push themselves to within two, 23-21. But, Dy's service ace knotted the set anew, 23-all. Sato connected on a difficult behind-the-back attack to inch them to set point, 24-23.
Doromal, however, could not finish it as she served an error, forcing extension of Set 2. Audrey Paran's attack went low as La Salle gained set point, 25-24. Jasmine Nabor's attack landed in as the set was tied once again, 25-all. But, Cheng caught fire in the endgame, hitting two emphatic crosscourt attacks that ended National University's furious rallies. Her timely hits also completed La Salle's another comeback. The Lady Spikers took Set 2, 27-25, and held on to a commanding 2-0 lead.
Contrary to the first two sets, La Salle looked to finish National University in the third set. The former did not allow the latter to create another huge lead to begin with. Tiamzon aced one to send the third set to first technical timeout with the Lady Spikers ahead, 8-5. They doubled on the Lady Bulldogs, 12-6, forcing coach Babes Castillo to call a timeout. The Blue and Gold responded with a 6-3 run to pull them back to within three, 12-15. But, a Baron-Dy conspiracy left the latter a wide floor to punch the ball to.
The Green and White continued to capitalize on National University's errors. Arianne Layug, who had rarely seen action in the first round, pulled La Salle to within three, 22-13. The Lady Bulldogs connected three straight points, but Tiamzon connected for a 23-16 margin. La Salle's lead was already too huge for National University to complete the comeback. The Lady Spikers, then, claimed Set 3, 25-16, and the match, 3-0.
Graduating player Kianna Dy continued her splendid performance, finishing with 14 points on nine attacks and three serves after her 21-point outburst in their previous game. Player of the game Desiree Cheng poured in 13 points on 10 attacks.
Jaja Santiago was held to 13 points, while Risa Sato had 11 points in the losing effort.
With the win, the DLSU Lady Spikers moved to 6-2, claiming the top spot and displacing erstwhile top-seeded NU Lady Bulldogs to second. La Salle will next face the 3-5 UP Fighting Lady Maroons on Wednesday, 2 PM at the same venue.