Basketball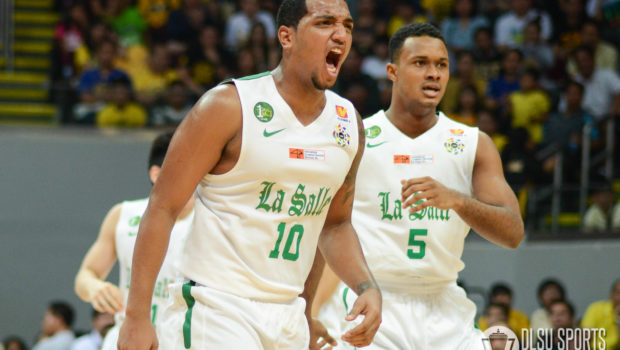 Published on August 10th, 2014 | by DLSU Sports
0
Depleted Archers torch Tigers, end first round with five straight wins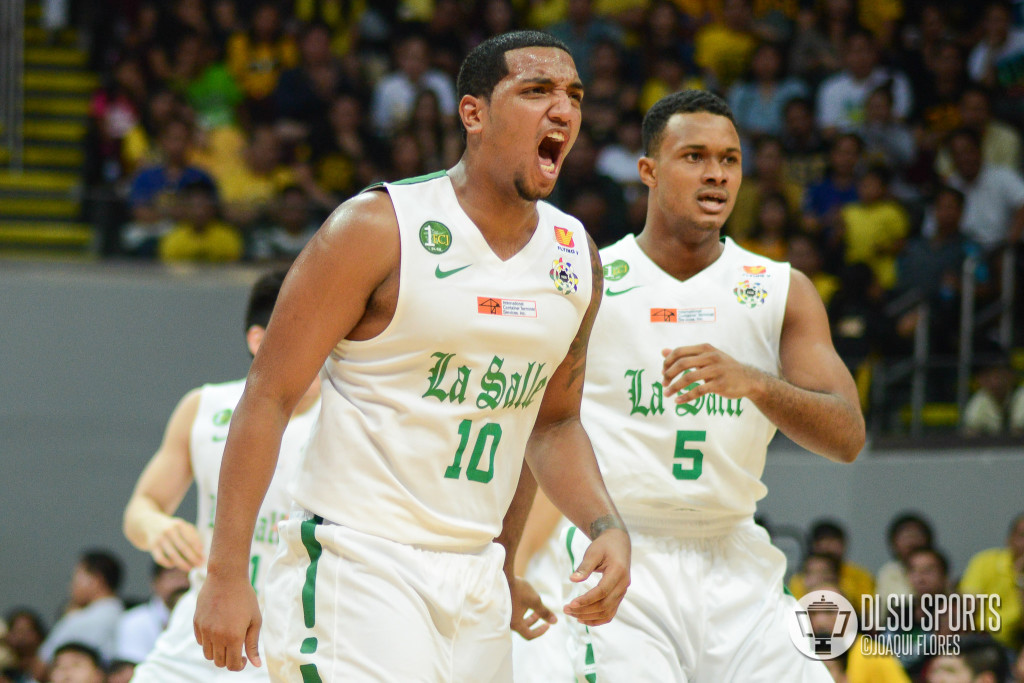 It did not look like it was last year's finals rematch, but the champions stood taller once more against last year's runners-up.
With both teams trying to solidify their championship aspirations come the second half of the season, injury-stricken La Salle defeated the ailing Growling Tigers.
The Green Archers blew the game wide open in the third quarter which resulted in an 83-70 victory against UST earlier at the Mall of Asia Arena.
This puts La Salle tied with NU in second place and could also be joined by FEU if they win against Adamson on Wednesday.
Jeron Teng delivered hugely as he tallied 22 points, six rebounds, five assists and a steal. Jason Perkins, who killed the game in the last two minutes, produced 15 points. Seven other players barged into the scoring column. On the other hand, only six Thomasians were on the mark today.
The game began timidly until La Salle opened a 10-4 lead. UST replied instantly and levelled the game via two triples. Paced slow again in the first which ended at 17-15 in favor of the champions.
The second quarter was played with more energy although scoring production was still limited. Inside the last minute of the half, Louie Vigil unfurled two quick trifectas that shortly gave UST the lead. Almond Vosotros cancelled one of those to send both teams to the locker rooms tied at 35.
The Tigers sought control in the third and briefly held slim leads. An 11-1 run that took place between Yutien Andrada's baskets that sandwiched a Robert Bolick three that rocked the green gallery. It shaped up to be the game changer as it offered La Salle some breathing space considering the stiff nature of the game.
In the fourth, La Salle held off multiple attempts of UST to come back. Julian Sargent was integral in keeping UST at bay. With only less than two minutes, Perkins drilled a three-point dagger that all but sealed the Green Archers' fifth consecutive win.
Coach Juno Sauler lauded his bench players who were significant in the second half rally. "I think they were just up to the challenge. They want to show what they can contribute," he says while also downplaying their five-game winning streak–the longest-active stretch so far this season.
The UAAP 76 champion mentor also disclosed the status of five of his players' health concerns. Arnold van Opstal and Norbert Torres are hoped to be back in five days. Terence Mustre and Kib Montalbo could be out for a week or two while Thomas Torres could return three weeks from now.
The second round schedule will be released after Wednesday's games. It is a certainty that the Green Archers will play next week. Details on their eighth UAAP game will be determined this midweek.