Animo Squad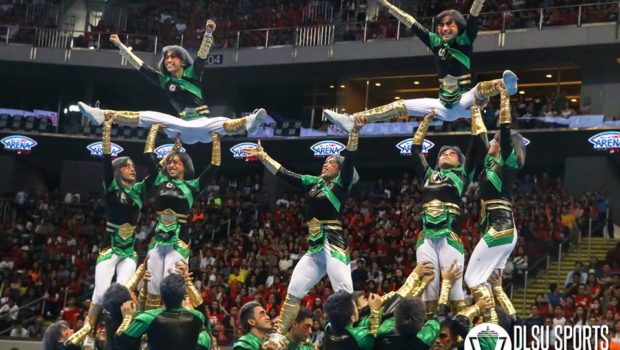 Published on December 2nd, 2017 | by Genrev Villamin
0
DLSU Animo Squad takes UAAP to Japan, finishes seventh
The De La Salle University Animo Squad settled for seventh place in the UAAP Cheerdance Competition 2017, Saturday at the SM Mall of Asia Arena.
The Japan-inspired Animo Squad, whose theme for this year was #JapANIMO, performed second among the eight UAAP schools. Complete with as well Japan-inspired music and props, they instantly portrayed their "Land of the Rising Sun" characteristics.
They opened their performance using Japanese fans in their dance routines. Their dances incorporated different traditional Japanese movements, but they executed them fiercely and they remained fearless with their various stunts and heart-stopping tosses. Furthermore, the Animo Squad also displayed their strength and balancing abilities, impressing the crowd in their multi-level pyramids. To cap their routine, they used green and white Japanese umbrellas in the Lasallian traditional "Green! White! Fight!" cheer, maintaining their inspirations.
No less than the defending champions, the National University Pep Squad, set the bar for the rest of the competition. The five-peat-seeking squad from Jhocson delivered as expected. However, they were not free from errors, collecting a few in their pyramids and tosses very early in their routine.
The Adamson Pep Squad performed third. The 2016 surprise podium-finishers sought to make sure to the UAAP community that their third place was no fluke. And with an almost perfect performance, they sure wowed the crowd.
Returning from a hiatus was the UP Pep Squad. As a consistent Top 3 in the competition, many expected them to once again show the way. And they were absolutely impressive in their dance. But, just like NU, they also gathered a few errors in their routine.
After finishing in the Top 2 in four of five categories, Adamson was hailed as the 2017 champions, their first in the cheerdance competition. The UST Salinggawi Dance Troupe led the competition in dance, but their stunts pulled them to second place. Finally, the UE Pep Squad made a surprised by completing the podium cast at third place. They led the competition in tosses and trailed only Adamson in pyramids.
Probably the biggest shocker of the competition, however, was NU. Their four-year reign had finally come to an end as they finished out of the podium and slid to fourth. The 2016 second placers, the FEU Cheering Squad, followed at fifth. Another shocker was UP, who failed to reach the podium for the first time since joining the competition in 1995. They ended up at sixth place after finishing last in stunts and pyramids. Lastly, the Ateneo Blue Babble Battalion ended in the bottom three in four out of five categories, sending them to the end of the line for the fifth straight year.
Meanwhile, FEU triumphed in the Group Stunts side-competition. Adamson and UP claimed the second and third places, respectively.
Results:
1st place: Adamson Pep Squad – 663.50 points
2nd place: UST Salinggawi Dance Troupe – 638.50 points
3rd place: UE Pep Squad – 634.50 points
4th place: NU Pep Squad – 610.50 points
5th place: FEU Cheering Squad – 610.50 points
6th place: UP Pep Squad – 575.50 points
7th place: DLSU Animo Squad – 567.50 points
8th place: Ateneo Blue Babble Battalion – 558.50 points