Basketball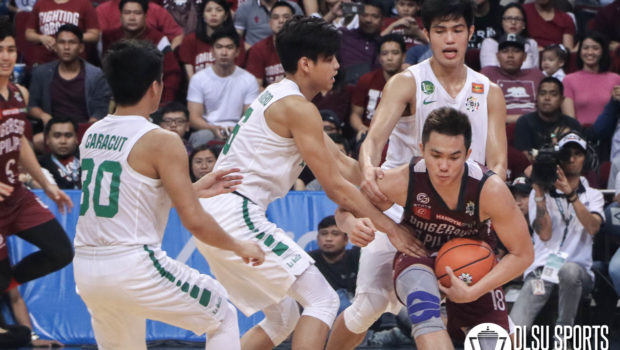 Published on September 23rd, 2017 | by Genrev Josiah Villamin
0
Green Archers suffer first loss of the season, bow to Fighting Maroons
The De La Salle Univeristy Green Archers suffered their first loss of the season at the hands of the UP Fighting Maroons, 87-98, Saturday at the SM Mall of Asia Arena.
Reigning MVP Ben Mbala paced the team with 34 points on 11/19 shooting, including 4/8 from three. He also grabbed 12 rebounds in the losing effort. Andrei Caracut and Ricci Rivero added 15 and 12 points respectively.
On the other hand, Paul Desiderio led the Fighting Maroons with 30 points built on six triples. He also listed six rebounds and five assists. Jun Manzo added 17 markers as the Fighting Maroons tied the Green Archers for second place with similar 3-1 records.
The opening period saw a hot-shooting Green Archers. Mbala poured 16 points in the first quarter, including all of his four treys. They established a double-digit lead, 18-7, with 3:54 to go off an in-bound steal. Their lead eventually extended to 14, their biggest of the game, at 23-9 after a Caracut three-pointer. At the end, it was 27-18 for DLSU.
La Salle led UP, 33-22, at the 8:13 mark courtesy of a Prince Rivero clean up of the younger Rivero's miss. The Fighting Maroons, however, pulled a 9-0 run to cut their deficit to two points, 33-31, before Desiderio completed a four-point play with 4:58 remaining in the first half. Javi Gomez De Liano's triple then gave UP the lead, 41-40, as the Fighting Maroons entered the dugout with a 47-43 advantage.
Only five players – Mbala, Caracut, Kib Montalbo, and the Rivero brothers – have scored in the first half for DLSU contrast to UP's nine.
The Taft-based squad opened the third frame with a 9-0 run to reclaim the driver's seat, 52-47. But the Diliman-based squad answered with a 10-0 blast, including back-to-back triples from Desiderio to give them a 57-52 lead. Mbala, nonetheless, kept the Green Archers within striking distance, knotting the game at 63-all with 2:21 to go. Red-hot Desiderio, however, continued to sizzle from three-point distance for a 66-65 UP lead after three quarters.
The Fighting Maroons started to pull away early in the payoff period, extending their lead to eight, 68-76. Then, the Green Archers rallied to bring them to within four points, 77-81, with 4:12 remaining. Within the next two minutes, La Salle was yet down again by 11 after an 7-0 UP counter rally capped by a goal tending violation called on Mbala. Ricci Rivero's triple and Caracut's three freebies brought them to within seven, 85-92 with under a minute to play. Manzo's basket with 20 ticks to go, however, proved to be the nail in the coffin.
With the loss, the DLSU Green Archers slide to third place with a 3-1 slate. They will face the still winless UST Growling Tigers on Saturday, 4PM at the Smart Araneta Coliseum.
Scores:
DLSU 87 – Mbala 34, Caracut 15, Ri. Rivero 12, Ra. Rivero 9, Melecio 5, Montalbo 5, Santillan 5, Paraiso 2, Go 0, Tratter 0.
UP 98 – Desiderio 30, Manzo 17, Jg. Gomez De Liano 10, Jj. Gomez De Liano 10, Quattara 6, Lim 6, Jaboneta 6, Dario 5, Romero 4, Ricafort 2, Prado 2, Lao 0, Vito 0, Harris 0.