Basketball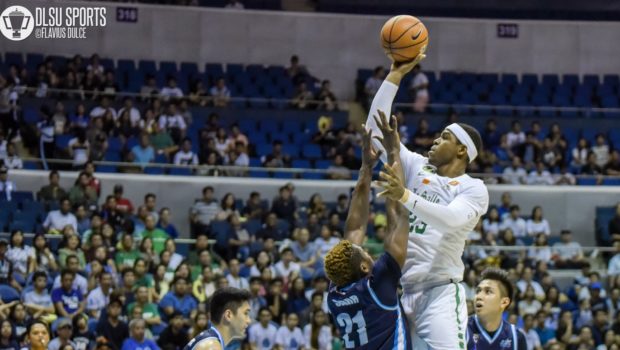 Published on November 18th, 2017 | by Genrev Villamin
0
DLSU Green Archers conquer gritty AdU Soaring Falcons to return to UAAP Finals
The De La Salle University Green Archers are back in the UAAP Finals after overcoming the Adamson University Soaring Falcons, 82-75, on Saturday at the Smart Araneta Coliseum.
Back-to-back UAAP MVP Ben Mbala led the Green Archers with a double-double output of 27 points and 14 rebounds. Santi Santillan contributed 15 points and six rebounds, while Mythical Five member Ricci Rivero tallied 14 markers, six boards, and six dimes.
Meanwhile, Jerrick Ahanmisi led the Soaring Falcons with 17 points. Robbie Manalang and Tyrus Hill had 16 and 10 markers, respectively.
Santillan and Adamson's Manalang traded baskets to start the game. Mbala's baseline bucket gave La Salle the lead, 6-5. With 5:40 remaining in the opening quarter, Santillan cleaned up Ricci Rivero's miss for an 8-5 advantage. However, the opponents unleashed a 16-3 run over the last five minutes of the quarter. They reclaimed the lead, 9-8, following Papi Sarr's basket. Kurt Loreja of the Soaring Falcons scored five straight points to push their lead to seven, 16-9. An unsportsmalike foul was called on Jollo Go at the 1:23 mark. At the end of the first quarter, La Salle trailed Adamson, 11-21.
Manalang and Ahanmisi's baskets extended Adamson's lead to 25-13. Then, Mbala poured four straight points in La Salle's 7-0 run to cut the deficit to six, 19-25. With 3:23 remaining in the second quarter, Mbala was fouled while taking a shot. He completed a three-point play to bring La Salle to within five, 25-30. Santillan's one-hander trimmed Adamson lead to four, 33-29, with 1:51 to go. Then, Ricci Rivero's scoop shot even cut it to three, 36-33. However, Manalang hit a triple for a 39-33 Adamson lead at the half.
Mbala led La Salle with 12 points, while Santillan had eight markers. On the other hand, Manalang logged 11 points on three triples for Adamson. La Salle committed 15 turnovers, but Adamson collected 14 fouls.
The Soaring Falcons rallied in the third quarter behind Manalang's red-hot shooting and Tyrus Hill's energy. Ahanmisi's trey gave them a 12-point lead, 49-37. Hill connected on a three-point play pushed their margin to its largest at 15, 54-39. It was a see-saw battle in the remaining 4:16 of the third period as La Salle could not break the nine-point barrier. At the 1:11 mark, Adamson head coach Franz Pumaren was slapped with a technical foul for resentment to a call. But, Andrei Caracut failed to convert the freebie. After three quarters, La Salle continued to trail Adamson, 54-63.
Not wanting to play another game on Wednesday, the Green Archers unleashed their famed "mayhem" defense as they stormed back to the driver's seat to start the final quarter. La Salle mounted a huge 14-0 rally initiated by Prince Rivero followed by Jollo Go's triple. Then, Abu Tratter completed a three-point play to pull them to within one, 62-63. After that, Aljun Melecio hit a long two in the left corner as La Salle regained the lead, 64-63. Mbala and Melecio's splits to the stripe continued the run.
It was only until the 4:44 mark when Adamson incremented their third quarter score. With 3:47 remaining in the game, La Salle's lead was up to one, but Mbala powered his way for a three-point play. Manalang hit a triple to keep the Soaring Falcons within striking distance, but Santillan answered with his own long bomb. Then, Ricci Rivero found himself wide open for the fast break slam dunk. With 54 ticks left, Ricci Rivero missed two free throws. Nonetheless, Melecio tracked the loose ball and cleaned the miss. The Green Archers were up by eight, 78-70. Ahanmisi's triple and Sarr's basket pulled them to within five points, 75-80, but Caracut's two charities proved to be the nail in the coffin for Adamson.
The Green Archers survived the red-hot Soaring Falcons, who converted 11 triples contrary to their only two treys on a measly 9.52%. The latter forced 22 La Salle turnovers and translated them to 23 turnover points. However, La Salle out-rebounded the Adamson, 50-35. They were also more aggressive in taking their shots to the basket as they fished 33 Adamson fouls and converted 26 of 39 free throw attempts.
The defending champions await the winner of the Semifinals match between the Ateneo Blue Eagles and the FEU Tamaraws. Game One of the Finals will be on Saturday, 4PM at the SM Mall of Asia Arena.
Scores:
DLSU 82 – Mbala 27, Santillan 15, Ri. Rivero 14, Melecio 7, Montalbo 5, Caracut 4, Tratter 3, Go 3, Ra. Rivero 2, Baltazar 2, Paraiso 0.
AdU 75 – Ahanmisi 17, Manalang 16, Hill 10, Lojera 7, Papi 6, Bernardo 6, Manganti 5, Espeleta 4, Pingoy 2, Zaldivar 2, Ochea 0.
Quarter scores:
11-21, 33-39, 54-63, 82-75