Basketball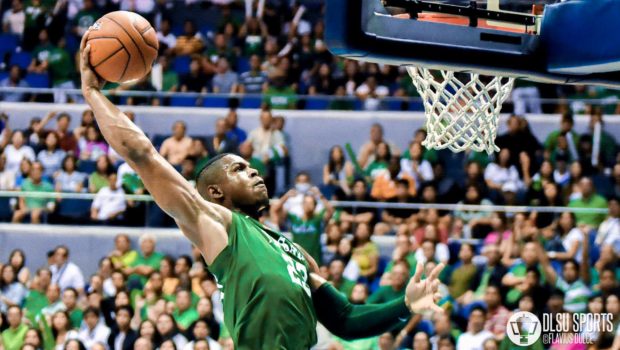 Published on October 5th, 2017 | by Louie Fernando
0
DLSU Green Archers halt UE Red Warriors to grab second straight win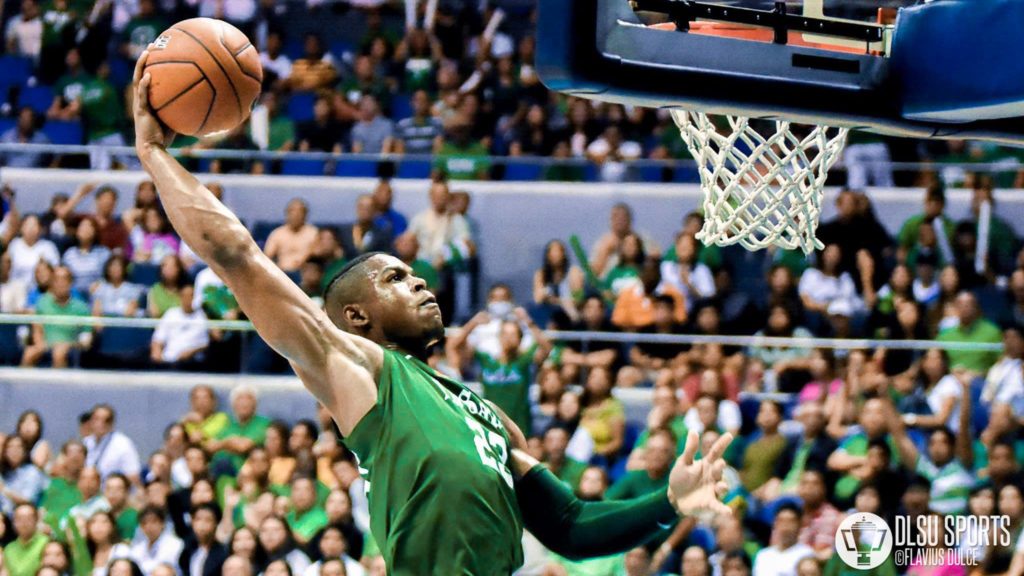 Ben Mbala puts up a career-high in points to keep the UE Red Warriors at bay, 106-100, Wednesday at the Mall of Asia Arena.
Big Ben once again dominates. The reigning MVP scorched the Red Warriors on both ends of the floor putting his entire repertoire in display. Finishing with 39 points, 15 rebounds, and 2 blocks. The big man was also very efficient, shooting 10/12 from the field and a whopping 95% for 19 points at the line.
Meanwhile, UE's Alvin Pasaol tried his mightiest to give his team a victory as the Red Warrior guard went toe-to-toe with Mbala, posting a big career-high 49 points along with 8 rebounds and 4 steals but it was not enough against a talented DLSU squad. Pasaol's 49 is the highest total points scored in a game by a UAAP player since 2002.

The Red Warriors made a comeback late to try and steal the game but came up short as the deficit was too deep for them to overcome. With half of the 4th having already ticked, DLSU's sharpshooter Andrei Caracut made his presence felt from deep as usual when he knocked down a three to give La Salle its biggest lead of the match, 100-75. Pasaol along with his Red Warrior running mate Philip Manalang made a quick slash on the lead with a sudden 13-2 run to cut La Salle's lead down to 7, 104-97, with 38 seconds remaining in the game. La Salle's Abu Tratter tamed the surging UE with a putback score to finally seal the game for his team.
Green Archer stalwart Aljun Melecio missed his second straight game due to illness. Fortunately a number of Archer stepped up this time for DLSU with Melecio's services absent, notably Tratter, another career-high achiever in points with 24 to go along with 10 rebounds. Caracut also added 11 points, shooting 3 out of 4 from deep while Prince Rivero provided more frontcourt firepower for the squad going for 8 points, 4 rebounds, and 3 assists.

UE tried to keep pace with a high-octane DLSU offense throughout the game, even grabbing the lead for a bit in the first quarter, 24-23. But a Ricci Rivero stepback jumper quickly gave the lead back to La Salle and they never looked back from there on out. The younger Rivero finished with 8 points, 5 rebounds, an assist and a steal in 16 minutes of play. For the majority of the game, the Green Archers turned in a total team effort in another high scoring win. An upset near the end of the match was dodged by La Salle as they built a huge enough lead to come away with the game.

The DLSU Green Archers are assumed to have less margin for late-game breakdowns as they face top-seeded rival Ateneo Blue Eagles with a perfect 5-0 record on Sunday, 4PM at the Mall of Asia Arena.
DLSU 106 – Mbala 39, Tratter 24, Caracut 11, P. Rivero 8, R. Rivero 8, Montalbo 5, Santillan 4, Paraiso 3, Baltazar 2, Tero 2, Capacio 0, Go 0, Gonzales 0
UE 100 – Pasaol 49, Manalang 14, Olayon 13, Bartolome 6, Varilla 5, Derige 4, Acuno 4, Maloles 2, Abanto 2, Cullar 1, Conner 0