Basketball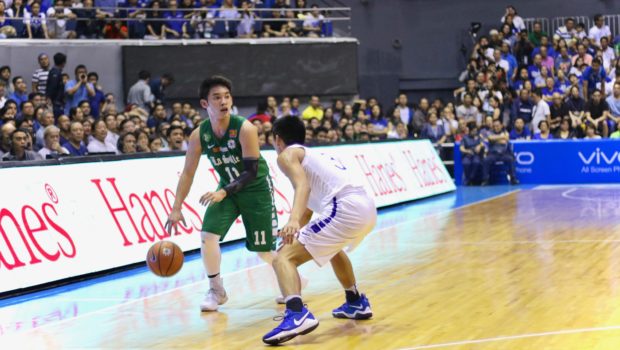 Published on December 3rd, 2017 | by Genrev Villamin
0
DLSU Green Archers surrender UAAP title to Ateneo Blue Eagles
The De La Salle University Green Archers failed to defend their title after yielding to the Ateneo Blue Eagles, 86-88, in Game Three on Sunday at the Smart Araneta Coliseum.
The Blue Eagles jumped off to a quick start after leading the Green Archers, 6-2, in the first 2:30 of the game. They led by as many as nine, 15-6, following Chibueze Ikeh's triple and Thirdy Ravena's bucket at the 5:16 mark. Third year players Andrei Caracut and Jollo Go then sank two treys of their own to cut the deficit to 4, 12-16. But, Aaron Black, Isaac Go, and Jolo Mendoza provided baskets to bring the lead to 10, 22-12, with 1:22 remaining. At the end of the first quarter, La Salle trailed Ateneo, 14-24.
Ben Mbala scored the first seven points of the Taft-based squad to pull them back to within four, 21-25. Santi Santillan and Ricci Rivero's baskets capped La Salle's 11-1 run to tie the game at 25-all with 6:02 in the first half. Anton Asistio and Ricci Rivero traded three-point plays as the game remained knotted at 30-all. Ikeh, Ravena, and Black countered La Salle's run to push them back ahead, 37-32, with 2:05 remaining. At the 1:54 mark, Aljun Melecio hit a triple that ignited a 6-0 run. La Salle took the driver's seat 38-37 after Prince Rivero's basket underneath. But, Ateneo answered with an 8-0 run highlighted by a buzzer-beating off-the-glass three by Asistio to end the half. La Salle remained behind, 38-45.
Mbala and Caracut led their team with seven points each. Meanwhile, Ravena and Ikeh paced the opponents with 11 and eight respectively.
The two teams traded baskets to open the second half. Coach Tab's team led by eight points, 50-42, after a Ravena bucket. But, coach Aldin's scored nine unanswered points to reclaim the lead, 51-50, with 6:00 in the third. Then, the Blue Eagles started to heat up, firing three long bombs in their next nine points. Nonetheless, a basket by Mbala and a steal and slam by Ricci Rivero kept them afloat, 60-59. Kib Montalbo made a jumper at the 2:11 mark, but Mendoza nailed a triple to tie the game at 64-all. La Salle completed to erase the deficit, tying the game at 66-all heading into the final quarter.
The Katipunan-based squad unleashed a vicious 10-2 run that restored an eight-point lead, 76-68. That run included back-to-back treys by Matt Nieto and Asistio. Then, Ravena made it another 10-point lead, 80-70, at the final 4:06 of the game. Melecio swished a three-point shot to inch the Green Archers. In addition, Mbala banked four straight points as La Salle was behind by only five. At the 0:48 mark, Caracut sank a huge triple that pulled them to within two, 80-82, their closest after lagging by 10 points.
But the biggest play of the game came with 24 seconds remaining in the game. Isaac Go did it again for the Blue Eagles. He hit a wide-open three to sink the Green Archers, 80-85. To add to that, time was also no longer in the green side. Caracut nailed a half-court heave but time expired and the buzzer had signified Ateneo's victory, 88-86.
UAAP MVP Ben Mbala anchored the Green Archers with 19 points and 14 rebounds in what could be his final game as a Green Archer. Melecio and Ricci Rivero contributed 16 and 14 markers, respectively.
Finals MVP Thirdy Ravena led the new champions with 17 markers, eight boards, and five dimes. Matt Nieto added 14 points, while Ikeh logged 12-13 in the title-clincher.
La Salle had an impressive 52.17% clip from the two-point range. However, they suffered from the three-point area, shooting a measly 24.24%, or eight made out of 33 attempts. Melecio was 3/11, Caracut was 3/8, Ricci Rivero was 1/6. Mbala and Montalbo missed all their combined six attempts.
Scores:
DLSU 86 – Mbala 19, Melecio 16, Ri Rivero 14, Caracut 13, Santillan 11, Tratter 4, Montalbo 3, Go 3, Ra Rivero 2, Tero 1, Baltazar 0.
ADMU 88 – Ravena 17, J Nieto 14, Ikeh 12, Asistio 11, Tolentino 9, Go 7, Verano 6, Mendoza 5, Black 4, Mamuyac 3, M Nieto 0.
Quarter-scores:
14-24, 38-45, 66-66, 86-88