Baseball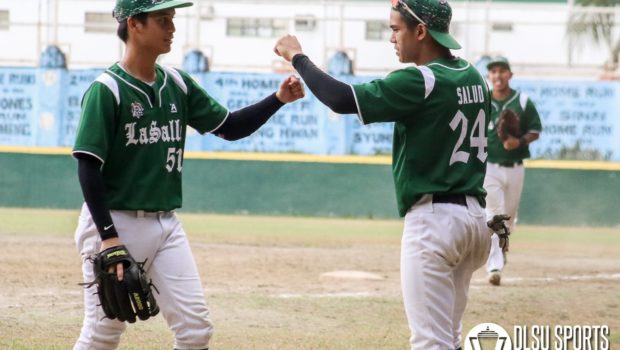 Published on March 7th, 2018 | by Gabriel Minamedez
0
DLSU Green Batters take home win over Adamson to sweep second round
Defense was the main game for De La Salle University on Wednesday as the Green Batters topped the Adamson University Soaring Falcons, 14-5, at the Rizal Memorial Baseball Stadium to secure the top spot.
Coming in undefeated so far in the second round, the Green Batters showed no signs of mercy, as the team capitalized on both ends of the game to pull off the victory.
Both teams were still getting a feel for each other to begin as the first inning saw the score still deadlocked at zero. La Salle then drew first blood during the second inning, when a homer from Jonathan Park ignited the Taft-based squad. Adamson would not score at the bottom of the second, thanks to great defense from La Salle.
The Green Batters would then answer back at the top of the third inning with a Barandiaran homer courtesy of a perfect bat from Jameson Esparas.
Everything seemed to go well for La Salle, until a huge Adamson run late in the third put them right back in the game. After tying the match at 2-all, a pitcher-catcher miscommunication from La Salle gave the Falcons their first lead. Catching errors from the green side would then put Adamson on top, 4-2 to end the third inning.
La Salle recollected their composure to reclaim a lead that once was. The fourth inning ended with a homerun from Amado, followed by fantastic defense for La Salle to give Adamson another scoreless inning, 4-4.
The Green Batters would then have their fingerprints all over the rest of the game.
The fifth inning began with a homerun from Vicente Barandiaran to put La Salle back up, 5-4. Esparas then took advantage of the shoddy Adamson defense to score a homerun of his own.
Lorenzo Amado then continued the outpour for La Salle with two RBIs that took Park and Pineda home. Jose Acuna then capped off the monstrous run by the Green and White, bringing Amado to a homerun. It was 9-4 for La Salle after the top of the fifth inning. Adamson would score at the bottom to give them their fifth and final point of the game.
La Salle dominated the rest of the match, with Joaquin Bilbao putting the final nails to the coffin after recording three RBIs to take Barandiaran, Pascual, and Park home.
The win gave the Green Batters a sweep of the second round, ending the eliminations on top with a 9-1 card. La Salle also booked a finals match with the very same Adamson University, who finished the eliminations at second place.