Football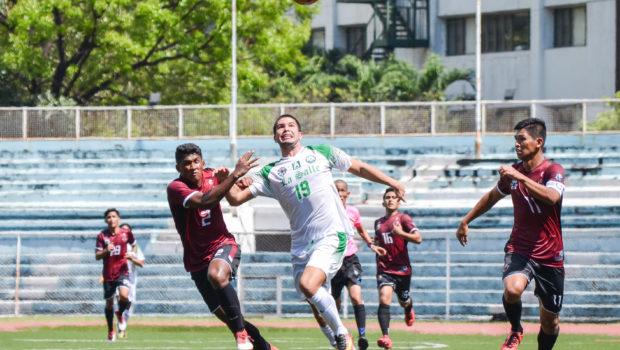 Published on March 1st, 2018 | by Genrev Villamin
0
DLSU Green Booters fall to UP for third loss of the season
The De La Salle University Green Booters slid to 3-0-3 after losing their second straight game, 0-2, to the University of the Philippines Fighting Maroons on Thursday at the Rizal Memorial Football Stadium.
Immediately, the Diliman-based squad showed its defensive plays on the Taft-based squad. La Salle could not buy a score. But UP also failed to find the end of the net.
In the 18th minute, though, the Fighting Maroons shifted their offense as Miggy Clarino received an assist. He took it and made it at the left corner to put his team up, 1-0.
La Salle had some opportunity to tie the game just a few minutes after UP scored. However, Mathew Custodio could not get the Green Booters on the scoreboard. As they could not fend off their offensive woes, they, instead, relied on defense to hold the Fighting Maroons. Three minutes were added in the first half, but La Salle still trailed UP, 0-1, at the end.
Into the second half, action was more intense between the two teams as neither allowed the other to score. It was an up-and-down affair almost through the rest of the game. La Salle had chances to equalize at the 56th minute, but Cristian Zubiri's kick went wide. Nonetheless, UP as well failed to increment as Kintaro Miyagi missed the mark at the 66th minute.
As time was nearly approaching zero, the opponents seemed to have already smelled victory as La Salle tended to relax. The state university took advantage of it, with Miyagi finally nailing one, UP's second, just a few feet outside the box at the 87th minute.
The game extended for five more minutes. To little avail, though, the Green Booters remained scoreless at full time.
The DLSU Green Booters sit at fourth place, only behind UP (5-1-0), UST (4-1-0), and Ateneo (3-0-2). They are looking to bounce back and get their fourth win as they face the NU Bulldogs (2-1-3) on Saturday, 5 PM at the same venue.