Football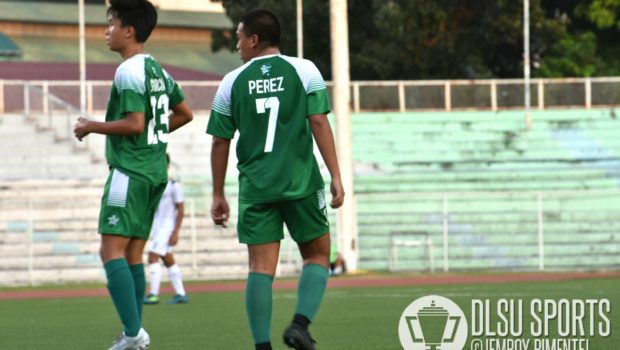 Published on March 19th, 2018 | by Karsten Villarin
0
DLSU Green Booters shock FEU Tamaraws late in second-round faceoff
The De La Salle University Green Booters prevailed over the FEU Tamaraws, 1-0, in the UAAP Season 80 Men's Football Tournament at the Rizal Memorial Football Stadium, Sunday.
The game started off hot as early attempts came from both sides. After a series of passes, La Salle's defense remained tight as La Salle's goal keeper Rafael De Guzman stood strong to keep the base clean.
The match began to intensify as FEU's keeper got injured at the 17th minute. He was brought out of the field and was given emergency medical assistance.
La Salle's Noel Brago went for a free kick at 30' and followed it up by a corner kick at the 37th minute mark.
Rallies were kept alive, yet a yellow card was shown to Alcantara after a series of good attempts from the Green and White. At the end of the first half, both teams were scoreless.
The heat turned into fire as a red card was given to FEU after a gritty encounter wherein FEU allegedly ran over La Salle's Rafael Siggaoat. Amidst this, La Salle tried to be as professional as possible and continued to fight clean and fair.
Non-stop free kicks and corner kicks came from both wings. Attempts from Zubiri tried to push through but were still denied by FEU's close defense. Jerby Bernaldez finally pierced in a goal at the 89th minute.
After a morale-boosting win, Bernaldez hopes that the team continues to rack up wins to inch closer into the semifinals.
"Now that we're at the third spot, we're looking to win more so that we will enter the Final Four," he said.
Coach Hans Peter-Smit, on the other hand, did not mind the scuffle that happened and stated that it is all part of the game.
"No matter what, these are kids. It's part of the game, tempers will flare up, they've had their chances that adds up more to the frustration. I understand that," the fiery mentor said.
In addition, Coach said he would expect the Green Booters to 'not be over zealous and continue to play well so far.'
The DLSU Green Booters will face the UP Fighting Maroons on Thursday, 4 PM at the FEU FERN Football Field.