Football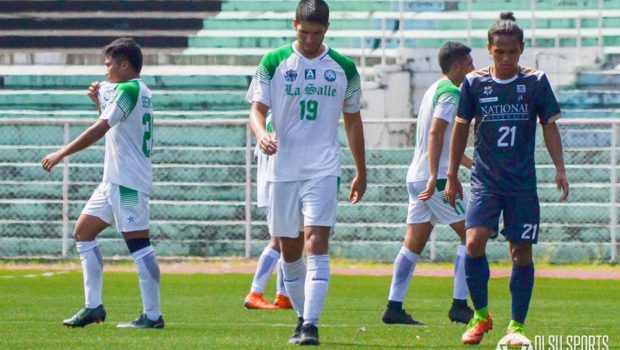 Published on April 13th, 2018 | by Jhenel Laus
0
DLSU Green Booters victor over NU, clinch Final Four berth
The De La Salle University Green Booters eliminated the National University after clinching a Final Four berth in a crucial match of the season, 2-1, in the UAAP Season 80 Men's Football Tournament at the Rizal Memorial Stadium, on thursday.
La Salle and NU were in a must-win situation heading into the game, as both teams still fighting for their Final Four hopes of the season.
At the 12th mark of the game, Green Booter Matthew Custodio came up big after finding teammate Christian Zubiri to score their first goal.
The Taft-based squad went full-guard defensively, but NU continued to be aggressive offensively as they tried to equalize and found a way to score as Bulldog Simplicio Mantal saw the opening and was able to catch the tape of the net to tie the game at 1-apiece.
At the second half, Matthew Custodio had his own chance for another goal as he slipped past the defense of National University and was able to convert his own goal for the team. La Salle went up, 2-1.
La Salle did not let NU score another goal for another equalizer as the Green Booter sealed the win.
DLSU clinched another Final Four spot with twenty points at the end of eliminations. The rest of the playoff cast are UP, Ateneo and UST with thirty-two, twenty-eight and twenty-two points respectively.