Green Shuttlers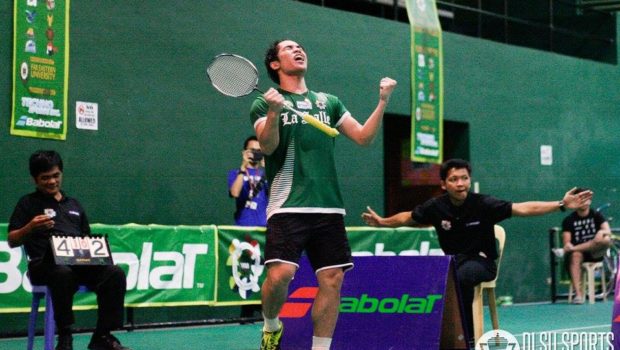 Published on October 10th, 2015 | by Arnold Cagang
0
DLSU Green Shuttlers sweep rivals Ateneo to set finals rematch against NU Bulldogs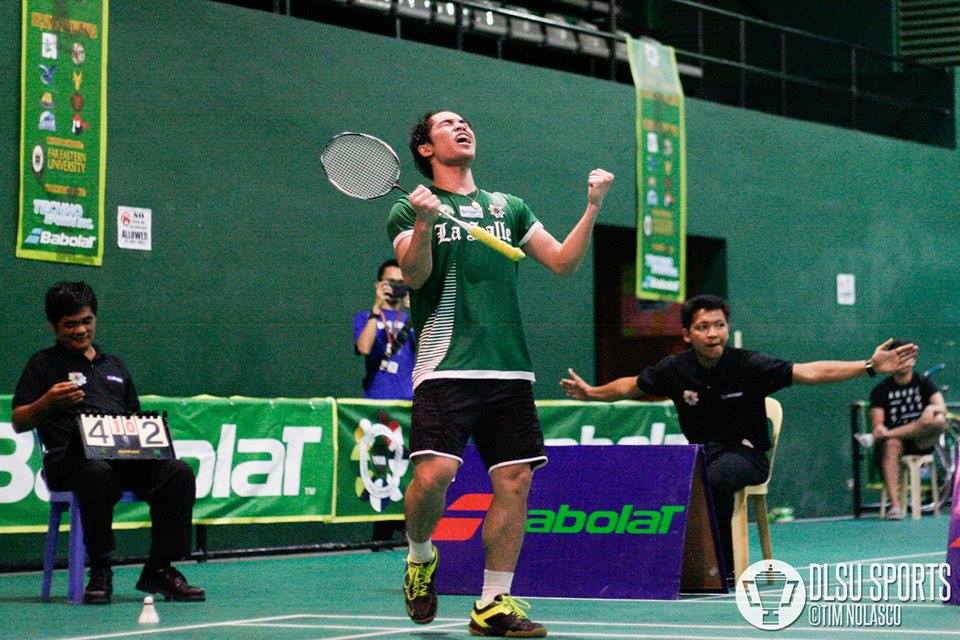 Same situation from last season, no need to use the twice-to-beat advantage, as the Green Shuttlers swept rivals Ateneo to gain a spot in the Finals once again, and face defending champions and thrice-to-beat NU Bulldogs.
Unlike in the elimination round when all five games have to be played, the playoffs institute a race to three affair.
Green Shuttler Anton Cayanan went up against Ateneo's Carlo Remo in the first singles match, both went head-to-head in the first set as it went to a deuce and Cayanan lost his grip, dropping the set 22-24. Anton Cayanan then proved to be better, as he retaliated in the 2nd set winning with a huge lead 21-11. In the 3rd and deciding game, Cayanan was on fire, emotions also coming out for both players as lead changes were evident in the entire set until it reached the 19-19 mark, Cayanan then finished the match smashing it to Remo for the 21st point.
Anton shared what was on his mind after losing the 1st set, "Actually sayang kasi dikitan, akala ko makukuha ko na, pero sinabi ko lang babawi lang ako at babawi, alam ko kaya ko naman. Sanay naman ako sa may pressure."
Set scores: 22-24, 21-11, 21-19
Kenneth Monterubio then suited up for the Green Shuttlers in the second singles match and went against Ateneo's Clarence Filart. Monterubio controlled the pace in the entire first set to grab it, 21-17. Second set was the other way around, Filart dictating and inched closer to level the match, he led 19-15, but the heart of Kenneth Monterubio was indomitable, he started a comeback and scored five straight points to reach match point, 20-19, Filart then forced a deuce, both players going at it, but Monterubio prevailed after all, sealing the match, 24-22 to give La Salle a two-game advantage to none.
Set scores: 21-17, 24-22
The Sibayan-Cayanan tandem then finished off Ateneo's Bernardo and Remo in straight sets, 21-16, 21-16. Gerald and Anton led all the way until the end, they never looked back as the National Team players' experience and teamwork propelled and sealed the match and the game as well. Gerald Sibayan and Anton Cayanan shared their thoughts after the game. "nagtulungan lang kami, confident din kami. Nung lamang na kami, at nung nakita na namin medyo wala na ang kalaban, di na kami lumingon."
Set scores: 21-16, 21-16
The DLSU Green Shuttlers will next face the defending champions NU Bulldogs.
Tentative Date: Game 1 of the Finals will be Tomorrow, 8am, still at the Rizal Memorial Badminton Hall.