Green Spikers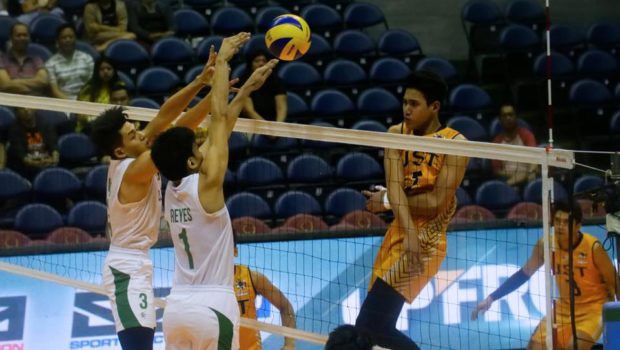 Published on March 26th, 2018 | by Karsten Villarin
0
DLSU Green Spikers succumb to UST Growling Tigers
The De La Salle University Green Spikers lost to the UST Growling Tigers in four sets, 22-25, 20-25, 25-14, 21-25, on Sunday at the SMART Araneta Coliseum.
The Green Spikers were able to equalize the intensity of the Growling Tigers throughout each set. However, La Salle committed errors towards the end of the periods.
Both teams were neck-and-neck as they showed consistency during the first set. Attacks from Arjay Onia kept La Salle on tail with Cris Dumago tying the game at 15 after a powerful back row kill. Raymark Woo, then, showed his pace as a veteran as he went down the line. JD Delos Reyes knotted it again at 18-all. But UST's Manuel Medina pushed their lead to four, 23-19, as they eventually won the set.
Another tight period as the second set heated up early. Errors from both sides tied the game at 8-8 before Joshua Umandal boosted up UST by three consecutive points. Dumago and Onia stopped the bleeding at 13-15 together with Woo's off the block at 14-16. A one-man block by Reyes prompted UST to call for time as La Salle closes in at 18-19. Errors hurt La Salle as they yield another set to the Tigers.
The Green and White made the tables turn as they started the third set with back-to-back aces from Woo to build an early 4-1 lead. Reyes came through with a block and a quick combination play which put La Salle up by six, 9-3. The lead went up to as much as eleven points as Woo scored twice off the blockers' hands, while Dumago pulling off a drop, 16-5. DLSU continued to pounce on UST to extend the game.
The Taft-based squad kept it going in the fourth set. A quick attack and a block from Reyes gave La Salle another draw at 6-all. The teams answered back for every point made against them in a do-or-die set. A crosscourt kill from Onia cut the deficit to two, 17-19, but UST was a force to reckon with as the Green Spikers failed to force a fifth set.
With the current standings still in disposition, La Salle stooped down to 4-7, while UST climbed up to 5-6.
The DLSU Green Spikers will continue to fight against the Adamson Soaring Falcons on April 4, 10 AM, at the Filoil Flying V Centre.