Green Tennisters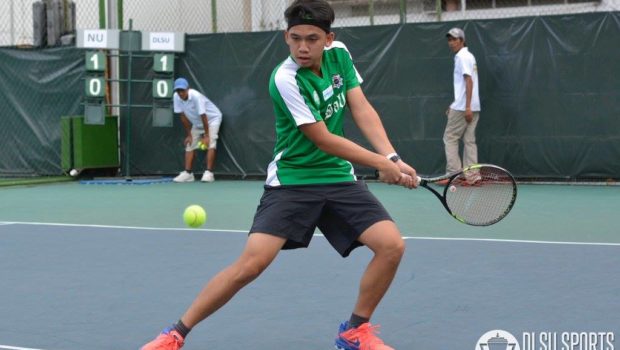 Published on February 1st, 2016 | by Deion Bandril
0
DLSU Green Tennisters fall down to defending champions NU Bulldogs 1-4
The DLSU Green Tennisters suffer defeat against the defending champions, the NU Bulldogs. The NU Bulldogs notch their 35th straight win in their team record. The Green Tennisters then worsen their record to 0-2 as they hit dead last early in the standings.  The matches were held last Sunday at the Rizal Memorial Tennis Center.
The tournament started with a singles match. It was a matchup between DLSU's Betto Orendain and NU's Leander Lazaro. Through the sets it was clear Lazaro easily outmuscled Orendian. In his best efforts, the Green Tennister couldn't stand against his NU counterpart. The match ended in two sets (2-6, 4-6).
The following game was a doubles match between Hans Asistio and Jose Cano of DLSU and Michael Madrio and Jigo Peña of NU. The Bulldogs almost swept the first set with the score 1-6. However, the DLSU Duo still showed grit and determination in the second set. They kept it close, but they still fell victim to NU's impeccable speed. The second set finished 7-5.
Following the doubles match was the second singles match. The matchup was between Green Tennister Argil Canizares and Bulldog Fritz Verdad. It was almost a clean sweep for the Bulldog as he easily dominated the Green Tennister. Their matchup instantly finished in two sets (0-6, 1-6). With the win, NU led the tournament with three wins; the victory was close for the Bulldogs.
After the rough singles match, DLSU was able to redeem themselves in the second doubles match. The DLSU Duo of Rey Mayo and Allian Abdulqoahar were able to oust the Bulldog pair of Jeric Accion and Francis Alcantara. It was a highly competitive matchup as both pairs gave their all. The match was close all throughout; it lasted in two sets with DLSU prevailing 6-4, 7(3)-6.
Though the victory was sealed for NU, the Green Tennisters didn't give up too easily. The last matchup was a singles match between Green Tennister Kyle Parpan and Bulldog Dheo Talatayod, Parpan wouldn't give up the match too easily for Talatayod. Having been a challenge for the Bulldog, Parpan had the most success for DLSU in the singles matches. At the end, DLSU still lost in two sets (3-6, 5-7).
The Taft-based squad had won only 34 games compared to NU's 60. Eight sets were won by NU while DLSU only won two. NU prevailed in the end as they won four matches of the five matches of the day.
Even in defeat the Green Tennisters still chose to keep their heads up. At dead last in the standings, the team needs the support needed from the whole Lasallian community. The DLSU Green Tennisters will next face the UE Red Warrior February 6. The matches will still be held at the same venue.