Athletics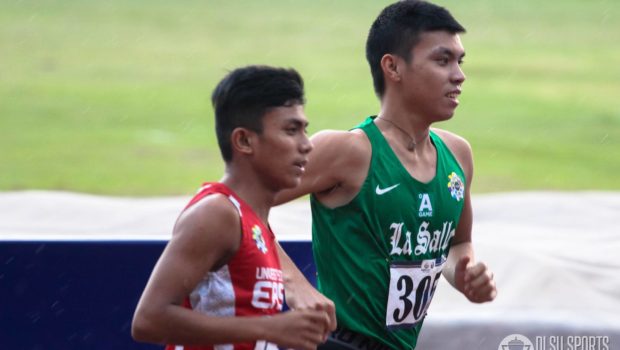 Published on December 15th, 2017 | by George Aladin
0
DLSU Green Tracksters Blazed through PATAFA Finals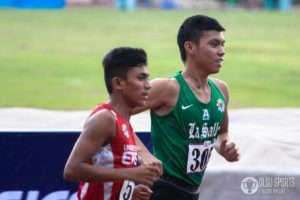 The De La Salle University (DLSU) Men's and Women's Track and Field team entered the finals of the Philippine Athletics Track and Field Association (PATAFA) tournament last November 9-10 at the PhilSports Complex in Pasig City.
The Tracksters' did a great job representing the Green and White Army by winning a combined total of 10 medals while missing key players like John Kenneth Nodos and Mary Anthony Diestro.
For the Men's division, Erwin Parcon placed another respectable performance, finishing second on the Men's 1500m run. Jvee Patalud placed 2nd for the Men's Javelin throw event winning with an impressive 55.79m. Freshmen Francis Obiena garnered two golds in the pole vault 4.0 meters and javelin throw 50.55m in the Under-18 category.
Women's division had a strong outing as well on their respective events. On the 100m hurdle, Melai Escoton place first, while Judy Ann Rendora followed by placing  2nd. During the 100m dash, Elrica Anne Guro placed 2nd.
Veterans also stepped up, with the likes of Angel Carino, who won two gold medals for Long Jump and Triple Jump both in the elite category with 5.45m and 11.81m respectively. Jewel Manaig scored a podium finish placing third for the women's discus throw event.
"We've been training very hard for the past few months, and our results are coming out very positive[ly],"  said Patalud who dedicated his performance for his mother, Thelma Patalud, who passed away on the same day he competed.
He later added his thoughts on the team's performance, "We are aiming to do even better for the upcoming UAAP Season 80 and we will remain diligent and persistent with the hard work we are doing in training."
With these promising results, the Green and Lady Tracksters are looking to make another strong impression this coming UAAP season.
Catch the DLSU Tracksters show their tenacity as they try to win it all this coming season. Watch them compete this coming February at The PhilSports Complex in Pasig.