Judo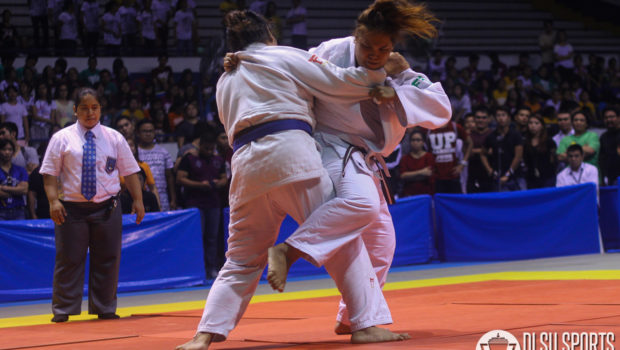 Published on September 29th, 2014 | by Kim Leong
0
Falling Short: DLSU Judokas slip out of place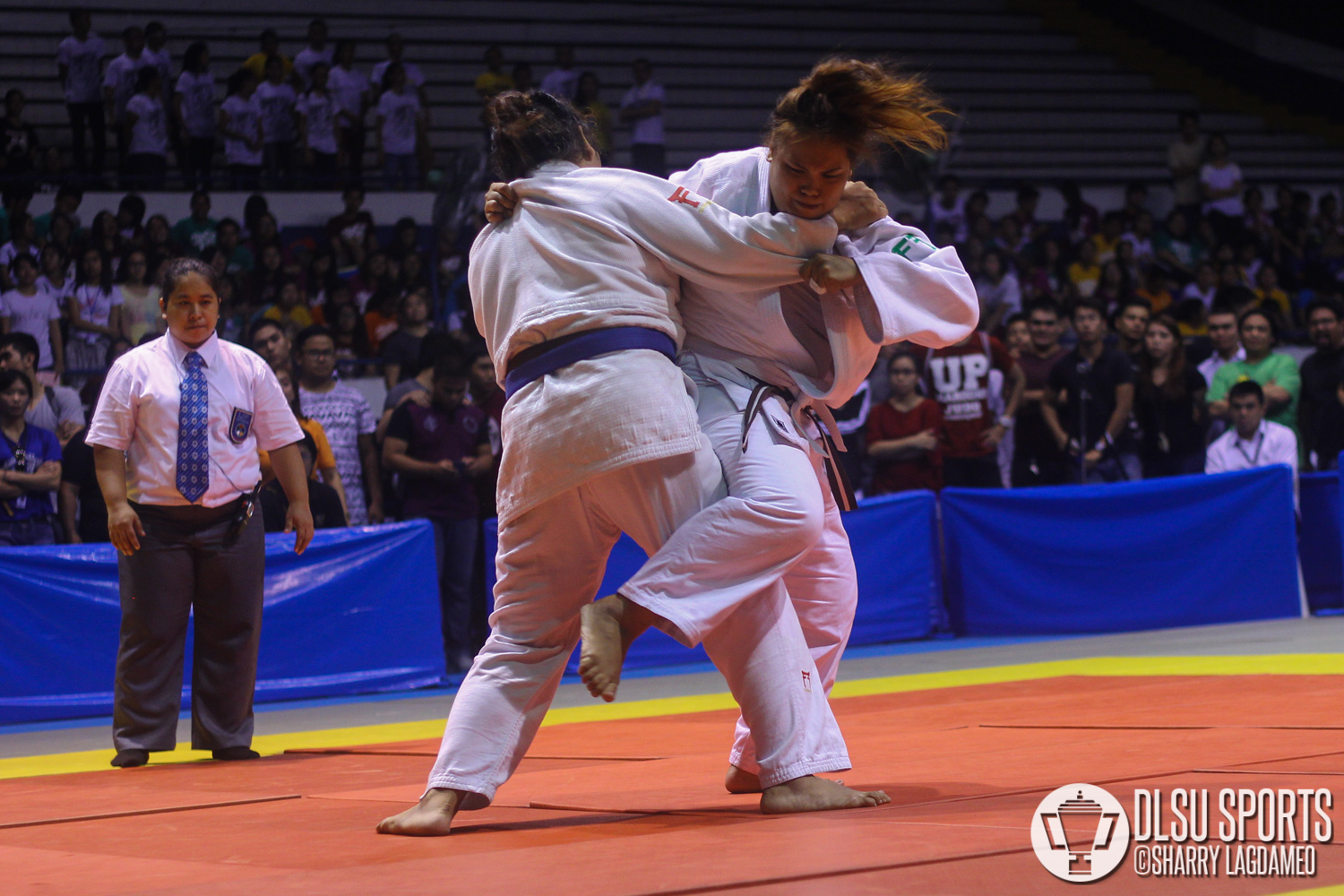 Entering the mats this year with its first ever championship title, the DLSU Lady Judokas was filled with optimism as they campaigned to defend last year's victory. Similarly, their male counterparts, the DLSU Green Judokas, also moved with the same level of optimism with the goal of finally bagging their first ever judo championship and make a name for themselves. Sadly, however, it seems that powerful forces had other plans as not only did they leave our beloved judokas in tears, but also the heavens which cried with the same passion through a sudden downpour at the last day of the tournament, September 28.
First Day Trouble
September 27 saw the first throws launched during the UAAP Judo Tournament.
Started by Kathleen Gilbuena (U52), the DLSU Lady Judokas were quick to realize just how much their veterans will be terribly missed as her defeat was soon followed by the other rookies namely Mia Baguisi and Alyssa Reyes (U57), and, Estephanie Malaki (U48) who both put up terrific display of willpower, but ultimately lost in the end. They, however were not the only one's having a hard time as veteran Freesia Heradez (U52) also failed to notch a single victory against a reenergized squad from both UST and the Ateneo Judo Association (AJA). Veteran and outgoing Lady Judoka Samantha Gaerlan (U48), however, served as the single ray of hope as she was the only to bounce back from her earlier defeat to allow her to take home a bronze as well as her first ever UAAP medal.
Starting off for the Green Judokas was rookie Ivan Oleta (U90) who ultimately fared better than his female counterparts as he dispatches his first assignment from the AJA. His achievement was quickly followed by co-captain Chico Cortes (U100) who also won over his first assignment. The run however would soon end as both Oleta and Cortes will suffer a defeat that will eventually result in the latter taking home the bronze while the former fails amidst a valiant effort to secure his division's bronze.
Second Day Difficulty
Leading the second day charge was first time UAAP competitor Nico Gosalvez (U73) who quickly made his worth known by defeating his first assignment. His achievement was quickly followed up by eventual gold winner Mickey Regala (U73) who also quickly dispatches his opponent along with former Atenean now Lasallian Vince David (U81) who also dispatches his former compatriot Hermogenes Arayate from AJA. The success story however ends there as losses start to pile up after David's first match up as the Borja Brothers (U66), Edward and Michael, Josh Oleta, brother of Ivan Oleta (U60), will soon fail in their first match and their bronze medal matches along with Gosalvez, who was defeated by former division champion Brian Llamas of UST in the semis, and David who both failed to advance in the semis. Rookie Joseph Jose (U60), who gave his opponents an unexpected challenge, would fail to notch a victory along with Lloyd Abucayan (U81).
The Lady Judokas faced a similar tale of defeats amidst exemplary performance as its rookies for day 2 ends up with similar fates as their day 1 brethren. Regardless of their failure, bronze medalist Lady Judoka Gaerlan comments that the actions of Angelica Recarro (U63), Charla Cabrera (U70), Chesa Carandang (U70), Arian Galfo (U78), Precious Benablo (U78), and all the other rookies were more than enough to prove that they have the drive to play and only need more time training as she cites that most of them only started two months ago. Veteran Marjorie Santiago (U63), however, aslo seemed to have trouble as she ultimately losses her chance to compete in the gold medal match after valiantly losing against International BJJ Champion Annie Ramirez of UST, she eventually takes home the bronze while fellow veteran Justine Pongase (U78) successfully pulls off a throw that won her the gold at the end of the day.
Learning Experience
Asked about his insights on the this year's tournament, a disappointed, but optimistic coach Keith shares that the biggest hindrance for them this year was its loss of majority of its senior members especially considering that most of the other team fielded mostly seniors. Regarding the newcomers, their challenges lie not in strength or technique, but rather lies with the rookies' attitude as he cites their tendency to flinch after realizing that they are competing against some of the biggest name in UAAP judo, Coach Ver shares that the rookies tend to lose their composure and therefore committing errors.
While clearly failing their goal, both DLSU the Green and Lady Judokas were still able walk off with a respectable medal haul. Two bronze and gold medals for the Lady Judokas while the men's walk off with one less bronze.
Coach Ver sheds light that the other teams better watch out as not only does he promise a better team, but he also reveals that Season 78 will signal the first playing years of its judokas who are under residency.