Green Jins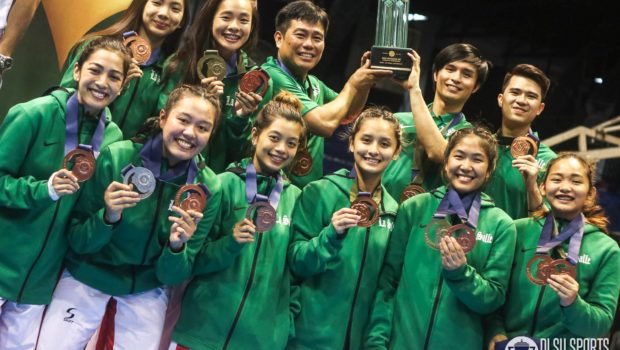 Published on November 11th, 2018 | by Cheska Erfe-Mejia
0
DLSU Lady Jins land 3rd place; Green Jins finish 5th place
The De La Salle University (DLSU) Lady Jins landed at 3rd place, 4-2, while the Green Jins finished 5th place at the UAAP Season 81 Taekwondo Tournament held at the Ateneo de Manila University (ADMU) Blue Eagle Gym last November 7 to 9.
The Lady Jins started the tournament strong after conquering ADMU on the first day with a score of 5-2, but they lost after facing back-to-back champions National University (NU), 3-4. They bowed down to the University of Santo Tomas (UST) on the second day, 3-4, but they were able to beat the University of the Philippines (UP), 5-2. The Taft-based squad demolished their remaining opponents, University of the East (UE) and Far Eastern University (FEU). They scored 4-3 against UE and swept FEU, 7-0, thus securing their spot on the podium.
On the other hand, the Green Jins did not have a good start due to losing Kyle Arsenal, bantamweight player, to an ankle injury in their first match against UST, 3-4. To end the first day, they were dominated by UP, 2-5. On the second day, the team lost another player due to an injury. Despite this, they won against FEU with a score of 4-3. Mitch Agapito was replaced by rookie Dylan Reyes for the remaining matches. The Green Jins failed to defeat UE, 3-4. On the final day, they won against ADMU, 4-3, but lost against defending champions NU, 3-4.
Team captain of the Lady Jins, Lovely Avanceña, won gold for the finweight division. Rookie Akila Boloto won gold and was hailed the rookie of the year for UAAP Season 81. Shannelle Romuar and Gab Yuchingtat won bronze and silver for the welterweight and heavyweight division.
Last year's rookie of the year, Alvaro Aranton, won gold for the heavyweight division in the Men's Taekwondo Tournament while rookie, Gian Gutierrez, landed silver.