Lady Spikers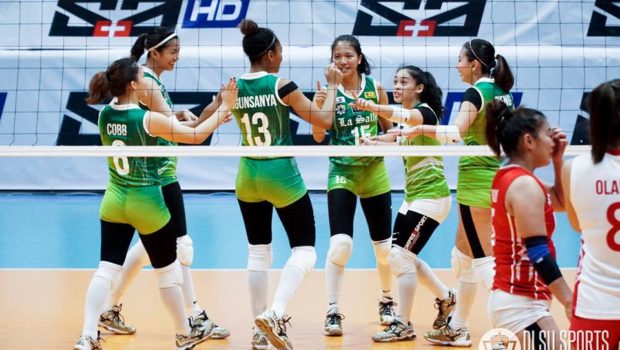 Published on March 25th, 2018 | by Jhenel Laus
0
DLSU Lady Spikers clinch Final Four berth after sweeping the UE Lady Warriors
The De La Salle University Lady Spikers remain unbeaten in the second round of the UAAP Season 80 Women's Volleyball Tournament and clinched its Final Four berth for the tenth straight season after defeating the Universty of the East Lady Warriors, 25-8, 25-14, 25-12, on Saturday at the Filoil Flying V Centre.
The Lady Spikers dominated the Lady Warriors in offense and defense as La Salle showed no mercy to UE in a match that lasted for only 69 minutes.
La Salle commanded a 6-3 lead after a Michelle Cobb-Kianna Dy connection that started off the first set. A quick attack by Aduke Ogunsanya gave her team an 8-3 lead. After the first technical timeout, the Lady Warriors stopped the bleeding after a Rodriguez attack, 8-4. But La Salle countered a 6-0 run that built a ten-point lead after an ace from Tiamzon. A block from Michelle Cobb lead UE heading into the second break, 16-5. Lady Warriors got on board after La Salle errors and a Mendrez cross court hit, 18-8. The Taft-based squad had executed a perfect setter-spiker connection that led them to set point, 24-8. A no mercy kill from Tin Tiamzon sealed the first set for La Salle, 25-8.
Second set saw a same story as La Salle were ahead after a quick hit from Majoy Baron and a Cobb-Dy connection for a 5-1 lead. Shaya Adorador broke UE's drought to cut deficit down to two, 5-3. Following errors from both ends, teams were able to capitalize missed hits, 10-6. A back-to-back block from Ogunsanya and Michelle Cobb gave La Salle the momentum with a 13-8 lead. Errors continued to hunt the Lady Warriors, while La Salle was able to maximize those errors and ballooned their lead to nine, as Kianna Dy contributed another attack, 19-10. May Luna and Norielle Ipac had their own kills, but UE continued to fight, comming up with another offensive run. Nonetheless, a service error from UE gave La Salle the second set, 25-14.
The Taft-based squad caught fire on offense as they started off a 9-0 lead over the Lady Warriors. But three service error from La Salle and a block from Rodriguez got the warriors on board, 13-4. UE rallied a 4-3 run heading into the second technical timeout, 16-8. The Lady Warriors refused to back down as they added another 3-1 run that was easily countered by La Salle after a Kianna Dy spike to give her team a 20-11 lead. The Morayta-based tried to rally but back-to-back aces from Desiree Cheng and Majoy Baron kill finished the set, 25-12, and the match, 3-0.
Dawn Macandili was named Player of the Game leading her team with five excellent receptions and nineteen excellent digs. Majoy Baron had 13 points on ten attacks and 3 blocks, while Kianna Dy also finished with 11 points on 10 attacks.
On the other hand, Shaya Adorador helped her team in attacks with 5 points, while Seth Rodriguez led her team in blocks and serve with 2 and 1 respectively.
The DLSU Lady Spikers pushed their winning streak to five games and remained on top of the standings with a 9-2 win-loss record. They will go up against the 3-7 Golden Tigresses on Sunday, April 8, 4pm at the same venue.