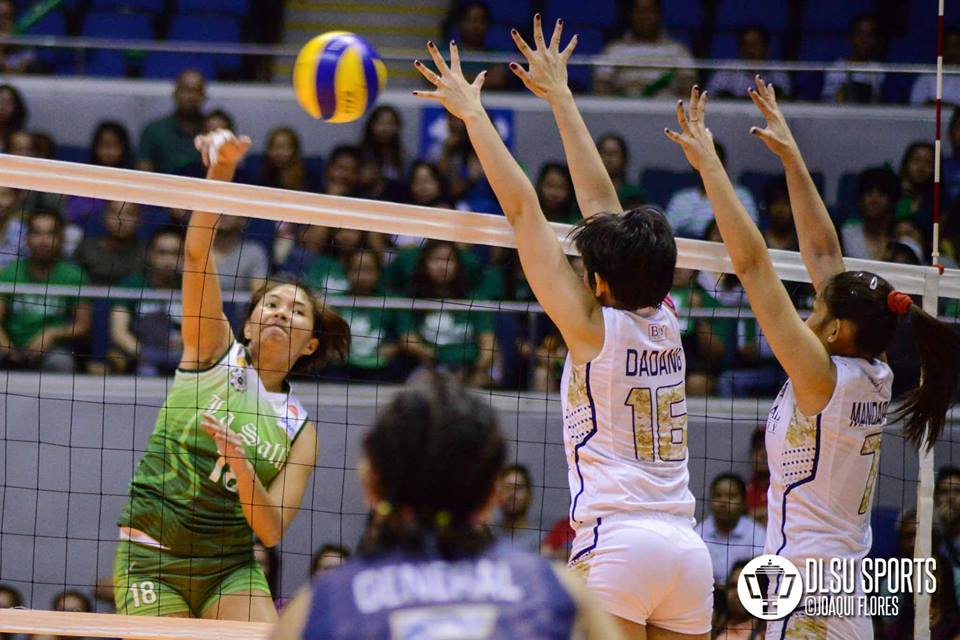 Coming off a two-week break from playing in the UAAP, the DLSU Lady Spikers started slow and never got their groove the entire game as they lost to the NU Lady Bulldogs in straight sets, 20-25, 20-25, 19-25.
The Lady Spikers once again had a different starting lineup for the game as coach Ramil opted to start with Kim Dy and Carol Cerveza while keeping Majoy Baron and Desiree Cheng on the bench. It didn't take very long however, for coach Ramil to make his first substitution by replacing Dy with Baron. The substitution worked for a while as Baron was getting some touches but it wasn't enough to propel the Lady Spikers in the first set.
In the second set, coach Ramil shuffled his players again with first year player Eli Soyud coming in for Carol Cerveza but just like in the first set, the substitution, which was working wonders for DLSU in their previous games, didn't work this time.
The Lady Spikers still started slow in the third set. They were lacking in energy but coach Ramil still tried to pull one more bunny from his hat as he subbed in Aduke Ogunsanya for Majoy Baron. Aduke helped La Salle get some points through her solid blocking but also committed some errors. Desiree Cheng was also eventually inserted in the game, she showed flashes of brilliance with her attacks and quick thinking but it wasn't enough to get over the offensive slump of the starters.
Ace setter Kim Fajardo, wasn't connecting perfectly with her attackers throughout the game with Ara Galang being the long bright spot for the Lady Spikers. Ara galang scored a game-high 14 points while Cyd Demecillo added 10 points. Jaja Santiago and Myla Pablo scored 13 points each for the NU Lady Bulldogs while their rookie Jorelle Singh added 11 points.
DLSU is the number one blocking and serving team in the league but for this game, NU scored two more block points and one more service ace than the Lady Spikers. DLSU also had 19 unforced errors as compared to NU's 14.
It is a relief however, that despite the tough loss against NU, the Lady Spikers entered their stepladder series with a twice-to-beat advantage and will therefore have one more shot to oust the Lady Bulldogs and secure a finals berth on Saturday, 4pm, at the Mall of Asia Arena.