Lady Tennisters Published on February 11th, 2018 | by Dara Evangelista
0
DLSU Lady Tennisters fall to UP Lady Maroons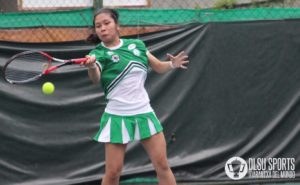 The De La Salle University Lady Tennisters suffered their second loss of the season at the hands of the University of the Philippines Lady Maroons, 1-4, at the Rizal Memorial Sports Complex, earlier today.
The game began as Team Captain, Rachelle De Guzman, delivered an outstanding performance by blanking Monica Cortez in two straight sets, 6-0 6-0, This was the lone win for the Lady Tennisters and the second lone win for De Guzman. Her game was followed by Jenni Dizon who lost in a tight fight against UP's Danielle Carranza, 5-7 and 1-6. Kylla Orillosa's match against Monivic Santos of UP also ended unfavorable to the girls when she loss in two-set sweep, 4-6 and 2-6.
In the doubles, Jed Aquino and Nikki Arandia lost to their opponents in straight sets, 5-7 and 3-6. Kiana Gacias and Mary Alcantara also dropped their game in two sets against Lady Maroons Denise Jimenez and Theresa Tan, 0-6 and 0-6.
The Lady Tennisters seek to bounce back as they face arch-rivals Ateneo de Manila University Lady Eagles on Feb 18, still at the same venue.