Basketball Published on September 20th, 2017 | by Resch Untalan
0
DLSU pulls through late Adamson rally behind Mbala's Career High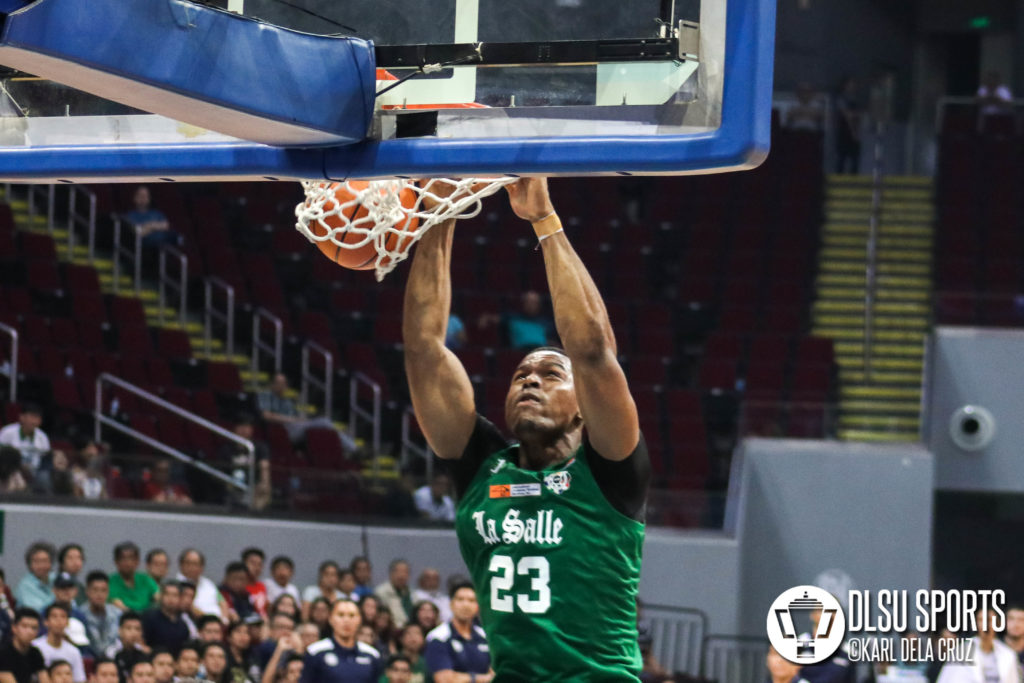 The De La Salle University Green Archers survive the Adamson Soaring Falcons' late run, 85-73, Wednesday at the Mall of Asia Arena.
The first quarter seemed to have already determined the game as the Green and White dominated the Falcons early. Ben Mbala ended the quarter by already scoring 10 points, including the first basket and a three-pointer showing of the experience he gained from the FIBA Afrobasket. DLSU dominated the first quarter, 36-12.
The boys from Taft continued their domination through the second quarter despite getting into the penalty early. DLSU was able to maintain their 20-plus point lead as the San Marcelino-based squad tried to take advantage of the penalty situation. DLSU was still on top at the end of the half, 55-33.
Turnovers and another early penalty situation beleaguered the Archers as the Falcons were able to cut down the 20-point lead to as low as seven points. The 3rd quarter finished with DLSU still up, 70-61.
DLSU seemed to have the upper hand in the 4th as Adamson's big men Papi Sarr and Kristian Bernardo both had four fouls at the start of the quarter. However, the Taft Squad was unable to extend their lead back to 20 down the stretch.
Ben Mbala listed his career high 32-points paired with 10 rebounds, four blocks, and a steal.
"We committed lots of mistakes. Actually, I was expecting it kasi tinitingnan ko kung paano magreact yung mga locals pagdating ni Ben," coach Aldin Ayo said about the Green Archers' first game with Mbala back on the team.
Mbala affirmed the fiery coach saying, "We were kind of sluggish and we didn't stick to the gameplan. But it's only the third game of the season and we still have time to work on our mistakes and find a way to improve."
Scores:
DLSU – Mbala 32, Santillan 10, Tratter 9, Ra. Rivero 8, Ri. Rivero 6, Montalbo 5, Caracut 5, Go 3, Baltazar 3, Melecio 2, Gonzalez 2
AdU – Manalang 16, Sarr 12, Ahanmisi 10, Pingoy 9, Manganti 8, Bernardo 8, Hill 6, Ochea 3, Lojera 1, Espeleta 0, Camacho 0, Mustre 0, Zalvidar 0