Specials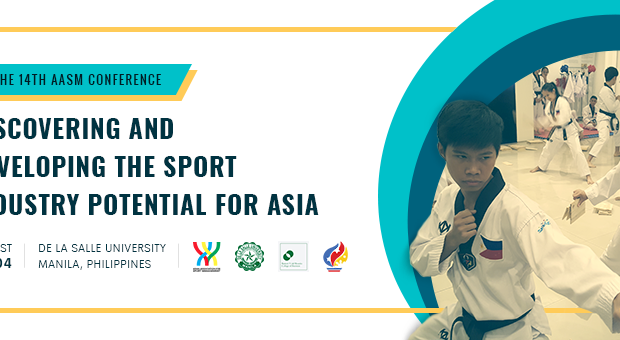 Published on August 1st, 2018 | by Genrev Villamin
0
AASM, DLSU-RVRCOB hold three-day AASM Conference 2018
In partnership with the De La Salle University – Ramon V. del Rosario College of Business (DLSU-RVRCOB), the Asian Association for Sport Management (AASM) and the Sport Management Council of the Philippines (SportPhil) will hold the 14th AASM Conference from August 2 to 4 in De La Salle University – Manila.
With the theme "Discovering and Developing the Sport Industry Potential in Asia," the three-day convergence aims to raise knowledge and awareness about sport management in the Philippines. This year's conference will include talks, lectures, and workshops from leading scholars and educators in Asia and North America. Among the expected participants are international delegates from Southeast Asian countries, as well as students, teachers, athletes, and coaches from the UAAP and NCAA schools.
The 14th AASM Conference will focus on management and governance in the sports context, a first of its kind in the Philippines. With diverse topics that center to elevating the culture of sports in the country, SportPhil Founder and Sport Management professor Geraldine Bernardo sees the international gathering as a source of new knowledge in sports management for students, teachers, athletes, and coaches, among others.
On the first day, Prof. Hercules Callanta of Lyceum of the Philippines University will have a lecture about Strategic Athletic Administration. Subsequently, Mr. Edwin Reyes of De La Salle University will hold a talk on Fundraising for School Organizations and Programs.
Guest of Honor Philippine Sports Commission (PSC) Chairman Hon. William Ramirez will deliver his speech on The Promise of SEAG 2019 to kick off the second day. Another Guest of Honor and Former PSC Chairman Philip Juico, Ph.D., on the other hand, will speak about The Synergy between Sport Development and Sport Business.
A keynote speech on Critical Factors Behind Pursuit of Excellence in International Sport will be delivered by Packianathan Chelladurai, Ph.D. of Troy University, Canada. Afterward, University of North Colorado, USA Professor David Stotlar, Ed.D. will talk about Making Dollars and Sense of Sport Sponsorship and Fan Management for the second keynote speech.
The conference will then proceed with panel discussions from professors from various Asian nations and Victorico Vargas of the Philippine Olympic Committee.
Oral presentations and workshops will open the final day of the three-day summit. Assoc. Prof. Lordinio Vergara of the Philippine Normal University will deliver the third keynote, Retooling Physical Education for K-12 and Tertiary Level. Finally, closing the conference will be AASM President Issadee Kutintara, Ph.D., with a speech on ASEAN/ASIAN Prospects for Sport Management Career, Education and Research.
For more information about the conference, visit AASM on Facebook: https://www.facebook.com/AsianAssociationforSportManagement/