Lady Spikers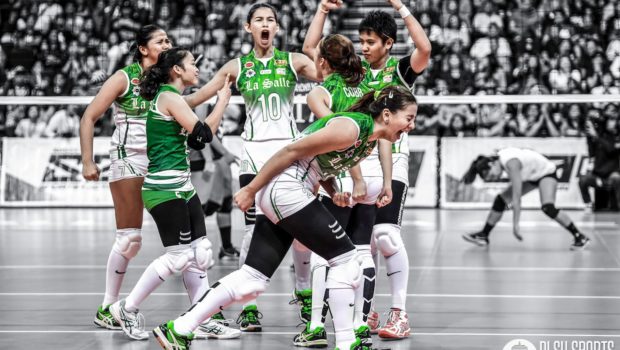 Published on March 8th, 2017 | by DLSU Sports
0
DLSU Sports Round-Up: The Lady Spikers in Round One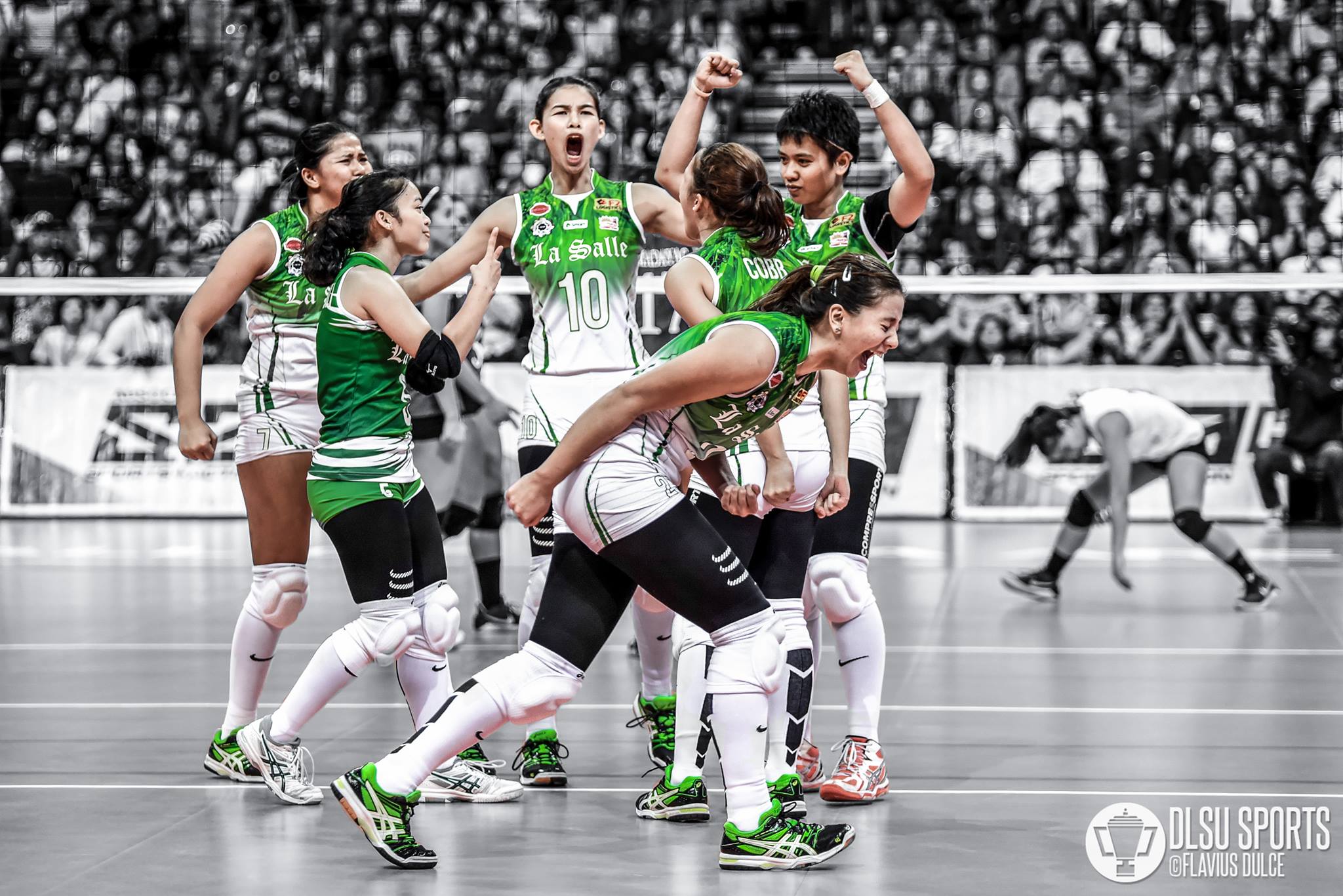 DLSU Sports' writers explained how they think the Lady Spikers fared in the first round of the UAAP Women's Volleyball Tournament.
The De La Salle University Lady Spikers are currently holding a 5-2 win-loss record. What are takeaways from them in their first eight games?
What we have seen from the Lady Spikers after the first round?
Khyte Mendoza – Even with their wins against FEU and UST, it was obvious that the team was still looking for their identity. The first two games were not a walk in the park for the Lady Spikers as they struggled with consistency. Good thing, though, team captain Kim Fajardo is still on board. In the first round of eliminations, last year's best setter proved that she is really ready to put the team on her back throughout the season. She distributes the ball to give confidence to her spikers. Both losses of La Salle came from the Katipunan-based squads. An in-tact UP exploited DLSU's weakness in receiving albeit having the current best receiver in the league in Dawn Macandili. Meanwhile, the setback that they suffered from Ateneo was, I believe, because of themselves. Pressure? Maybe. Who wants to lose to a rival? Let's not forget that this version of the Lady Spikers is young with only Fajardo in her last hurrah. I saw that in their game against ADMU as they failed closing the first two sets. That could have been a three or a four-set win, but those things happen in sports. Still, Coach Ramil De Jesus as always, finds a way to surprise opponents with what he has, just like May Luna's jump serves that shocked the Lady Eagles in the fourth set and Michelle Cobb being a sparkplug off the bench. La Salle can add them in their arsenal in the second round.
Karl Dela Cruz – Yes, La Salle has been known to be a strong team both on paper and on court and the last how many years are testaments to what Coach Ramil De Jesus and his wards can achieve. This year, however, La Salle starts relatively anew with a mix of veterans and rising stars parading the Lady Spikers' line of offense and defense. Ending the round in a 5-2 record, I think that what we can learn from this is that although expectations are set high for the team, the Lady Spikers still need to jell better and improve on the different aspects of the game. As an avid La Salle supporter myself, I think that patience plays a role in this tournament – patience to see the Lady Spikers grow into a champion team by the end of the season.
Camilla Saguin – In the first round, we saw the Lady Spikers start the season on a high note, stringing together 3 straight wins by beating FEU, Adamson, and UST then drop a 3-set heartbreaker against UP, win big against NU and UE and then suffer a tough loss against Ateneo. Despite the not-so-ideal first round, DLSU still ended the first round at the second spot in the standings. In those two losses, consistency was the main issue. Against UP, DLSU had slow starts to each set and just tried to make up for it in the end while in the game against Ateneo, the opposite happened; they had strong starts but couldn't close out the sets. I think the Lady Spikers haven't reached their desired form yet and that is something that we could all look past as long as they would peak at the perfect time again. Remember last year, DLSU also dropped a few games and still emerged on top.
What do they need to work on to get back into the final four?
Khyte Mendoza – Coach Ramil's teams are known for defense, and it is still there. The difference between last season and this one is the offense. They do not have outside hitters with the same caliber as Ara Galang and Cyd Demecillo. Comebacking Desiree Cheng is yet to find her groove, while sophomore Ernestine Tiamzon is having trouble being consistent with her scoring. Kim Dy can't do it alone. La Salle showed that they can dig and block. If they want to win it again, the attackers need to make the majority of their spikes when Fajardo sets them up. But I'm not only pointing out to Cheng and Tiamzon, everybody has to work together. Aduke Ogunsanya and MaJoy Baron have to continue on rejecting attacks and to take care of the scoring from the middle, while Macandili has to do her thing on the floor. Before the start of the season, I have said time and again, that DLSU is a team that peaks at the right time. They can pull this through.
Karl Dela Cruz – If you look at the Lady Spikers on paper, all the departments are covered. It's all just a matter of consistency when it comes to their in-game execution. Both the floor and net defenses serve as the foundation of the Lady Spikers in their winning ways. As always, the playmaking continues to be stellar and never fails to surprise me every time I get to watch a La Salle game. However, the Lady Spikers might need a little more work on their services and attacking. Previously known to be the best serving team in the league, the Lady Spikers have been bitten by the error bug in some games for the team to give away a few service errors here and there. The La Salle services could be a bit too risky at times, but when the ball comes inside of bounds, they could crumble an opponent's defense or even score for an ace. It's a make or break situation when it comes to serving for La Salle but the tournament is far from over which I think the ladies could still improve on. Attacking, on the other hand, seems to be a bit on the average. The spikers don't necessarily get the attack in one kill but maybe twice or thrice in a rally. This could be improved on adding a bit more variation in La Salle's attacks, most especially the wingers. In addition, we all miss those hard-hitting spikes by the likes of Ara Galang and Alyssa Valdez which I think the La Salle spikers can manage to pull off.
Camilla Saguin – I think with the way the Lady Spikers are playing right now, they are still a shoo-in in the Final Four but if there's one thing they should definitely improve on, it would only be consistency cause they already have all the weapons in their arsenal. They just need to utilize them further and have a bit more consistency in doing so.
Who needs to step up?
Khyte Mendoza – Three names: Cheng, Tiamzon, and Luna. Like what I said, we desperately need scorers to help Dy.
Karl Dela Cruz – Desiree Cheng and Tin Tiamzon both need to step up in offense and defense for La Salle. In the past few games, one would observe how the services and attacks are directed towards Cheng and Tiamzon to frustrate their reception and digging. Although the passing works efficient in some games, there would be off days for both which other teams take advantage of, much like in La Salle's straight-set loss against UP. When it comes to attacking, the beach volleyball experience should have already given Des and Tin a headstart on better attacking variety and quality offense which has been a bit subpar in the last games. We still have yet to see Des and Tin rack up points for La Salle and maintain the offensive prowess of the Lady Spikers.
Camilla Saguin – Our two open Spikers, Tin Tiamzon and Des Cheng. Both of them have the potential to elevate their game to a much higher level and in the first round, we were able to see glimpses of that potential. We even saw Tin topping the scoring department in some games but in our two losses, she wasn't able to produce the desired numbers. Des Cheng on the other hand, has been really steady at the back with her receives and digs but the problem comes in when she rotates to the front. Des in my opinion, needs to find more ways to score. She needs to be a bigger threat in the front so that the other Spikers can operate better. They still have a lot of time and I have no doubt that they'll be able to improve on their game in time for the Final Four.
First Round MVP of the Lady Spikers:
Khyte Mendoza – I would go with the leader, Kim Fajardo. The former UST high school volleybelle proved that she wasn't all talk in leading the young Green and White crew. I picked her because of the sacrifice she made. She could have ended her UAAP career as a champion, but she opted to stay because she wants to leave La Salle in good hands. She has the numbers and the attitude.
Karl Dela Cruz – Liberos aren't known to be hailed MVPs but I think Dawn Macandili deserves all the credit. She has been one of the steadiest pillars in La Salle's lineup leading the Lady Spikers to be the best receiving and digging team.
Camilla Saguin – I got to hand this one to Dawn Macandili with Kim Fajardo a close second. Dawn has been the steadiest player on the team. She didn't really have a blazing start to the season but eventually she was able to find her groove and reminded everyone what a defensive juggernaut she truly is. And as the saying goes, offense wins games but defense wins championships
AROUND THE LEAGUE
Final Four Prediction:
Khyte Mendoza – I have La Salle and Ateneo as lock-ins in the final four, but not in particular order. I just feel like these squads will end up as number one and two again. On the flip side, the third and fourth seeds are toss-ups among FEU, UP, UST and NU. The UAAP is starting to get unpredictable especially in the latter part of the first round. The two teams that come in consistent in the second round will barge into the final four.
Karl Dela Cruz – The saying, "Bilog and bola," is a very accurate statement to describe the entire season. All the games are exciting as it is and there are no sure winners in each game. Although La Salle is primed to be a final four contender this year, I think that they would have to go through a lot of twists and turns to get there. A final four slot is highly likely but I think it's safe to say that no one could really predict the exact seeding of this year's tournament.
Camilla Saguin – For my final four prediction, I wouldn't want to sugarcoat anymore. I think both La Salle and Ateneo will make it for sure. As for the last two spots, I think those will go to UP and NU. A lot can still happen of course but from what I saw in the first round, I think those four teams will reach the Final Four.
Note**
The DLSU Sports' writers' opinions do not reflect those of the whole De La Salle University community. So, do you agree with each of them? Comment what you think!