Uncategorized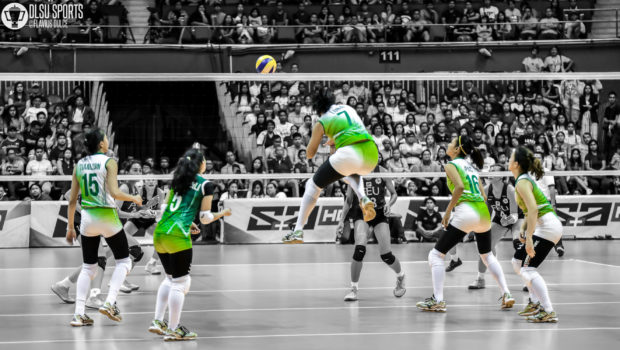 Published on May 1st, 2018 | by DLSU Sports
0
DLSU Sports Round-Up: Lady Spikers vs Lady Tams in Game 1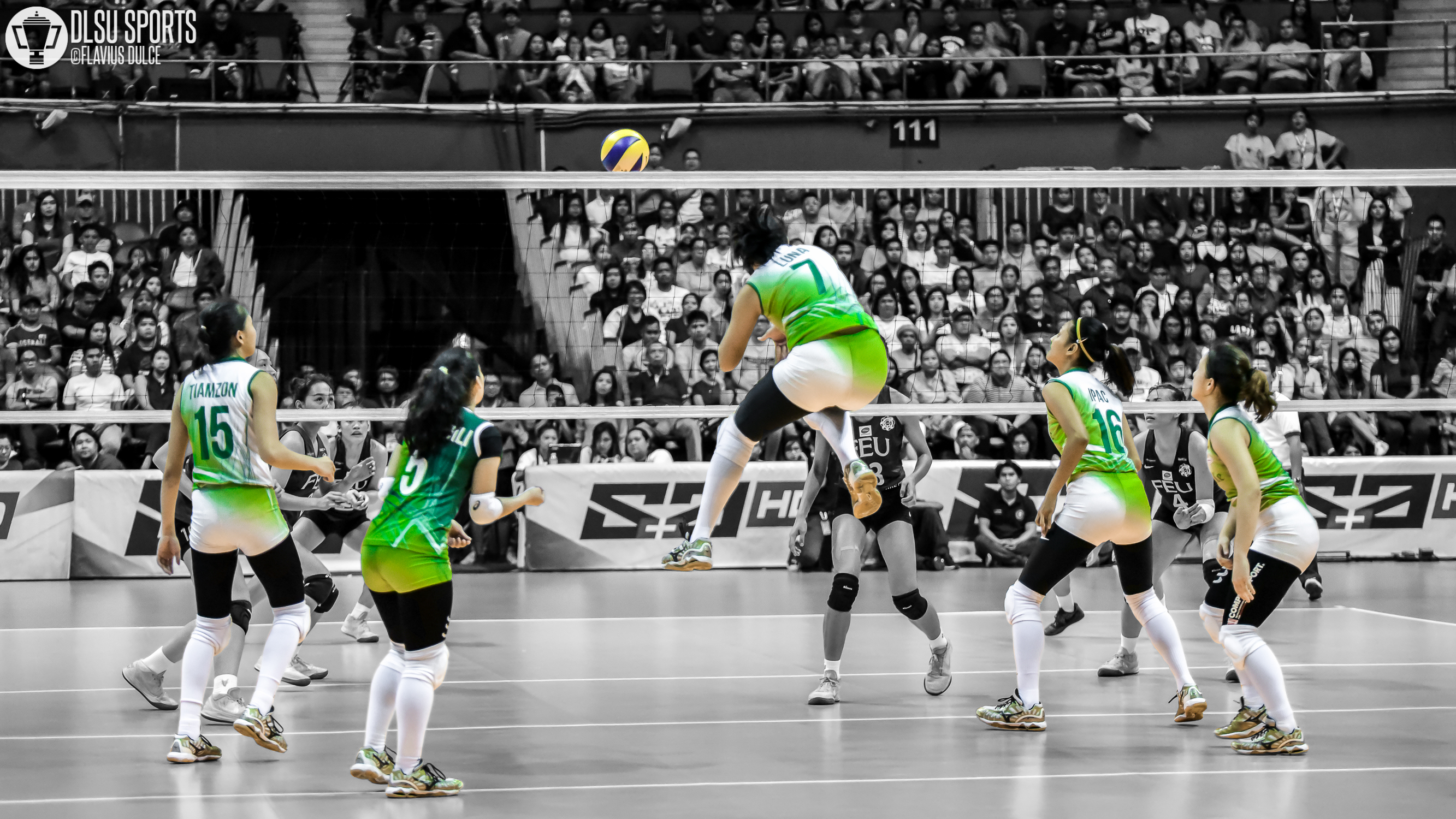 The UAAP Season 80 Women's Volleyball Finals began last Saturday and it was the defending champs, DLSU Lady Spikers, who came out on top after a 29-27, 25-21, 25-22 victory over the FEU Lady Tamaraws in Game 1.
DLSU Sports writers Khyte Mendoza, Karl Dela Cruz, and Genrev Villamin shared their Game 1 thoughts, analyses, and their predictions for the second game tomorrow, May 2.
Takeaways from Game 1:
Khyte – The first game was the longest and the most nerve-wracking three-set match I could remember. DLSU swept FEU, but it wasn't easy. The Lady Tams earned much more respect from the La Salle faithful because of that fight. Stars haven't shown up yet, though. Pons had nine points and only Guino-o came to help (still credit to La Salle's defense). Cheng had an off night and sat on the bench, while Luna was a spark. I keep on saying this: the Taft squad has championship experience. Clearly, FEU had jitters, especially at the start of the first set.
Karl – Personally, I thought that the first Finals Game was a summary of how tight La Salle and FEU's matches were in the eliminations. Yes, the Lady Spikers may have beaten the Lady Tams in a sweep but those were hard-fought sets with the outcome still in question. Fortunately for the Lady Spikers, the erratic plays of FEU and their unfamiliarity of a big crowd paved the way for DLSU to bank on the end-game and eventually winning the match. Championship composure was the key component of the Lady Spikers to take the game. It was as if the eliminations matches which both the Lady Spikers won in five sets were compressed in a straight set match in this game.
Genrev – Before the series started, I thought that it would be a very close match between the protagonists. It sure was in the opening set. However, the Lady Spikers' experience in the Finals stage has definitely helped them gain their composure. And that composure was the key to beating a gritty FEU squad. Yes, the Lady Tamaraws were able to limit Desiree Cheng's performance. But, May Luna happened. That, I believe, is something FEU would have to prepare for come Game 2.
Key match-up:
Khyte – Kim Dy vs Bernadeth Pons. The team aces scored 10 and nine points, respectively, and that's quite far from average. Both committed costly errors too. How will they bounce back? How will they lead their respective teams? It all starts with their leadership. They are contagious.
Karl – The matchup I'm excited to see this Game 2 would have to be the Cheng-Pons showdown. Both players had a subpar performance in the first meeting with Cheng sitting out almost half of the match and Pons getting neutralized on offense and committing crucial errors in the match. Sure enough, we'll be seeing both players make up for last game's outing in Game 2. Although Pons is ahead from Cheng in terms of scoring and attacking, it's safe to say that they're equal in terms of how they provide all-around skills and reliability inside the court. I expect Cheng and Pons to go on scoring rampages of their own as the stakes are getting higher.
Genrev – Despite having mediocre performances in Game 1, I still have Desiree Cheng and Bernadeth Pons as my matchup for Game 2. I expect both girls to bounce back and have big games on Wednesday especially Pons, who is graduating from FEU. I expect her to lead the Lady Tamaraws the way she has been leading them the past games and come up big with a mentality of Game 2 not becoming her last.
How to finish off FEU in Game 2:
Khyte – START STRONG. They can't give the early Lady Tams momentum. They did an amazing job on limiting the output of Pons and Basas. The FEU scoring duo will bounce back for sure, so they should be prepared. Both teams are very good at serving and receiving so they're going to cancel each other out in those departments. The edge that DLSU has is their bench. We all saw May Luna, CJ Saga, Norielle Ipac, and Arianne Layug contribute. They were all ready to shine on the big stage. Coach Ramil's team has to work together. Game 1 is a perfect example of a team victory. And oh, they need the Cheng's A-game back to add more threat from the service line.
Karl – For how many years, FEU has been a dark horse in the UAAP Women's Volleyball scene. The Lady Tams just keep on surprising the crowd especially when they're up against the Lady Spikers. And with the Morayta-based squad dropping in a sweep in Game 1, one thing is for sure — Game 2 will see an unpredictable Lady Tamaraw squad. That has been their gameplay when faced with crowd favorites and even champion teams in the UAAP which makes FEU a very formidable opponent.
In Game 1 we saw the Lady Spikers' consistency and off-the-bench wonder May Luna that allowed La Salle to win. In Game 2, I'm pretty sure FEU will be dabbling with their rotations and plays which La Salle has to be ready for. DLSU is the top serving team whereas FEU comes second. I would say that both teams are equal in both departments but the Lady Spikers will have to up their serving game, even more, to be able to grasp the crucial momentums in the match. Although La Salle has a wide array of back row defensive players with Macandili at the helm, FEU is not to be underestimated as they are also good in passing. This is where the service game will play for both teams. In terms of attacking, I believe FEU has the edge over La Salle by a small margin and this is where championship composure comes in. The Lady Spikers were able to minimize their errors compared to FEU in Game 1 which was very vital in the win. Of course, La Salle can't control their opponent's errors but what they could do is to break FEU's attack patterns by serving hard and attacking strategically. If you would notice, the RDJ system isn't so much reliant on the one-shot-one-kill type of plays. Their playmaking is, in a sense, deteriorating the opponent's defense by hitting attacks straight to players not necessarily good in passing. Yes, they may not be able to get kills all the time but they could force an opponent to commit errors. In-court stamina is what the Taft-based squad heavily relies on. In terms of bench players, I believe FEU has the better edge over DLSU which is what the Lady Spikers will have to keep an eye on as well. Luna might have shocked the FEU squad in the last game but I'm pretty sure they'll be able to check her plays and prepare for her on Wednesday. The Lady Spikers, no matter who plays on the other side of the court, must be ready at all times.
Genrev – FEU for sure is not just about to give up in Game 2. Expect them to make adjustments and be hungrier and more aggressive. For the Lady Spikers, respect the Lady Tamaraws. It is more of preparing them mentally. The Lady Spikers would not want to enter the Big Dome and be complacent about being a win away from the championship. There is no relaxing at any point in the game.
Prediction:
Khyte –  La Salle wins it in five sets. Three-peat. FEU comes out with their adjustments, but the Lady Spikers can counter. Two words: championship experience.
Karl – Coming into the first Finals meetup, it was anyone's game. I honestly thought it would reach five sets similar to both team's elimination faceoffs. However, with La Salle's straight-set sweep in Game 1, I'm pretty confident that the Lady Spikers will be going home as champions on Wednesday. Yes, FEU will be coming back with a vengeance and they'll surely try to fight to give graduating Bernadeth Pons a fitting UAAP career but I believe the Lady Spikers are fighting for much bigger stakes at this point of the tournament. The Lady Spikers must start strong and finish the strongest in the match to finish another three-peat feat for Coach RDJ. Possibly, the match could be done in four sets with the Lady Spikers getting the first two sets, FEU taking the third set and DLSU finally taking the fourth set. But then again, "bilog ang bola," and I'm sure both teams will be giving us great volleyball one for the books!
Genrev – Predictions can be very hard to make especially if you are facing a very unpredictable FEU squad. Nonetheless, just like in Game 1, I expect Game 2 to be a very tight match. I do not expect a three-setter, but if the Lady Spikers can reestablish themselves very early and keep it up throughout the game, I am pretty sure that they can finish the series in Game 2.
Note**
The DLSU Sports writers' opinions do not reflect those of the whole De La Salle University community. So, do you agree with each of them? Comment what you think!