Beach Volleyball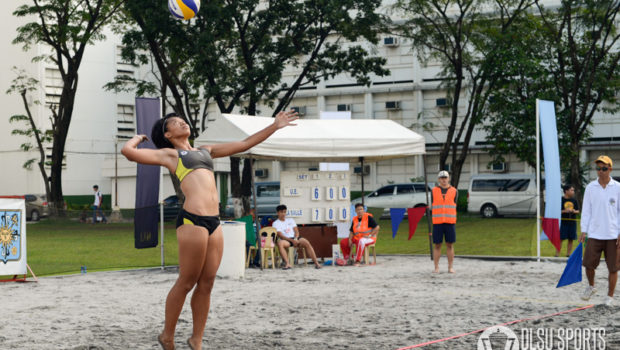 Published on August 22nd, 2014 | by Camilla Saguin
0
DLSU women's beach volleyball team: Thirst for the first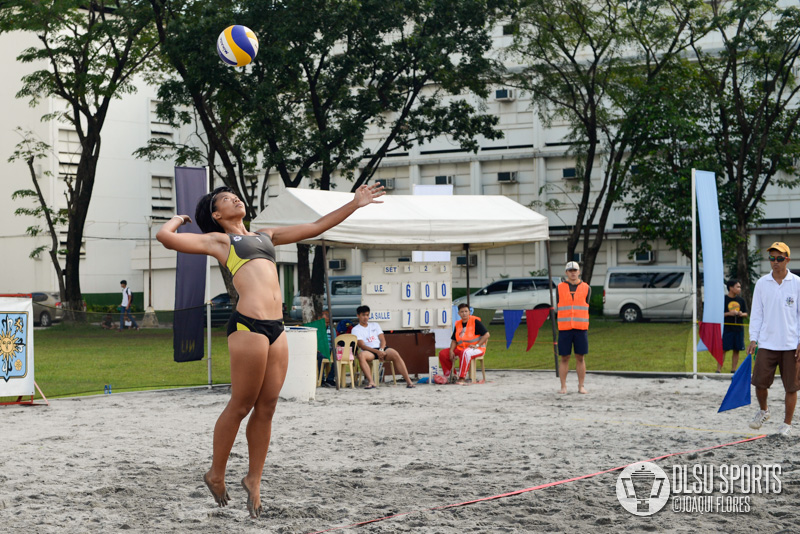 Despite all the achievements that the DLSU women's volleyball team has accomplished in indoor volleyball, their success has not yet translated to championships in the UAAP beach volleyball games. This year, the trio of Kim Fajardo, Cyd Demecillo and Ara Galang plan to change all that and get DLSU's very first UAAP beach volleyball championship.
Indoor to outdoor 
The DLSU Lady Spikers have won a total of eight championships already in indoor volleyball that is why it's puzzling to a lot of people why they have not won a single championship in the beach volleyball games. For reigning UAAP best setter Kim Fajardo, a possible reason is the team's lack of training and exposure "siguro kasi kulang din sa training kasi wala naman tayong beach volleyball court dito sa La Salle and siguro exposure din kasi wala namang ibang liga" (Maybe we lack training because we don't really have a beach volleyball court here in La Salle and maybe we lack exposure too since there are no other leagues).
As for being pressured in translating their success in indoor volleyball to beach volleyball, Kim feels that there is a need to play well in beach volleyball too, "yung players sa beach volleyball kinuha din kasi from our indoor team so syempre pride na lang na ganito kami sa indoor so syempre sa beach volleyball dapat patunayan din namin" (our beach volleyball players came from our indoor team so we also have something to prove in beach volleyball).
For veteran player Cyd Demecillo, "pressure is always present because it's about representing the school. It's up to the players on how they accept the pressure and adjust to it."
"Dati siguro walang pressure pero ngayon may pressure kasi yung beach volleyball may points din yun para sa general championship so may pressure din talaga kasi may expectations parang sa indoor volleyball din" (Before there was no pressure but now there's pressure cause the beach volleyball tournament also has points for the general championship so there's really pressure too cause there are expectations just like in indoor volleyball), says UAAP season 75 women's volleyball most valuable player, Ara Galang.
Learning from the past
Last year was not the best year for the DLSU Lady Spikers as they were only able to finish fourth in the UAAP season 76 beach volleyball games. When asked for the reason behind this, Kim Fajardo said "si Cienne (former partner) kasi defense specialist siya so siguro kinulang na din kami sa attacks so ngayon yun yung nagimprove samin since ngayon spikers na yung kasama ko. Last year kasi puro placing lang so ngayon more on attacks na " (Cienne is more of a defense specialist so we really lacked attacks so for this season that's what we improved on since I'll be with attackers. Last year was more on placing so this year more on attacking).
Off-season tournament success
Two of the three players that will be fielded by DLSU in the UAAP beach volleyball games, Ara Galang and Kim Fajardo, joined an off season competition, the Nestia beach volleyball tournament.
The tandem of Galang and Fajardo defeated UAAP season 76 beach volleyball champions Adamson University's Bang Pineda and Amanda Villanueva in the finals of the Nestea beach volleyball tournament to bag the duo's first championship as partners.
For Kim, the championship was somewhat unexpected  "Nung Nestea wala kaming training. Nag train kami one day lang tapos for thirty minutes lang. No pressure kami nun kaya masaya lang. Naglaro lang talaga kami tapos ginawan ng paraan"(During Nestea we didn't have training. We trained for one day only and for just 30 minutes. There was no pressure so we just enjoyed. We just played and made it work).
As for Ara Galang, she thinks that enjoying the game made them win the championship, "siguro yung naging main key namin ni ate Kim yung nag enjoy kami sa laro. Walang nag eexpect sa amin na makuha yung championship" (Maybe the main key for me and Kim was that we just enjoyed the game. No one expected us to win the championship).
Both Ara and Kim plan to use the experience they gained in the Nestea beach volleyball tournament to improve their team's performance in the UAAP beach volleyball games.
Bracing for the beach
"Nag start kami mag practice mga last week of July ata yun. MWF kami nagtetraining sa sand court dito sa Rizal. 7-9am for beach volleyball tapos hahabol kami sa indoor training tapos sa hapon meron pa din. So tatlong beses kami pero makakatulong na din sa endurance namin yun" (We started practicing around the last week of July. We train in Rizal's sand court every M,W,F. 7-9am for beach volleyball then we catch up for our indoor training then we still have training in the afternoon. So we train three times but that will help improve our endurance).
As for Cyd Demecillo, she simply said that they practice hard to prepare for this coming UAAP season 77 beach volleyball games.
Dedicated to push their limits
When asked if she feels that they have a chance of winning the UAAP season 77 beach volleyball championships, Kim answered by saying that they will try their best "Hindi kami makaka promise na mananalo kasi lahat naman ng teams nag prepare. Si Cyd din kasi first time ko makakapartner and yung conditioning namin hindi pa 100% pero hindi naman ibig sabihin nun hindi na namin mabibigay yung 100% namin sa laro. Syempre pipilitin namin manalo" (We can't promise that we'll win because all of the teams are preparing. It will be my first time to be partners with Cyd too and our conditioning is not yet 100% but that does not mean that we won't give our 100% in our games. Of course we will push ourselves to win).
As for Ara Galang she feels that each one of them has the heart of a champion and that will be their biggest advantage come UAAP.
Cyd Demecillo on the other hand answered with a simple "yes."
On to the sands
The DLSU women's beach volleyball team will begin their quest for their first ever UAAP beach volleyball championship today, August 23 at the University of the East-Caloocan sand court as they face the University of Santo Tomas at 9am.