Badminton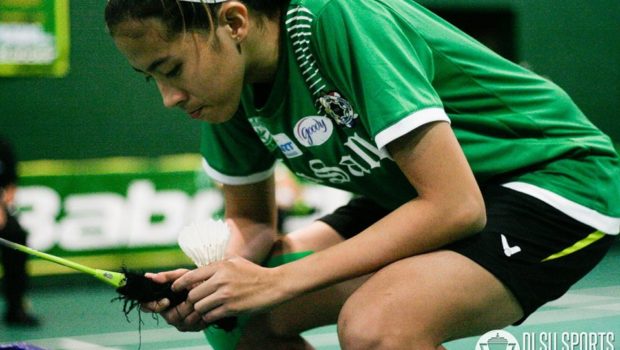 Published on October 10th, 2015 | by Deion Bandril
0
Down but not out: Lady Shuttlers fall to Ateneo 1-3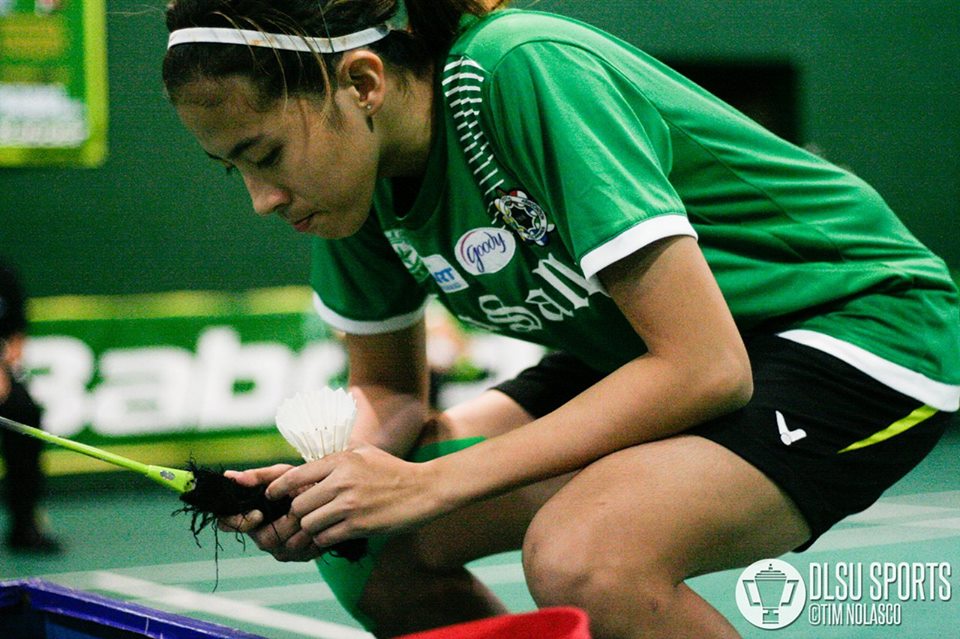 The DLSU Lady Shuttlers fall to Ateneo at their first round matchup in the semifinals. Since the Lady Shuttlers have the twice-to-beat advantage, they will once again face Ateneo in order to advance to the finals. The matches were held at the Rizal Memorial Badminton Hall last October 10. The players who competed were Arianne Rivera, Iyah Sevilla, Kristelle Salatan, Isay Leonardo, Nicole Albo, and Aires Montilla
First Singles Match
The round between DLSU and ADMU started with a singles match of Arianne Rivera (DLSU) and Bianca Carlos (ADMU). Bianca Carlos stared scorching hot against Arianne Rivera. Prior to the match, the DLSU Green Shuttlers swept Ateneo in their semifinal. The pressure was then put on Rivera to continue the momentum for DLSU. However, Carlos came with a vengeance and played flawlessly. Rivera gave her best efforts to fend off her opponent but couldn't stand her ground. Rivera would then drop the first match for DLSU. The match ended in only two sets. With that, Ateneo took the first match point, 0-1. Set scores: 15-21 and 13-21.
Second Singles Match
The next match was another singles match between Iyah Sevilla of DLSU and Cassie Lim of ADMU. Iyah Sevilla posed as a threat towards Cassie Lim during her match. Sevilla and Lim had a tight first set. Lim narrowly escaped Sevilla during that set. However, Sevilla was then able to dominate Lim on the second set. The Lady Shuttler showcased quick smashes and a rather energetic match. She continued her dominance against Lim in the third set and sealed the match. The match ended in three sets. This gave DLSU their match point, 1-1. Set scores: 19-21, 21-13, and 21-13.
First Doubles Match
The match that followed was a doubles match between Kristelle Salatan and Isay Leonardo of DLSU and Janel Dihiansan and Geva De Vera of ADMU. The Salatan-Leonardo DLSU duo and Dihiansan-De Vera Ateneo combo featured a fast-paced matchup. During the first match, both Salatan and Leonardo had made unforced errors. With that, Dihiansan and De Vera were able to take advantage and take the early lead. However, during the set point, the DLSU duo forced a deuce against the Katipunan-based squad. Nevertheless, Dihiansan and De Vera were able to escape from Salatan and Leonardo's clutches in the end of the first set. On the next set, the Lady Shuttlers couldn't keep up with the early boost of Ateneo. This gave Ateneo the early lead; they then finished strong in the last set. Dihiansan and De Vera sealed the second set and gave their team the second win. DLSU trailed behind with the match points 1-2 in favor of ADMU. The match only lasted for two sets. Set Scores: 20-22 and 18-21.
Second Doubles Match
The next match was another doubles between Aires Montilla and Nicole Albo of DLSU and Bianca Carlos and Cassie Lim of ADMU. The DLSU duo had jitters during their first set. They couldn't assert their presence in the court against their counterparts. Montilla and Albo couldn't keep up with Carlos and Lim's constant smashes. The second set featured a more pumped up Montilla and Albo. They were able get the early lead and tried to end the game. However, Carlos and Lim of Ateneo were able to come from behind after forcing a deuce. Ateneo was then able to steal the win and give them their round-winning match point, 1-3. The match only lasted for two sets. Set Scores: 8-21 and 22-24.
The day may have ended in disappointment but Coach Owen Lopez tried to cheer his team up. He believes that they should look closely at what happened in today's match and learn from it. They need to act quickly because their next matchup would be coming really soon. With the twice-to-beat advantage, the DLSU Lady Shuttlers will continue their matchup against ADMU. The Lady Shuttlers are looking to avenge today's loss and hopefully make it to the finals.