Football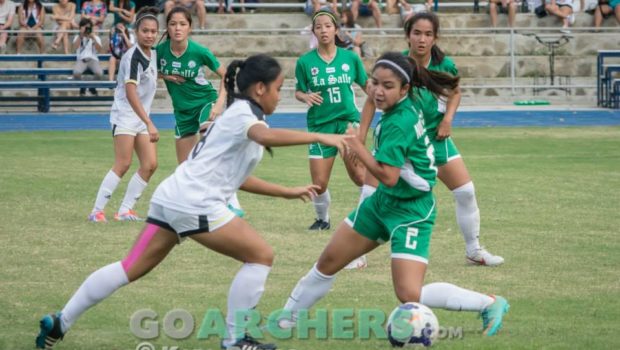 Published on January 13th, 2014 | by DLSU Sports
0
Early goal insufficient as UST comeback trips Lady Booters
The DLSU Lady Booters' campaign suffered a major blow after their second straight defeat in a 3-1 loss to UST Sunday afternoon in the resumption of UAAP Season 76 women's football tournament at the Moro Lorenzo Field in Ateneo, Quezon City.
Off a throw-in, Cha Guancia found the back of the net in the seventh minute of the match but the UST XI regrouped and just within ten minutes after falling a goal behind, the Tigresses pounced on a couple of lapses by goalkeeper Erika Turtur to swing the advantage to their favour. Both teams were aggressive in attack but chances went either too soft or too wide to alter the score line. UST kept on fending off a series of resurging La Salle attacks before the halftime whistle.
The Lady Booters kept on searching for the much-needed equalizer as Kyla Inquig and Ange Metillo powered shots that were unfortunately stopped by UST's number one. In the 81st minute, a defensive lapse at the halfway line provided a Tigress an opportunity. She sprinted towards La Salle's goal before nonchalantly slotting the ball to the right bottom corner of Turtur's onion bag.
La Salle faced a tougher climb and with just less than nine minutes left, the Lady Booters were left empty-handed once again and had to settle for another frustrating result. Coach Hans Smit could not find the words to describe his disappointment of his team. A possible return of starting goalkeeper Inna Palacios is still unsure but her non-participation in next week's game was confirmed by Smit. Nonetheless, all is not lost for the Lady Booters who are just four points adrift of a championship slot. The ladies in Green-and-White are due to face rivals Ateneo on the 19th of January, 1:00 pm at the Moro Lorenzo Field.