Baseball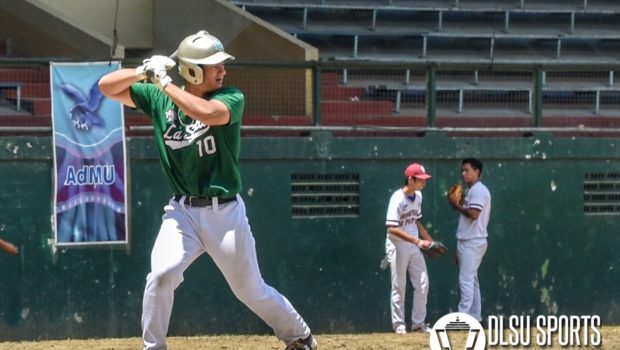 Published on March 26th, 2019 | by Jennifer Serrano
0
Escaño: Game versus UP a 'confidence-builder' for the team
Co-written by: Genrev Villamin
Photo by: Steffi Chua
Although they have already secured a return to the Finals after their Round 2 victory over Ateneo, the De La Salle University (DLSU) Green Batters continued to ride their momentum with a 21-9 victory over the University of the Philippines (UP) Fighting Maroons last Wednesday, March 20, at the Rizal Memorial Baseball Stadium.
La Salle finished the eliminations with an 8-2 win-loss record to top the league in standings. They prepare for a three-game Finals series against their archrivals Ateneo de Manila University (ADMU) Blue Eagles.
The Green Batters' game against UP was a no-bearing game as they were anyway assured of a spot in the grand stage regardless of the outcome. This did not mean, however, that they could take it lightly.
"We felt that the game was still very important because now is not the time to relax," Escaño mentioned.
A win to end the eliminations would not only give them a sweep of Round 2, but more importantly also stretch their winning streak to six games, bridging the first and second rounds. And that was exactly what they needed heading into the finals.
"You want to be at the top of your game," said Escaño. He added, "Confidence plays a big role in doing so. When you're confident with the way you're playing, that's when you're at your best. I told the team to use this game (against UP) as a confidence-builder."
With the kind of performance they put against UP, the veteran hitter could not be more confident of their chances in the finals. "Our offense stayed hot and our defense was steady. That was a good sign heading into the finals."
Escaño felt that they still committed errors which prevented them from ending the game earlier. The Green Batters were up by eight runs, 12-4, after six innings, and had a chance to end it in the following inning. Nonetheless, those were "not really a major thing for that game, but those are the types of things we can't commit in the finals."
Entering the best-of-three championship round with a great momentum, the Green Batters' captain sees his team to be "playing really good Baseball right now. We're definitely peaking at the right time."
The only thing they have to make sure is to be able to execute in the finals the same Baseball they are playing right now.
Support the DLSU Green Batters in Game 1 of the Finals on Friday, March 29, 12 noon at the Rizal Memorial Baseball Stadium.