Specials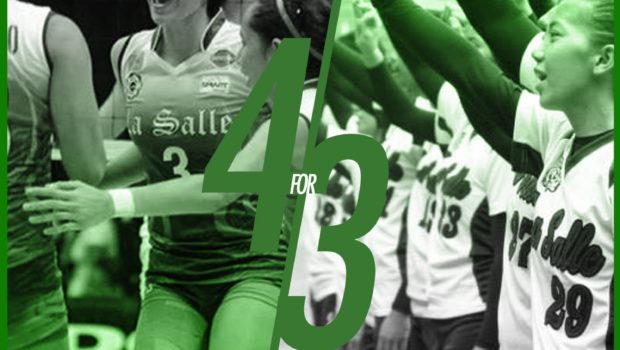 Published on March 13th, 2015 | by DLSU Sports
0
Four for Three
The past few weeks have been challenging for the Lasallian sports community. In the middle of February, DLSU has all the cards to keep the General Championship (GC) on its cradle for the third straight year. However, unforeseen series of unfortunate defeats have come its way.
Leading the race
Way back March 4 when all games are done and only playoff standings are arguable in Baseball, Football, and Volleyball. Only women's Softball is running its eliminations at this point. In the current standings, Men's Baseball, Women's Volleyball, and Men's Football are poised to barge into the finals.
The Lady Batters then ranks 2nd with three more elimination games to go against NU, UP, and UST. If all places were cemented including Softball team standings, DLSU will be comfortably ahead by four even without any championship from the remaining squads. But after this day, everything turned around.
Painful stretch
DLSU's men's football team dispatched Ateneo in the semifinals but eventually bowed in a close encounter with FEU in the championship. Meanwhile, the Lady Batters dropped all their remaining games in a quick stretch. Their male counterparts in Baseball also loss a close finals encounter with eventual 3-peat Baseball champions, ADMU.
The only win in that more than a week stretch came from the four-set victory of the Lady Spikers against NU in the do-or-die semifinals. However, the team lost their captain before the match ended. Losing an ace before facing the well-rested Lady Eagles, the Spikers from Taft missed the series opener which puts Ateneo a game away from a back-to-back title.
Standing our ground
Currently, the Lady Batters are tied at fourth with NU as UST and UP are tied for second place. Tie breakers will be played for Softball to determine the final pairings. Second-seed will win a twice-to-beat advantage.
For women's volleyball, to increase their share for the GC tally, three-straight victories have to pile up.
Unfinished race
With all the heartbreaks and unforeseen events, DLSU is not out of the Race. The Tomasians are up by three but four wins could turn the tides once more. Either four straight wins by the Lady Batters after a UST defeat as they barge to second place or they could win only one and root for a three-game streak from the Lady Spikers.
It boils down to four wins for a 3rd GC Crown.