Goliath curse: Green Spikers get overpowered by ADMU!
Published on March 4th, 2017 | by Karl Niccolo Dela Cruz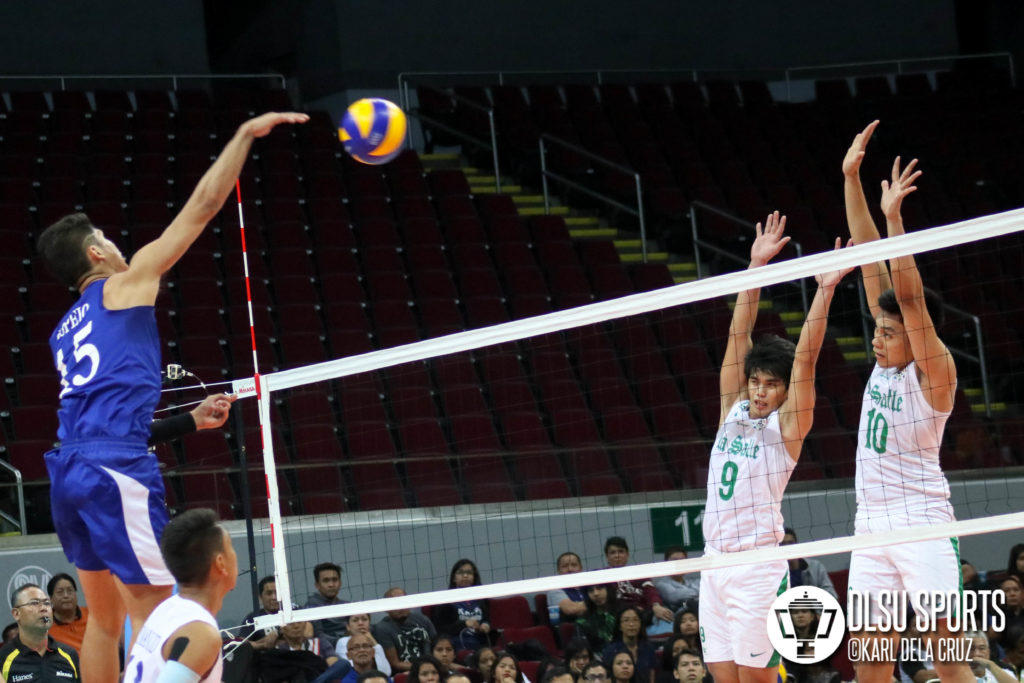 Coming in to the match, the DLSU Green Spikers were marred with injuries as they faced the Ateneo Blue Eagles only to lose in straight sets, 21-25, 21-25, 18-25 in the end of the UAAP 79 men's volleyball tournament, March 4 at the Mall of Asia Arena.
The Green Spikers went neck-and-neck with the Katipunan-based squad in the first frame of the match with Arjay Onia leading the offense for DLSU, 8-all. La Salle took the lead after an Onia block on Ateneo's American-Russian Anthony Koyfman, 9-8. The next sequences were an exchange of attacks on both sides of the court until the set was tied once again, 14-all. Atone was able to pull away after a surge of attacks from Rex Intal and Marck Espejo.
It was a tough second set for the Green Spikers as they trailed by as much as six points, 7-13. The Green and White team were able to ignite a scoring run to trim the lead to three after a 5-2 run. Coach Nes Pamela opted to switch in rotations by having Levin Dimayuga and Wayne Marco play crucial roles as a winger and a setter, respectively to give La Salle more attacking variety. Unfortunately, the move wasn't enough for DLSU to gain momentum as the Blue Eagles proved unstoppable on offense to eventually give them the set.
It was the same story for the Green Spikers in the third set as they were down in the earlier part of the frame, 8-12. The Green Spikers tried to maintain their composure until the end of the match but the defending champions showcased their inner goliaths to trample down the Taft-based squad.
The Green Spikers were down on attacks as they scored only 23 to Ateneo's 41. Only Onia scored double digits for La Salle after firing 11 markers from 10 attacks and a block. Meanwhile, the Katipunan-based squad proved to be a mean scoring machine with Marck Espejo scoring 15 points, assisted by Koyfman and Intal with 13 and 12 points, respectively.
At the beginning of the elimination, Coach Pamilar sought a goal for the team to end the first round with a 3-4 win-loss card. However, the loss put them to a drawback with a 2-5 record leaving them to struggle at the bottom half of the rankings in sixth.
The Taft-based squad vow to execute a comeback performance  in their next few games as they wait for the schedule of the second round of eliminations.