Judo
Published on December 4th, 2014 | by DLSU Sports
0
Green and Lady Judokas bag medals in 2014 Zecotek-Jagsport Invitational Championship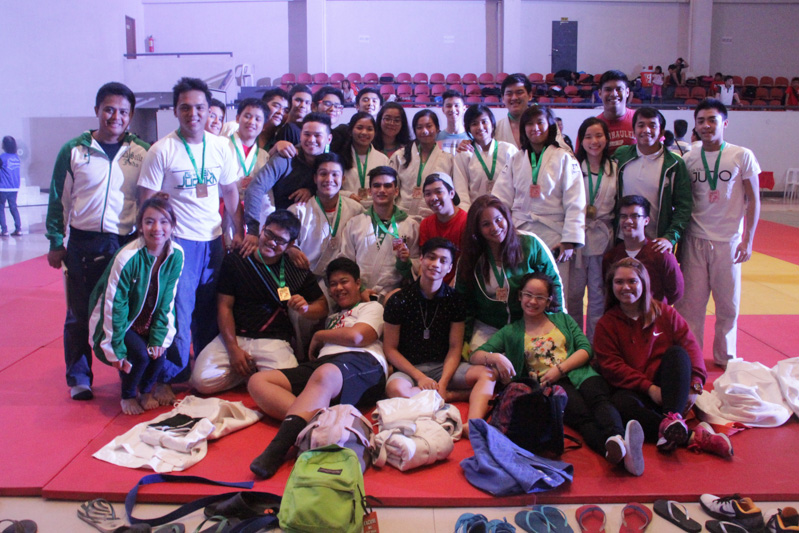 The DLSU Judokas during the General Trias Judo Invitational (Kim Leong/DLSU Sports)
The Green and White Judokas did not disappoint. The team was able to deliver good performances bringing back a handful of medals during the 2014 Zecotek-Jagsport Invitational which was held from November 21-22 in Toa Payoh Sports Hall, Singapore. It was the teams' second time to join the tournament invitational, previously garnering medals from their first Jagsport stint in the prior year.
Former Green Judoka, now assistant coach for the De La Salle Judo Team, Keith Ver (-66kg) and Green Judoka, Antonio Gosalvez (-73kg) won double gold for the men's division in both Individual and Team tournament respectively. Jefferson Sapi (-55kg) garnered 1st place for 18&under category.
A way to gauge and improve one's judo skills is from competing in play-offs.  Joining a competition abroad, first-timer Gosalvez shares. "Masaya, kasi  first-time ko to join a competition abroad. Maganda yung experience to be able to play with other competitors of different nationalities."
Lady Judoka, Kathleen Gilbuena (-52kg) won silver for the 18 & under category, while Mia Baguisi (-57kg) won bronze for the 21& under category in the women's division. Alumnus of the Lady Judokas, Kat Valencia (-63kg) won gold in participation and contribution for taking part in the team tournament.
Along with the senior team, the junior judokas from De La Salle Zobel also participated in the said event. Junior Judoka team captain, Jeric Cabero (-73kg) won silver, while Co-captain Johanne Suarez (+81kg) won bronze, and Antonio Duenas (-60kg) grabbed the bronze medal all for the under&15 category.
The La Salle Judo Team has a rigorous training routine that aims to produce excellent judokas.  As part of their training, they expect to gain training experience and perfection in their sport from participating in Judo tournaments both local and abroad. Through the shared passion for Judo, the spirit of friendship and unity is strengthened through sportsmanship.