Basketball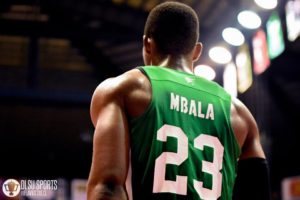 Published on June 21st, 2017 | by Genrev Josiah Villamin
0
Green Archers advance to Filoil semis with win over Tamaraws
The De La Salle University Green Archers continued to roll in the Filoil Flying V Preseason Premier Cup. They knocked out top-seeded FEU, 78-53, on Wednesday at the Filoil Flying V Arena.
UAAP MVP Ben Mbala, who had a monstrous 45-17 'flu' performance against Letran last Friday, powered the Green Archers. He topped all scorers with 32 points and 19 boards. He shot 10/18 shooting and missed only one free throw, making 11 of 12.
Incoming UAAP Sophomores Aljun Melecio and Ricci Rivero added 13 points apiece. The former also logged seven assists and three steals.
La Salle forced FEU 22 turnovers, then translated them to 18 points. The Green Archers also dominated the boards, 58-37.
Meanwhile, Arvin Tolentino and Richard Escoto scattered 10 points each as the FEU Tamaraws exit the tournament.
La Salle opened the first five minutes of action by blasting an 11-3 run. Mbala's free throws helped his team establish the first double-digit spread, 16-5, with 3:20 to play in the first quarter. The Green Archers led the Tamaraws after one quarter, 20-11.
In the second frame, Mbala continued to dominate by pouring seven unanswered points. Eventually, the Green and White's cushion extended to 13, 31-18. Melecio's layup gave La Salle a 13-point edge heading into the dugout.
After the first two quarters, the Green Archers sit on a comfortable 35-22 advantage over the Tamaraws. Big Ben Mbala already had 17 points and 12 rebounds.
The Taft-based squad pulled away to start the second half. They led by as much as 17, 52-35, in the third canto as Justine Baltazar and Ricci Rivero hosted a dunking spree. The Morayta-based squad, on the other hand, were able to trim their deficit to 12 points, 47-59, with less than eight minutes to go.
Owning a 16-point cushion did not stop the Green and White in the last quarter. Andrei Caracut and Aljun Melecio, recipients of the two latest UAAP Rookie of the Year awards, scattered three-pointers to make it a 25-point game. Additionally, Tolentino was slapped an unsportsmanlike foul after elbowing Abu Tratter. That proved to be the nail in the coffin for the FEU Tamaraws.
The DLSU Green Archers will face the Lyceum Pirates in the Semifinals on Friday.
Scores:
DLSU 78 – Mbala 32, Melecio 13, Ri. Rivero 13, Caracut 11, Go 4, Santillan 3, Baltazar 2, Tero 0, Tratter 0, Gonzales 0, Capacio 0.
FEU 53 – Escoto 10, Tolentino 10, Inigo 6, Nunag 6, Tuffin 6, Orizu 5, Cani 4, Ramirez 2, Trinidad 2, Parker 1, Comboy 1, Bienes 0, Stockton 0.