Basketball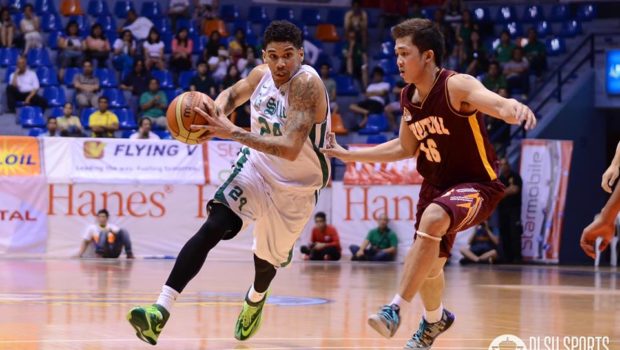 Published on May 31st, 2014 | by DLSU Sports
0
Green Archers barge into quarterfinals amidst stinging defeat to Altas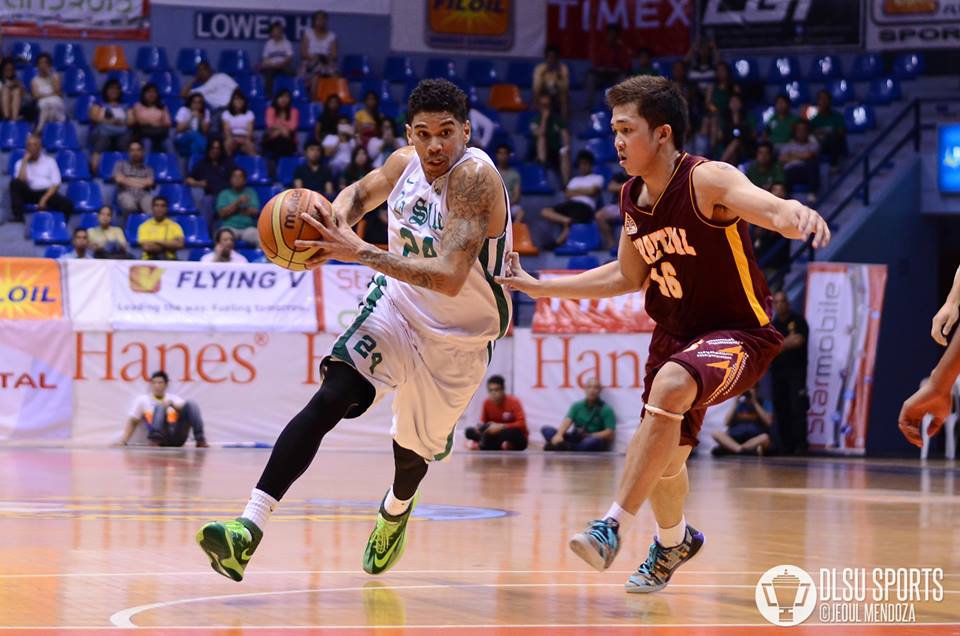 It was a bittersweet elimination round ending for the DLSU Green Archers, who advanced into the quarterfinals as the seventh seed despite yielding to the UPHSD Atlas, 95-98 at the Fil-Oil Flying V Arena in San Juan.
Heading to the fourth canto, the DLSU Green Archers looked to have been minutes short of notching their fourth consecutive victory with a 14-point lead, 73-57.
However, the one-two punch of Earl Thompson and Juneric Baloria from UPHSD ignited a 21-7 run, with the streaky Baloria converting on four contested treys.
After a DLSU timeout, Almond Vosotros knocked down a trey of his own to keep the Atlas at bay, 83-78.
Arnold Van Opstal, who was 10 out of 15 from the charity stripe, subsequently converted both free throws to extend La Salle's lead to 5.
Atlas starting forward Harold Arboleda, who was struggling against the DLSU big men throughout the game, made the biggest play for his team, knocking a corner three to make it a one-possession ball game.
With both teams exchanging baskets, it was Arboleda again who would cap a personal 5-0 run in the dying minutes of the game to give the Atlas a 3-point lead, 89-92.
The Atlas continued to cling on to their lead until the dying seconds, leading by 5.
With 8.5 seconds remaining, Van Opstal made two free throw shots to trim the Atlas' lead to three, just enough for them to advance to the next round. A Perpetual victory by five or more points would have knocked La Salle out of the tournament.
DLSU struggled in the final quarter: the team found it difficult to convert a field goal in the last five minutes of the game after outscoring the Atlas in the first three quarters.
Also, free throw woes continue to haunt the Archers. They missed 19 free throws during the game.
Baloria recorded a game-high 43 markers for a sizzling 67% shooting chip while Jeron Teng led DLSU with 20 points in 4 of 12 shooting, 9 rebounds and 5 dimes.
Van Opstal had 20 points and 8 rebounds in just 22 minutes.
According to Van Opstal, the Taft-based squad are still far from perfecting team chemistry.
"I'm happy that we are able to advance to the quarterfinals but we have to learn from this loss. I would rather lose every game in the preseason than lose a game in the UAAP", he ended.
The Green Archers will square off with the still undefeated second-seed FEU Tamaraws on Wednesday afternoon.
Box Scores:
DLSU (95) –  Teng 20, Van Opstal 20, Vosotros 16, Sargent 9, Montalbo 8, N. Torres 8, T. Torres 4, Perkins 3, Tratter 3, Rivero 2, Salem 2, Andrada 0, Bolick 0.
UPHSD (98) – Baloria 43, Dagangon 15, Thompson 14, Arboleda 12, Oliveria 6, Allano 5, Ylagan 2, Dizon 1, Bantayan 0, Gallardo 0, Sadiwa 0, Cabiltes 0, Jolangcob 0, Elorpe 0.
Quarter Scores: 21-28, 41-50, 57-73, 98-95.