Basketball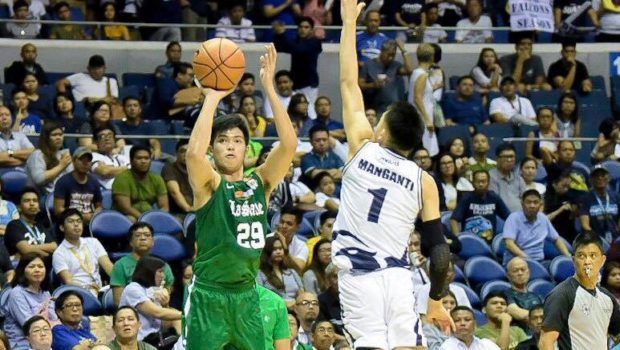 Published on October 21st, 2017 | by Khyte Mendoza
0
Green Archers buck slow start to escape Soaring Falcons for third straight win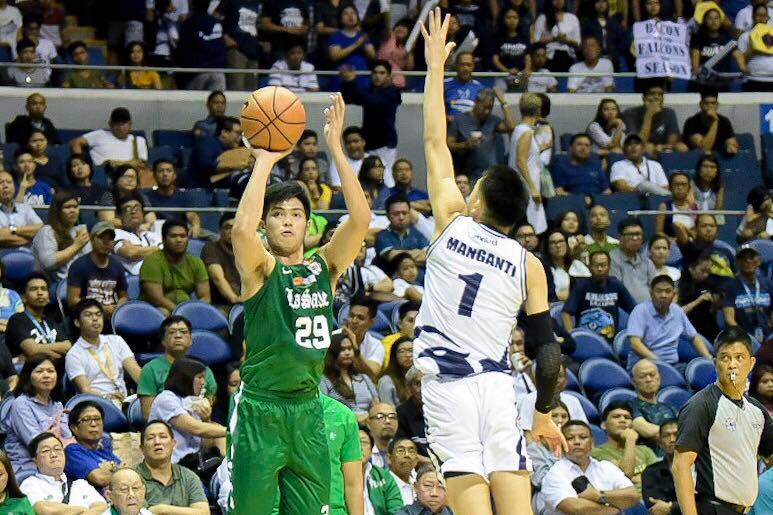 Photo by: Flavius Dulce
The De La Salle University Green Archers overcame a sluggish first quarter to survive a scare from the Adamson University Soaring Falcons, 80-74, to clinch their third consecutive victory in a nerve-wracking clash in the second round of the UAAP Season 80 Men's Basketball Tournament at the Smart Araneta Coliseum, Saturday.
The Green Archers climbed up to an 8-2 win-loss card to keep them just behind the league-leading Ateneo de Manila University Blue Eagles. The victory also inched them further from AdU.
Ben Mbala finally gave the Taft-based crew the lead with 4:09 to go in the third canto.  La Salle tried to pull away as it built its lead to as high as seven in the fourth frame, but Adamson just kept on coming.
Andrei Caracut knocked down a triple to take La Salle back into the driver's seat, 74-72, with only 1:39 to go in the game.
With La Salle ahead by only two in the dying moments of the game, Forward Santi Santillan lost his defender with a pump fake, then hit the basket to give DLSU a more comfortable four-point cushion, 76-72, with 36 ticks remaining.
Santillan also grabbed crucial boards that led to two free throws from Ricci Rivero to push the edge to six. On the next play, the Soaring Falcons were not able to solve the dry spell as Abu Tratter pulled down the rebound en route to two more charities to ice the game.
The Green and White actually trailed AdU at the end of the opening period, 13-17, before DLSU responded in the second half with their suffocating 'Mayhem' defense.
The younger Rivero continued his stellar play for the Green Archers with 17 points and four rebounds. Santillan had a breakout game as he did the dirty work inside to notch a double-double 16 points and 10 boards. Mbala, who fouled out with 14 ticks left in the game, had a quiet outing but still managed to garner his own double-double performance of 15 and 17. Team captain Kib Montalbo added 10 markers.
Jerrick Ahanmisi and Papi Sarr posted 17 points apiece for the San Marcelino-based squad, with the latter picking up 12 rebounds. Jonathan Espeleta and Robbie Manalang chipped in 12 and 11 points respectively.
Box scores:
DLSU 80 – R. Rivero 17, Santillan 16, Mbala 15, Montalbo 10, P. Rivero 7, Melecio 5, Tratter 5, Caracut 3, Baltazar 2, Go 0.
AdU – Sarr 17, Ahanmisi 17, Espleta 12, Manalang 11, Hill 8, Lojera 3, Ochea 2, Bernardo 2, Manganti 2, Mustre 0, Chua 0, Pingoy 0, Zaldivar 0, Frias 0.
Quarter scores: 13-17, 35-35, 58-54, 80-74.