Basketball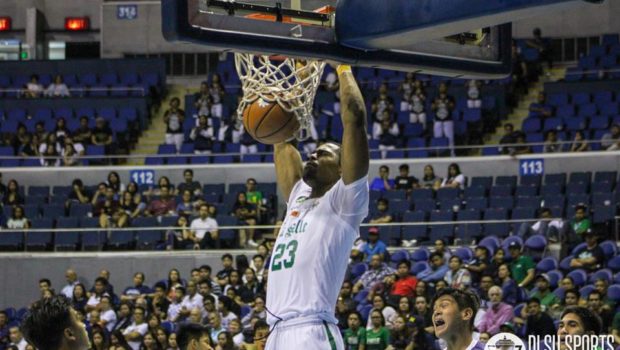 Published on November 4th, 2017 | by Khyte Mendoza
0
Green Archers clobber Bulldogs for sixth straight win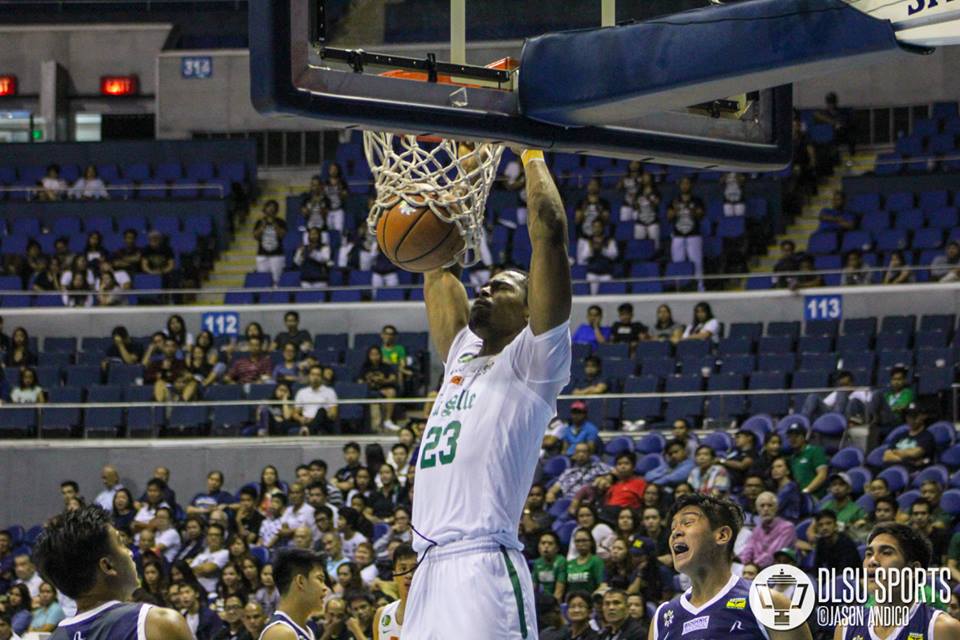 The De La Salle University Green Archers overpowered the National University Bulldogs, 101-76, to seal their sixth consecutive victory in the second round of the UAAP Season 80 Men's Basketball Tournament at the Smart Araneta Coliseum, Saturday.
It was a nip-and-tuck affair to start the game as the Bulldogs and the Green Archers traded a couple of five-point blitzes to start the game. With NU leading by five, Andrei Caracut hit a lay-up after Ricci Rivero drained a triple to tie the game at 10-all halfway through the opening period. Team captain Kib Montalbo checked into the game and instantly provided the spark off the bench. The defensive-minded guard did playmaking duties for the Green side as it led to a more fluid La Salle offense. DLSU blasted an 8-0 run to build a 17-13 lead with 2:58 left in the first. Justine Baltazar, then, connected inside to give the Green and White a 26-20 advantage after one.
The Taft-based squad began to pull away in the second frame. Ben Mbala sank a turnaround jumper inside to cap off a 10-2 run to balloon DLSU's lead to 14, 36-22, with still 5:33 to go in the first half. The Bulldogs trailed by as much as 16 but they did not want to get blown out. Tzaddy Rangel hit back-to-back baskets to cast off the dry spell for the guys from Jhocson as they trimmed La Salle's edge down to 12, 43-31. The Green Archers kept their opponents at bay, 47-35, at halftime.
La Salle smelled blood from their prey in the third canto as they looked to break the game wide open. The younger Rivero dished out the ball to Caracut for the corner three to push the lead to 11, 56-45, with 6 minutes remaining in the third. Rivero added up to NU's nightmare as he scored five straights points. The Bulldogs would not go anywhere just yet though. Antonio Joson cut the deficit down to 10, but the Green Archers ended the period emphatically with another 11-0 run to deliver a 73-57 bubble heading into the final quarter.
The Bulldogs refused to let go of the game, with Joson and Lastimosa collecting five quick points to bring themselves within 15, 81-66 with 5:48 left to play. Jollo Go put a stop to a mini-run setup by NU as he buried a triple. From then on, the outcome was already settled even before the game ended.
Mbala paced La Salle with 30 points and eight rebounds. Ricci Rivero added 16 points and six rebounds, while Santi Santillan chipped in nine and six.
JayJay Alejandro and Joson top-scored for National-U with 20 markers apiece, while Issa Gaye had 12 points and eight boards.
DLSU took advantage of 23 NU turnovers with 16 points as they only gave up possessions nine times. They also dominated the scoring inside, 50-38.
The Green Archers rose up to an 11-2  win-loss card and they will next be facing their arch-rivals Ateneo de Manila Blue Eagles on Sunday, November 12, 4pm at the Smart Araneta Coliseum.
Box scores:
DLSU 101 – Mbala 30, R. Rivero 16, Santillan 9, Go 8, Montalbo 8, Caracut 7, Melecio 5, Paraiso 5, Tratter 5, Baltazar 4, P. Rivero 2, Tero 2, Capacio 0, Gonzales 0.
NU 76 – Joson 20, Alejandro 20, Gaye 12, Lastimosa 5, Diputado 4, Rangel 4, Aquino 3, Mosqueda 2, Yu 2, Bartlett 2, Tibayan 2, Morido 0, Abatayo 0, Cauilan 0, Flores 0.
Quarter scores: 26-20, 47-35, 73-57, 101-76.