Basketball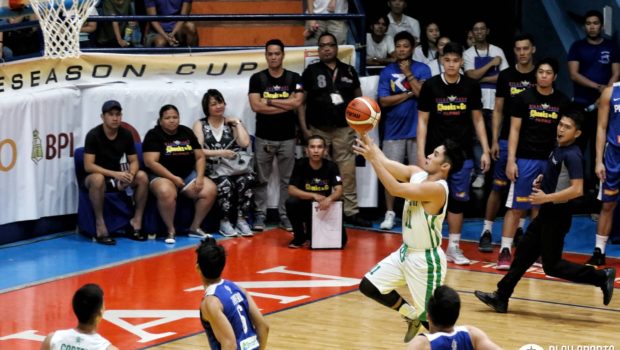 Published on April 27th, 2018 | by Gabriel Minamedez
0
Green Archers hold off Gilas to maintain unblemished preseason record
A preseason game between the Green Archers and the Gilas Cadets on Friday evening at the FilOil Flying V Center turned into a three point contest that saw the Green and White claw back from being down 20 to lead the Green Archers past the national team hopefuls, 91-72.
Unlike what the final score suggests, it wasn't all clear skies for La Salle as they had to get over an early deficit against the Cadets.
Gilas didn't wait long to make their presence felt, as their perimeter shooting led the way for them to build up a 27-14 lead after the first quarter. Juan Gomez de Liaño provided the hot hand with 11 points to start the game.
The second canto wasn't that much of a blessing for La Salle either. Arvin Tolentino kicked off the second quarter with 7 straight points, ballooning the Cadets' lead to 34-14, the largest of the game. A Santi Santillan steal leading to a transition score ignited a 9-0 run from the Green Archers, cutting the lead down, 41-32.
By halftime, La Salle managed to stay within shouting distance, 39-47, despite the poor transition defense and some turnovers.
The tables slowly started to turn in favor of La Salle. Three straight triples from Kib Montalbo and Aljun Melecio brought the Green Archers within four, 50-54. From then on, Melecio took over, scoring 8 points in the dying minutes of the quarter. A Baltazar putback layup finally gave La Salle its first lead since the first quarter, 66-65.
The fourth quarter was close out time for DLSU. After a transition dunk from Kobe Paras at the 7:25 mark, Montalbo snipes in another triple to help La Salle regain the lead, 74-71. A sliver of comeback hope for Gilas was quickly shutdown by the Man of Steal, as Montalbo drained three straight triples in the end to ultimately ice the game, 91-72.
Montalbo's heroics translated to the boxscore, as he finished with a magnificent 25 points (7 triples), 8 rebounds, 6 assists, and 5 steals. Melecio added 18 markers of his own coupled by 5 rebounds and 5 assists. Kiwi big man Te Samuel chipped in 16 points.
The Gilas cadets were led by Kobe Paras, who scored 19 points. Juan Gomez de Liaño and Arvin Tolentino had 14 apiece.
In their first game against their former collegiate team, former Green Archers Abu Tratter and Ricci Rivero combined for 14 points.
Holding an unblemished record so far at the FilOil Flying V Cup tournament, La Salle will look to maintain it as they take on University of Perpetual Help on May 4 at the same venue.