Basketball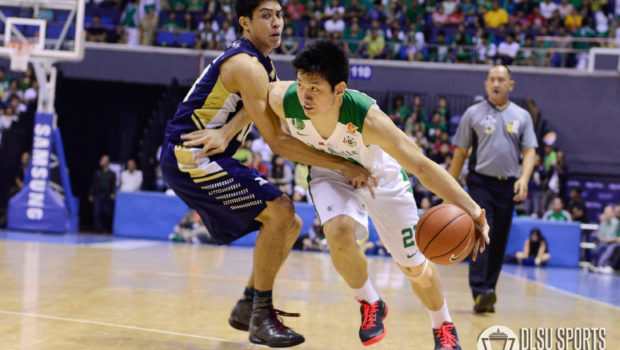 Published on August 9th, 2013 | by DLSU Sports
0
Green Archers lose footing against NU, drop to three-way knot at fifth
The Green Archers succumbed to the Bobby Ray Parks-led National University Bulldogs, 56-63, Sunday evening at the Smart Araneta Coliseum to end a highly-competitive first round with a 3-4 win-loss record that ties them with the Adamson Soaring Falcons and Ateneo Blue Eagles.
After rallying back into the game at the end of the third period, La Salle squandered a couple of opportunities to regain the lead they only had once during the first minute of play. Parks, NU's main offensive weapon, then dealt the Green Archers a blow with his two unanswered treys at both ends of the last eight-minute mark. Gelo Alolino and Parks added more as they scored on the inside, cuing DLSU to regain focus. Teng scored afterwards, but NU's barrage continued as the lead ballooned to a seemingly-insurmountable high of 13 with less than half of the fourth period remaining.
The Green Archers attempted to break the NU defense but each pass looked to have been well-telegraphed by the Bulldogs, which often led to easy baskets on the other end. 
Despite down 57-44 at one point, La Salle ran a 12-2 rally thanks to Van Opstal and Thomas Torres to put them just behind by three with just 17.2 seconds. NU stayed composed enough in the end game as a pair of Alolino's charities and Jean Mbe's last-second field goal to assure that the Green Archers will temporarily stay at the bottom half of the UAAP standings.
Arnold Van Opstal spearheaded La Salle in the defeat as he punched in 14 points and grabbed seven rebounds while staple contributor Almond Vosotros had 11 points, three coming from downtown. Ray Parks led NU with 20 points and 14 rebounds, and six assists.
But while Parks' output is expected, a couple of Bulldogs stepped up to deliver their team to the upper half of the UAAP standings.
Starting point guard Alolino provided ample support to the two-time league MVP as his 9-6-6 point-rebound-assist stat line pushed his team up by as many as 13. Another Bulldog who had a field day against the Green Archers was Denice Villamor. The Bulldog swingman unleashed 10 points, all of them promptly keeping La Salle at bay.
The Green Archers were plunged deep into an eleven-point deficit at the end of the first quarter. Juno Sauler's wards acted swiftly to reduce the gap to as low as five points but Parks poured seven points to stretch the lead back to double-digits. At the last minute of the first half. Substitute Matt Salem struck a trey to narrow NU's lead back to five but Villamor answered back with one of his own just before time expired.
The Green Archers will return to the Big Dome to face fellow-strugglers AdamsonUniversity when UAAP hoops action resume on August 14, a Wednesday, following the two-week break allotted for the country's hosting of the 2013 FIBA-Asia Championship.
The scores:
DLSU (56) – Van Opstal 14, Vosotros 11, Teng 9, T. Torres 7, Perkins 6, Salem 5, N. Torres 2, Revilla 2, Tampus 0, De La Paz 0.
NU (63) – Parks 20, Mbe 12, Villamor 10, Alolino 9, Neypes 6, Rosario 4, Alejandro 2, Rono 0, Perez 0, Khobuntin 0, Javillionar 0, Javelona 0.
Quarterscores: 9-20; 25-33; 42-43; 56-63.