Basketball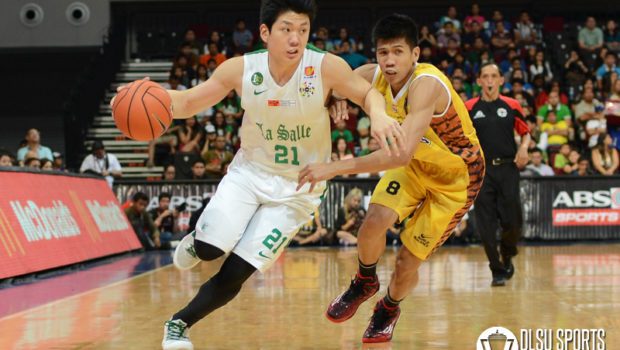 Published on September 6th, 2014 | by DLSU Sports
0
Green Archers outlast Growling Tigers in nail-biting fashion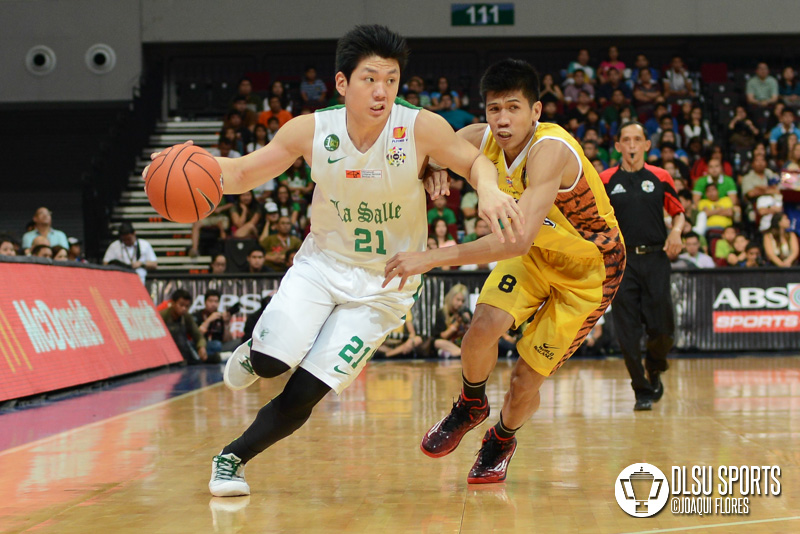 A late game surge lifted the Green Archers past the Growling Tigers, 67-60, in the UAAP Season 77 Men's Basketball Tournament at the Mall of Asia Arena earlier today. The win allows La Salle to at least contest for a spot in the semifinals.
Jeron Teng came up strong in the game, scoring 11 crucial points of his 26 overall in the fourth quarter.  The third year player also tallied seven rebounds and two assists. Arnold van Opstal added 11 points and seven rebounds and more importantly his presence inside that kept Karim Abdul from dominating the paint.
On the other hand, Ed Daquioag led the Growling tigers with 19 points shooting 64% in the field.  Usual suspects Aljon Mariano and Abdul were limited to 19 points as well but only shooting a combined 5/27.
UST cagers Daquioag, Abdul, and Kent Lao contributed 11 points each to carry their team in the first three quarters but Jeron Teng's strong inside game pushed La Salle within striking distance only allowing UST to lead by one at the end of the third.
The final quarter showcased a see-saw affair between the two teams.
Both teams did not want to let one another break away.  Daquioag and Lao scored back to back three-pointers early in the fourth but Teng and Van Opstal answered quickly with the King Archer strong inside finish and an AVO and-one move.
Late in the fourth, Daquioag provided a temporary six-point breakaway lead for the Growling Tigers scoring a triple and a jumper consecutively.  Once again, DLSU depended on Teng and AVO to cut down the 6 point deficit and to lead by a point in the final minutes of the quarter.
With only a three point La Salle lead, Teng spoiled a crucial Growling Tigers possession with a steal on Mariano in the final stretch of the game.  Two Kib Montalbo free throws served as the last nail in the coffin for the Green and White as they finally outplayed the Growling Tigers, 67-60.
"UST played very well [on] both ends of the floor," remarked Coach Juno Sauler who also credited his team's stiff defense that only allowed UST to score 26 points in the second half. "We really pulled this off because of our defense." He added that his team had to adjust in order to overcome their foes. "Outside shots started falling in. We wanted to focus on their scorers."
UST controlled the game's opening half, emerging on top of both quarters' ends. However, La Salle was not far behind throughout that stretch with the game having only three deadlocks and two lead changes. Also, neither team led by more than six points in the first 20 minutes of action.
With UE and NU still standing along their way towards possibly nabbing a twice-to-beat advantage in the Final Four, Sauler views these games as opportunities for his team to not only win but to improve more heading to the playoffs. "We have two games left.  Wherever that takes us, we just have to accept." Coach Juno said.
The Green Archers will face the UE Red Warriors on September 10, 2:00 PM at the Smart Araneta Coliseum with a win assuring La Salle of a place in the Final Four.
Game photos can be viewed by clicking the link below:
DLSU vs. UST Round 2 [09.06.14]
DLSU (67) –  Teng 26, Van Opstal 11, Montalbo 8, Sargent 7, N. Torres 7, Perkins 4, Vosotros 4, Bolick 0, Rivero 0, Tratter 0.
UST (60) – Daquioag 19, Lao 14, Abdul 13, Mariano 6, Lo 5, Gayosa 3, Basibas 0, Macasaet 0, Pe 0, Subido 0.
Quarter scores: 16-17, 30-34, 46-47, 67-60.