Basketball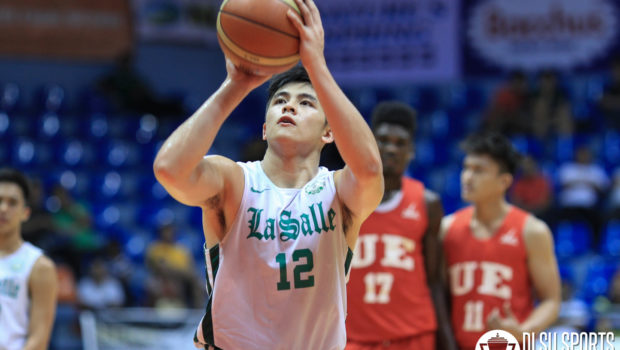 Published on May 17th, 2015 | by Deion Bandril
0
Green Archers outlast Red Warriors but loses Montalbo to injury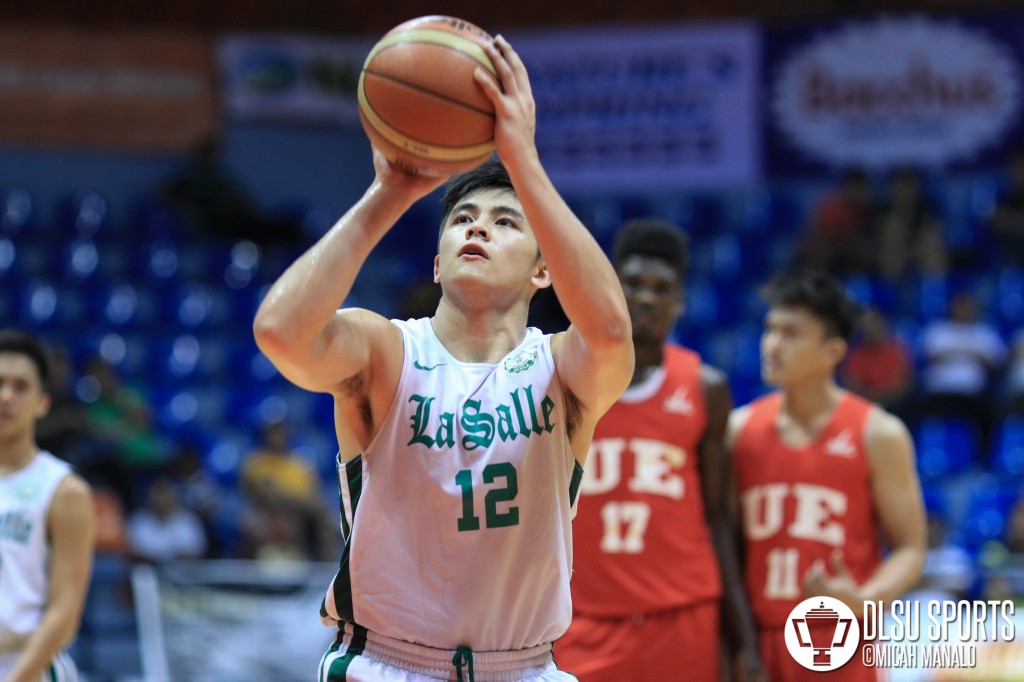 The DLSU Green Archers ravaged the University of the East Red Warriors in what was a very physical matchup. Both teams clashed on both ends of the court, but DLSU was able to prevail with the final score of 96-82.
Coach Juno Sauler jokingly agreed that it was more physical than the labeled "Fight of the Century" of Floyd Mayweather and Manny Pacquiao. The game was riddled with unsportsmanlike fouls and technical fouls that affected both teams on offense and defense. With the physical play, Kib Montalbo suffered an Anterior Cruciate Ligament (ACL) injury during the second quarter.
First quarter started quickly just like the previous games for the Taft-based squad. Offense looked like it was going to be smooth, but the UE Red Warriors came with a lot of power. UE played intense defense to shake and rattle the offense of DLSU. With their high physical play, they were able to force a lot of turnovers throughout the first half. With their rattling defense, UE was able to get some offensive fouls coming from the Green & White squad. However, the referees wouldn't allow the rather "dangerous defense" of UE. Because of that, unsportsmanlike fouls were given to numerous Red Warriors throughout the game. Free throws then became an offensive factor for DLSU as they drained a lot from the charity stripe. First quarter ended 24-29 favoring UE.
Second quarter came with more physical plays and unsportsmanlike fouls, this time mainly coming from UE. It was clearly seen that the DLSU players like Joshua Torralba were being thrown around during the game. This resulted to more chances in the free throw line for the Green & White squad. With UE playing this kind of defense, the DLSU Green Archers suffered a huge blow when injury struck their quality guard Kib Montalbo. Kib fell on the floor while driving to the hoop for a fast break finish, however he accidentally twisted his knee. He then curled up on the floor as he let out a big cry of pain while tucking his right knee. The game was put into a momentary stop as they escorted Montalbo out of the arena on a stretcher. It was officially released through an MRI report that Kib Montalbo suffered an ACL injury in his right knee. With that, the referees announced and urged both teams to play a lesser physical game to avoid more severe injuries within the rest of the game. With that, the DLSU would go on to rally against UE. They were able to tie the game at the end of the first half as the score was 48-all.
Third quarter began with a huge rally coming from Jason Perkins and Andrei Caracut. Coach Juno did comment on Jason's improvement in shooting. He was able to force Perkins to wear contact lenses in the game since he had problems with his vision. "We had to force him. Even since last year he refused to wear contacts during game. Kaya siguro nakikita na niya yung ring." They both sunk needed three-pointers to create a run. They were able to extend their lead that UE began to be frustrated in their own end. UE still continued giving unsportsmanlike fouls which helped DLSU to increase their lead. Technical fouls were thrown to UE after a tussle with Joshua Torralba that was started by a Red Warrior. With more free throws and dazzling perimeter shots, DLSU was able to take the lead. Third quarter ended in favor of DLSU 74-62.
Fourth quarter began much slower compared to the previous quarters. It was visible that UE had fatigued themselves too much as they had put too much energy in playing defense. This quarter highlighted rookie Andrei Caracut as he increased his three-point percentage by sinking huge three-pointers. Offense and defense were both consistent for both teams. With that, the Red Warriors couldn't slice into the lead. The game finally ended with the DLSU Green Archers coming out on top of the UE Red Warriors. The final score was 96-82.
At the end of the game, Coach Juno still liked how his team performed in this game. He did admit that even though the team turned the ball over a lot of times in the first half, they were able to get back on offense by the start of the third quarter. Coach Juno admired how his team was still able to keep their cool throughout the game, as they were able to draw numerous unsportsmanlike fouls from UE.
The DLSU Green Archers will next face the Southwestern University Cobras at May 23. The game will still be held at the FilOil Flying V Arena.