Basketball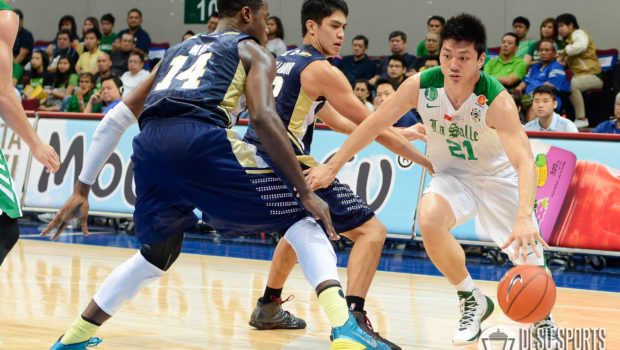 Published on September 15th, 2013 | by DLSU Sports
0
Green Archers pip Bulldogs to earn share of top spot
The DLSU Green Archers collected their sixth straight win after halting the equally surging NU Bulldogs, 57-55, last September 8 at the Mall of Asia Arena.
The win places the Green Archers together with the Bulldogs and idle FEU Tamaraws as all three teams hold identical 9-4 win-loss cards.
Jeron Teng carried his team in the last two minutes of the game by scoring six of La Salle's last seven points. The sophomore wingman summed up the night with 21 points alongside 7 rebounds and a lone steal.
Hefty forward Jason Perkins also came up big as he accomplished another double-double output with 18 points and 10 rebounds complemented with three assists.
After leading by three at the start of the fourth, NU tallied five unanswered points in the early bearings of the period to stretch their lead to eight.
Down 50-53 on the 1:36 mark of the fourth period, La Salle inched closer through Teng's two free throw conversions after being fouled by Dennice Villamor as he was attacking the basket.  A good defensive sequence after, Teng once again returned to the line and converted both his freebies after being fouled by Alolino this time around.  The former Xavier Stallion's free throw conversions finally put the Green Archers ahead, 54-53.  
NU Coach Eric Altamirano then gathered his troops, calling a timeout, which resulted to a well-executed play which had Bobby Ray Parks roll past the La Salle defense to convert on a left-handed layup off a hand-off from center Emmanuel Mbe to reclaim the lead at 55-54.
It was DLSU Coach Juno Sauler's turn to sue for time as he set up a play that will put the Archers' noses in front once more. The plan bore fruit as Teng sealed a putback off his own miss, outmuscling Villamor inside the paint for the offensive rebound and subsequently, putting DLSU ahead, 56-55. NU called for their last timeout but it failed to materialize any favourable outcome for the Bulldogs.
Bobby Ray Parks missed a contested jumper courtesy of Jeron Teng's defensive effort while Dennice Villamor hit the side board after Arnold Van Opstal flying over to change his shot attempt in the process.  The tap went to Revilla who was fouled and split his free throws with 12 seconds to go.  This left room for NU to send the game to overtime, or possibly even deal La Salle a defeat. Parks launched another contested long two, but ended up being an airball straight to Vosotros as time expired.
Sauler credited his boys who stayed focused, particularly in end-game situations. "After the first round, I just told them—because of the games that we've experienced in the first round—to be mentally tougher."
Yet, the first year mentor still sees some room for adjustment coming into the Green Archers' last game on Saturday versus UST. "In the first half, I stressed [to the team] that we gave up 22 points combined in second chance and turnover [points]," said Sauler who also praised his boys for only conceding two points off second chance opportunities in the second half. In addition, Sauler is also hoping his boys to play consistently good on offense after a poor 31% clip in the first half found his team down by half a dozen.
The Green Archers actually started quickly as they scored the first four points inside the game's first two minutes. The Bulldogs then showed its renowned form, putting up a 14-6 sequence that was capped off by back-to-back treys of Parks and Jeoffrey Javillonar to give NU a four-point lead at the end of the first period. Both teams then upped the tempo in the succeeding quarter as the two competing sides virtually answered each other. Nonetheless, NU was able to extend its lead, 31-25 going into the halftime break. La Salle tied the game early in the third, even taking the lead at 42-41, courtesy of Perkins' pull-up jumper. Still, the Bulldogs dotted the third with a precarious three-point lead.
The scores:
DLSU (57)- Teng 21, Perkins 18, Revilla 6, van Opstal 5, Salem 3, Vosotros 2, Reyes 2, N. Torres 0, T. Torres 0, Montalbo 0, De La Paz 0, Bolick 0.
NU (55) – Parks 19, Alolino 15, Villamor 7, Javillonar 5, Mbe 4, Rosario 3, Neypes 2, Rono 0, Khobuntin 0, Javelona 0, Alejandro 0.
Quarter scores: 10-14, 25-31, 42-45, 57-55.